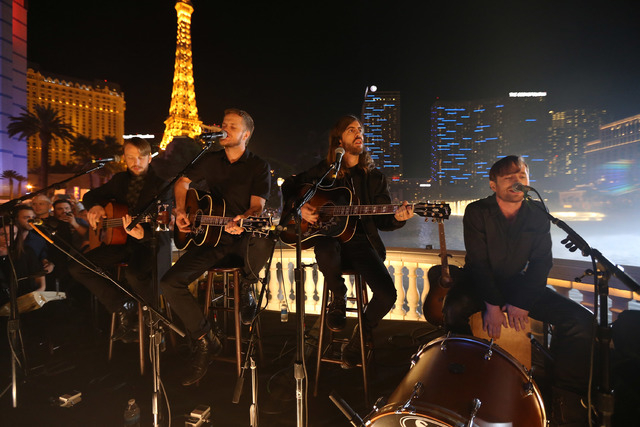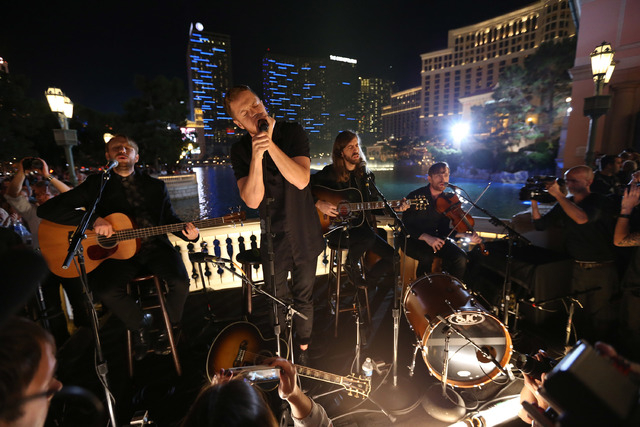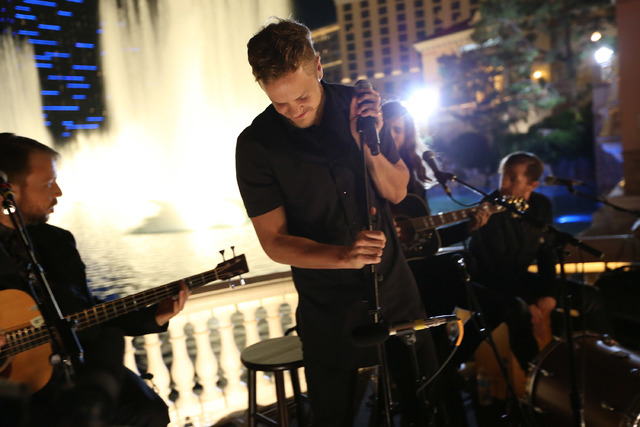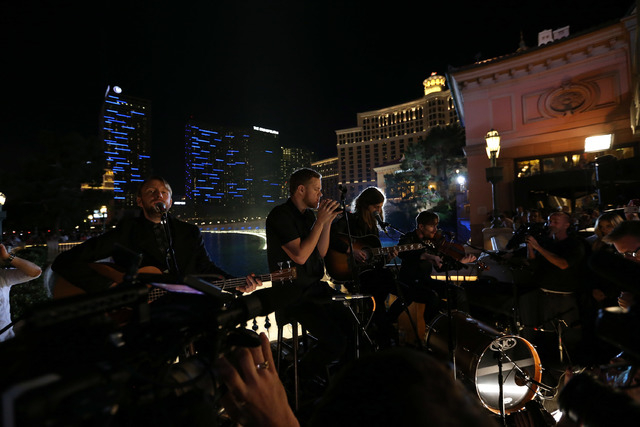 Neither the pair of Elvis impersonators nor the 100 or so curious, neck-craning onlookers crowded around a small stage erected in front of the Bellagio could have imagined they were about to see Imagine Dragons.
Early Saturday evening, the Vegas band played a surprise three-song acoustic set that doubled as a benefit for the music programs of various local schools.
"I feel a little emotional being here tonight," frontman Dan Reynolds smiled, the Bellagio fountains behind him, the scent of chlorinated water thick in the air. "We've played all up and down this Strip."
Opening with "It's Time," the band segued into new single "I Bet My Life," which was by enlivened by three-part harmonies and hand claps from the crowd, before ending with break-out hit "Radioactive," the fountains bursting to life as guitarist Daniel Wayne Sermon soloed.
The performance was filmed by Crackle, Sony Picture Television's streaming service, as part of "Playing It Forward," a street-performance music series where $100,000 is donated to the artist's charity of choice.
John Legend performed in the series debut.
The Imagine Dragons' episode will be available to stream later in the month.
As a result of their performance, $70,000 will be donated Communities in Schools in Southern Nevada, which will distribute the funds to the music programs of several area schools (Valley High School and Sunrise High School will each each receive $30,000 and Baily Middle School will get $10,000).
Additionally, $30,000 will go to Bonanza High School, Reynolds' alma mater.
"One of my teachers was out there," Reynolds noted with clear pride during an interview in a Bellagio suite following the band's set. "I wouldn't be where I was if it wasn't music teachers along the way."
"To think of going to a junior high or high school without a band program or an orchestra program, that would be a very sad thing," added bassist Ben McKee. "So we're doing everything we can to change that locally."
The performance provided a break from the studio for the band, where they're currently working to complete their much-anticipated sophomore album, due out sometime next year.
"We're nearing the end," Reynolds said of the recording process. "We're pretty near the final stages I'd say."
Sermon said that the band created around 120 demo tracks for the new record, while drummer Daniel Platzman explained how the band's development of heightened technological skills influenced the direction of the new disc.
"One of the cool things about this album is that a lot of drum tech computer chops were acquired over the course of the last two years, and it led to a lot of interesting places," he said. "A lot of things became possible that were previously impossible for us to do. Being able to play around the world in all these different stages helped us imagine what kind of music we would want to be making the next time we come back to this place."
Platzman put it more simply.
"We're just trying to create honest muisc that we can really stand behind," he said.
Contact reporter Jason Bracelin at jbracelin@reviewjournal.com or 702-383-0476. Follow on Twitter @JasonBracelin.