Imagine Dragons hails Las Vegas' creative vibe at T-Mobile
September 30, 2017 - 3:43 pm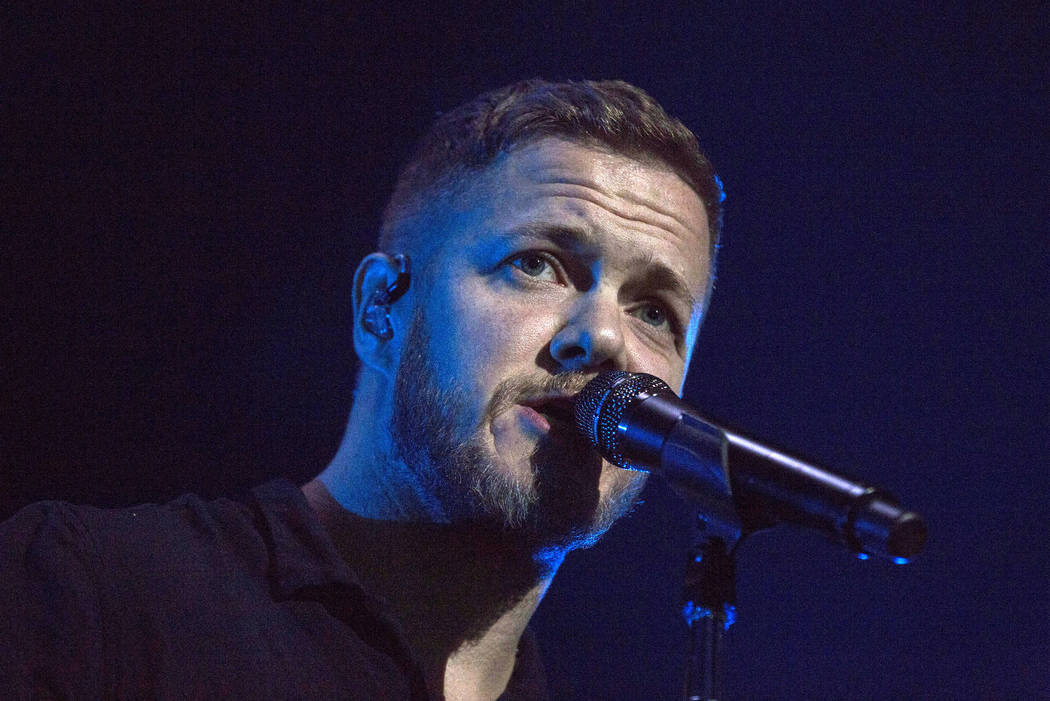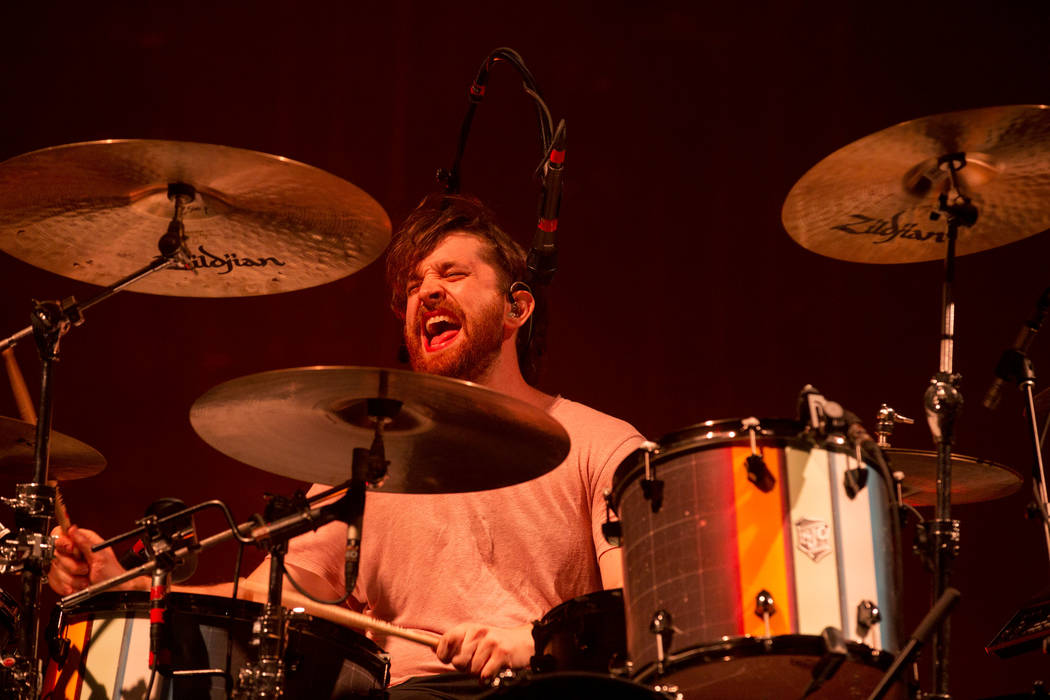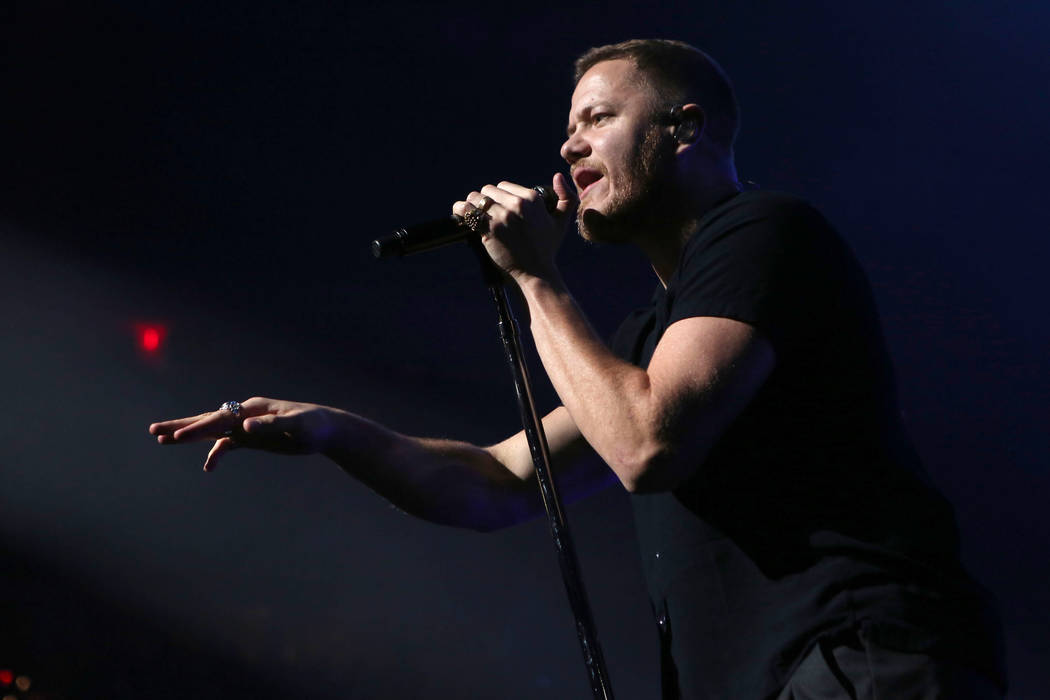 Voices, seats, hearts, beers.
Everything was full.
The vibe: Exultant, Sunday sermon-style, albeit with Bud Light in place of communal wafers.
The crowd: A wider-than-usual array of ages for a Friday night arena gig that tiptoed into Saturday morning, lots of youngsters dodging bedtime, standing on the lips of seats.
The dudes on stage: Four nonchalant rock stars happy to be home.
"This band is who we are because of Las Vegas, because of the culture — yes, the culture — of Las Vegas," Imagine Dragons frontman Dan Reynolds announced at the onset of the band's near-capacity show at T-Mobile Arena on Friday.
That he would have to double down on his words says plenty about both this band and the city from which they hail.
Of course, Las Vegas has a chip on its shoulder for continually being caricatured as a cultural black hole where disposable incomes, IQs and one's better judgment all get sucked into the void — the true void being the creative vacuum inhabited by too many visiting journalists content to file stories that read like a Mad Libs of clichés.
Imagine Dragons, too, have occasionally served as a pin cushion for similar dismissals: Though they've sold millions of records and can pack arenas the world over, they've gotten plenty dinged over the years for never camouflaging their aspirations, the assumption being that unabashedly striving to be one of the biggest bands in the land necessitates capitulating to the masses in place of genuine artistry — the exact same line of reasoning often directed at their hometown.
But the band's latest record, "Evolve," both directly and indirectly rebuts these critiques.
Speaking to the former was "Thunder," a song that Imagine Dragons strove to make live up to its title by pounding on extra percussion until the floor vibrated so much you might have thought you were standing too close to an idling monster truck.
"Kids were laughing in my classes / While I was scheming for the masses / Who do you think you are? /Dreaming 'bout being a big star," Reynolds sang in a near-rap cadence, winding himself up like a pitcher about to hurl a fastball.
And here it came.
"They say you're basic, they say you're easy / You're always riding in the backseat / Now I'm smiling from the stage while / You were clapping in the nosebleeds."
Lyrics as bluntly cocksure as that are new to the band on "Evolve," as is a sense of ease, of casualness that now hangs about this bunch.
The band seems newly comfortable with its status, which means less striving, more swagger.
All this is reflected on "Evolve," which the band mined heavily during its two-hour, 20-song set, performing all but one of its 11 tracks, which ranged from sinewy R&B ("I Don't Know Why") to U2-style bombast with guitarist Wayne Sermon's fingers and hair flying about in unison ("Whatever It Takes") to gospel-style rock 'n' roll hymnals ("Mouth of the River").
"Evolve" addresses anxieties both internal and external, seeking to purge both.
"This is a song about depression," Reynolds said by way of introducing the full-bodied pop rock of "Rise Up." "How it does not define you."
"I'm broken in the prime of my life, so embrace it," he then sang.
Elsewhere, songs like "I'll Make It Up to You," "Start Over" and "Walking the Wire" all addressed the emotional pull-and-tug inherent in maintaining a lasting relationship.
Before that last number, Reynolds identified a gentleman in the crowd who had proposed to his lady during the show.
"Did she say 'yes'?" he asked.
Rhetorical question.
Midway through the show, the band retired to a small stage in the back of the arena for a three-song suite of more ruminative numbers, showcasing their instrumental range with Sermon on cello, drummer Daniel Platzman on viola and Ben McKee on upright bass.
"I'm short of being the others' dreams of being golden and on top," Reynolds sang on "Dream."
Time then, for realizing some dreams of one's own.
Contact Jason Bracelin at jbracelin@reviewjournal.com or 702-383-0476. Follow @JasonBracelin on Twitter.