Imagine Dragons return with deeply personal new album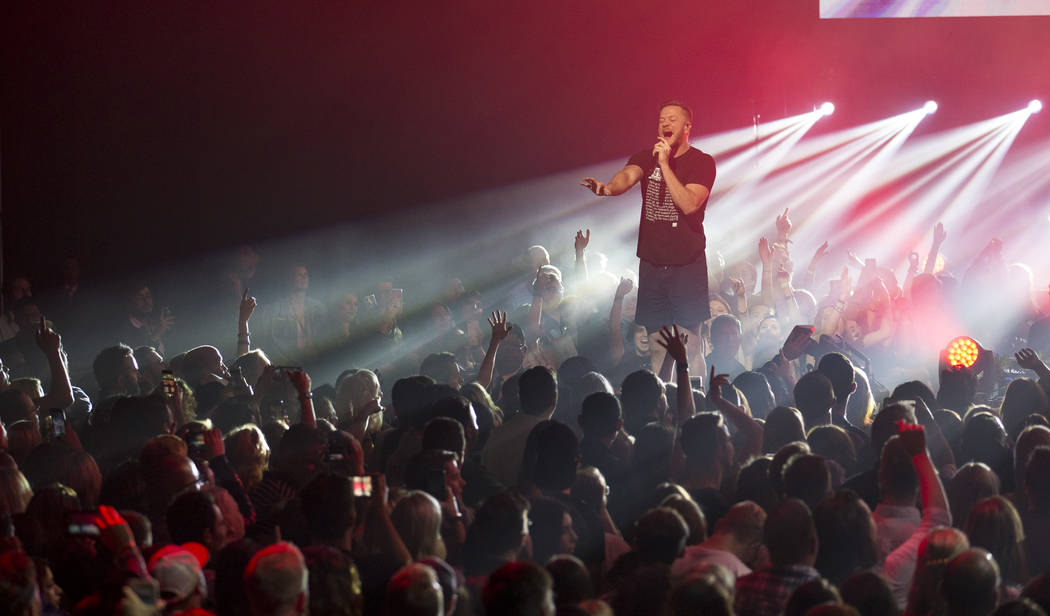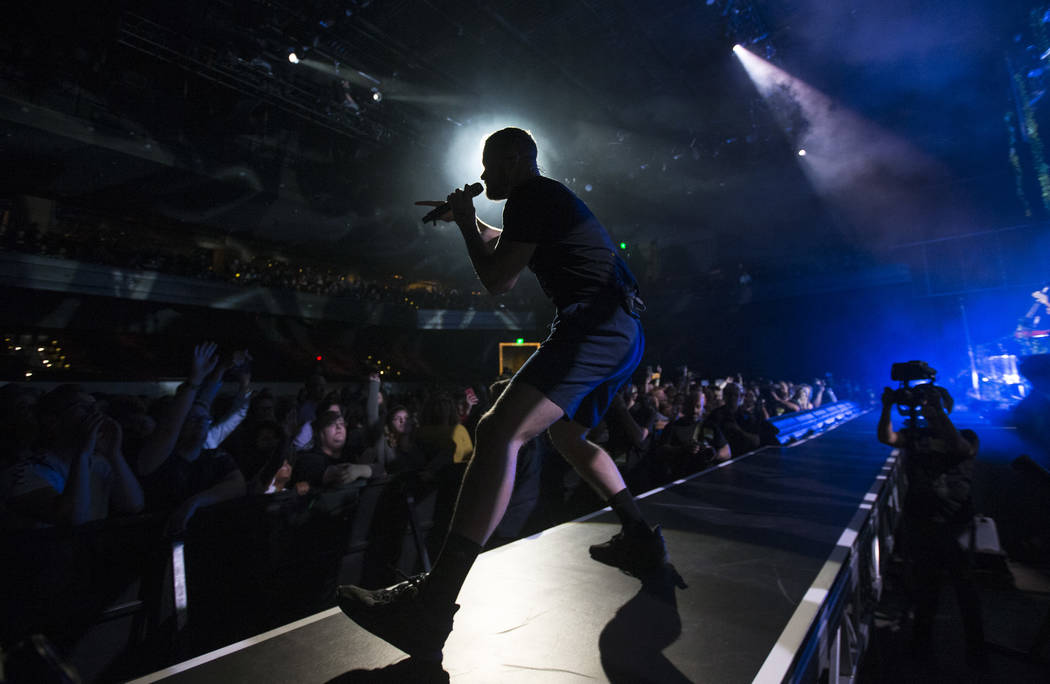 The guitars growled like the thing commandeering his gut.
"I'm not scared of the beast in the belly!" Dan Reynolds howled over a Big Mac-meaty riff, the Imagine Dragons frontman delivering his words as if yelling down some invisible foe.
In a way, he was: Reynolds was addressing the adversary within, self-doubt that can impede one's ambitions.
The song was "Machine," an open-throated rebel yell about defying any self-imposed limitations.
It was a fitting opening salvo fired off by Imagine Dragons at a private performance for contest winners from around the globe Wednesday in The Chelsea at The Cosmopolitan of Las Vegas, where the band convened to celebrate this week's release of its fourth album, "Origins."
The night was a comingling of the old and the new.
"We have not forgotten how we got here," Reynolds noted. Imagine Dragons took periodic breaks during the two-hour show to salute those in the crowd who saw something in the band back when it was still playing Britney Spears covers on the Strip, including publicist Alissa Kelly, musician/photographer Corlene Byrd and concert promoter Brian Saliba.
It was also a stage for Imagine Dragons to air fresh tunes penned during a whirlwind 17 months. During that span, the band reasserted itself as one of the most dominant forces in pop rock, with double-platinum third album "Evolve" spawning two of the biggest-selling digital songs of 2017: "Thunder" and "Believer."
"This has been a crazy year," Reynolds acknowledged.
"Origins" is its soundtrack.
Musical siblings
They call it a sister album — different tunes, same narrative.
"It's similar to 'Evolve' in that the sounds are very clean," Reynolds says of "Origins." "We just wanted, like, five instruments per song that sounded perfectly recorded and served a purpose rather than on previous albums like 'Smoke + Mirrors,' which were very dense sonically, lots and lots of instrumentation.
"And then lyrically, it kind of completes the story," he continues. " 'Evolve' is about coming into your own independent space, feeling comfortable in it and growing as a human being. 'Origins' is about a point of arrival. It also embraces the beginnings of Imagine Dragons, the beginnings of a lot of our lives and the things that we've loved about how we were raised and then also the things that we didn't love about how we were raised. It kind of completed the circle of 'Evolve.' "
The album comes 17 months after "Evolve," a remarkably short window between records, especially considering that the band spent more than 400 days on the road.
"It certainly wasn't planned," Reynolds says of releasing a new full-length so quickly. "I think at times in my life when I have the most chaos is when I create the most. And this last year has been maybe the most chaotic year of my life."
Hooks and heartache
Head down, eyes at shoelaces, he stood still for what seemed the first time of the night, cemented in place by the weight of his words.
"It's been a loveless year," Reynolds confessed on swelling ballad "Bad Liar."
"Did all my dreams never mean one thing?" he later wondered on the song in question. "Does happiness lie in a diamond ring?"
"Liar" directly addresses Reynolds' separation from his wife of seven years, Aja Volkman, which the couple announced in April.
Though Reynolds has recently said that they are dating again, heartache looms large on "Origins."
Reynolds' longing is palpable on the searching, sentimental "Stuck."
"Why did you leave, why did you go leaving me lonely?" Reynolds asks in a tender, elastic-voiced lilt. "Didn't you know you were the home, you were the only. Where did you go?"
Amid the folk-y stomp of "West Coast," he pines for another chance.
"I'll change my ways if you would stay. And all your tears you have cried will go away," he promises. "Oh, just grant me one more day. Oh, my love, please don't give up."
Throughout "Origins," Reynolds never shies away from the deeply personal, no matter how wrenching his words can be.
"I think this record is the heaviest, lyrically, in some ways," he acknowledges. "It's definitely the first record that dives into love and heartbreak, where all our earlier records were more concerned with depression, struggling with faith, things like that. This record is really focused on relationships, and also the self, the individual.
"I'm an independent person to a fault. I always push people out of my life because I just can't seem to operate great with friends, and even with love. This record really peeks in on that."
Candid catchiness
One could argue that "Origins" offers more of a wide-eyed glare than a peek.
Take a song such as the aching "Birds."
When Reynolds delivers lines such as "Reliving the past / Wishing it'd last / Wishing and dreaming," you feel the lingering sting of his loss.
"That is the most emotional song on the record," Reynolds notes. "It's one that I want to skip when I'm listening back to the record, but I also want to listen to it, because there's a certain amount of cathartic feelings that I have. I have mixed emotions about it, but I think that's what art is all about, creating those moments that are maybe a little hard to face."
Reynolds has become much more open to facing those moments candidly in song, laying his feelings bare in increasingly unadorned lyrics.
"I think that's the only way I know to create now," the 31-year-old says. "When we started as a band — even when I started writing music when I was 14 — lyrically, I was super metaphorical with everything I wrote, because I was very fearful someone would hear a song and know what I was talking about. That felt way too vulnerable, especially at the time. I was really dealing with some heavy things that I did not want my parents to know about."
'All over the map'
"There's a lot of love songs on the new record," Reynolds acknowledged at The Chelsea, but that's not all there is: Another recurring theme on the album is Imagine Dragons declaring artistic independence in an ever-changing music industry.
"How many artists fear the light, fear the pain, go insane, lose your mind, lose yourself?" Reynolds asks on "Bullet in a Gun," before bellowing "sellout, sellout, sellout" as if exorcising even the thought of any kind of creative compromise.
True to the band's borderless sonic aesthetic, "Origins" veers all over the place musically, from the frantic, hammering beats and zigzagging bass lines of "Digital" to the light sounds and dark thoughts of a surging "Zero" to the electro purr of "Boomerang."
Detractors often ding the band for its shape-shifting identity, dismissing Imagine Dragons as calculated commercial opportunists.
But for Reynolds, this supposed lack of identity is the group's identity.
"I think we get away with that because we've done it from the very beginning," he says. "Our fans know that about the band. They expect that, whereas I think other bands get pigeonholed. They'll have a very distinct sound, and when they're bored with that and want to move on to something else, all their fans are really upset with that. Lucky for us, from the very beginning, we've been all over the map.
"I understand how that would frustrate critics and I understand how that makes people question whether we're chasing different sounds," he adds. "We've never tried to create a big song. We create big songs because that's what Imagine Dragons like to do."
They also create big moments.
Toward the end of the show, the group brought up a pair of former bandmates from their early years, singer-keyboardist Britney Tolman and drummer Andrew Tolman, to perform "deep, deep cut" "Destination."
"These are the days of love and life / These are our expectations," Reynolds sang. "We stay up late to live tonight / This is our destination."
Those days are over; that destination has been met.
Yet the journey continues.
Contact Jason Bracelin at jbracelin@reviewjournal.com or 702-383-0476. Follow @JasonBracelin on Twitter.