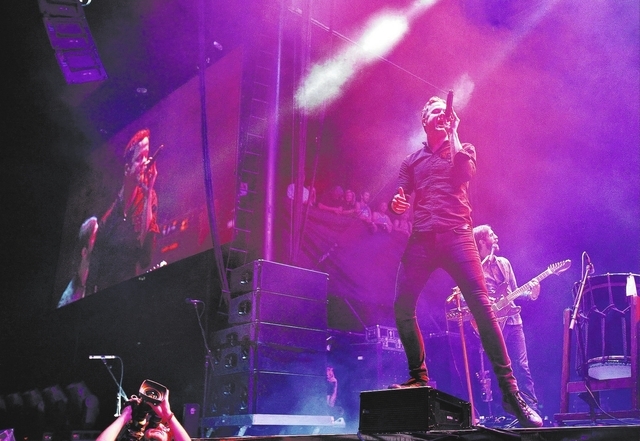 The biggest rock band in the world this year is Vegas' Imagine Dragons. On Friday, Billboard magazine named the group "Top Rock Artist of 2013."
Imagine Dragons' debut album "Night Visions" has sold 1.7 million copies. Huge sales and radio play have followed the album's hits "Radioactive," "It's Time" and "Demons."
What's more, Spotify says more people listened to Imagine Dragons than any other band on Spotify's streaming-music service this year.
The Grammys just gave two nominations, record of the year and best rock performance, to Imagine Dragon's "Radioactive," an anthemic hit ubiquitous on radio and TV, in video games and at sporting events. And Imagine Dragons just won favorite alternative rock artist at the American Music Awards.
I talked to singer/songwriter Dan Reynolds (a really nice guy, by the way) while the band was in Italy the other day, and he said epic success is "crazy" and "mind-boggling."
"I can't even believe it. A year and a half ago, it was a very, very different scenario."
That's when the band was still struggling to make it in Vegas.
"I think we all just feel overwhelmed" by how much Imagine Dragons is being embraced by people, he said.
"We haven't had a moment for anything to sink in. Once we get home and have the holidays with family, we'll be able to have a little bit more perspective.
"We've just been in the eye of the hurricane, so our perspective is really skewed. Everything sounds like false numbers and facts" — in other words, too good to be true.
Imagine Dragons plays the Joint in the Hard Rock Hotel on Dec. 30. After that concert wraps up, Reynolds will walk across the hotel to DJ at Body English nightclub. I will have a full interview with him in this space in a few weeks.
JAY Z ON THE MOVE
The world's top pop rapper Jay Z made a personal appearance at MGM's club Hakkasan on Friday as part of a D'usse cognac promotion, presumably collecting a fee in the hundreds of thousands of dollars.
But Saturday night, I watched him hang in 1 Oak nightclub in the Mirage with a big entourage, and the word inside 1 Oak is Z didn't get paid for that appearance, because he stopped in to see a friend for party time.
Moral of the story: It pays to be friends with Jay Z. That way, you don't have to pay him to be your friend.
CAT SANTA FOLLOW-UP
Cat Santa Day was a sweet success on Saturday at Bonanza Cat Hospital. Dozens of people took whiskered loved ones there to have photos taken with Cat Santa.
The no-kill hospital/sanctuary/hospice cares for more than 80 adult cats dealing with long-term illnesses and injuries, with zero funding from government or organizations. One man was so touched, he handed over a $10,000 check. But the hospital charity, Poppy Foundation, always needs more volunteers to pet, feed and medicate cats. To help this great cause, go to PoppyFoundation.org or call 702-271-1632.
Doug Elfman's column appears on Page 3A in the main section on Mondays, Tuesdays, Thursdays and Saturdays. He also writes for Neon on Fridays. Email him at delfman@reviewjournal.com. He blogs at reviewjournal.com/elfman.