In The Hideout, father and son music producers create heavy metal hits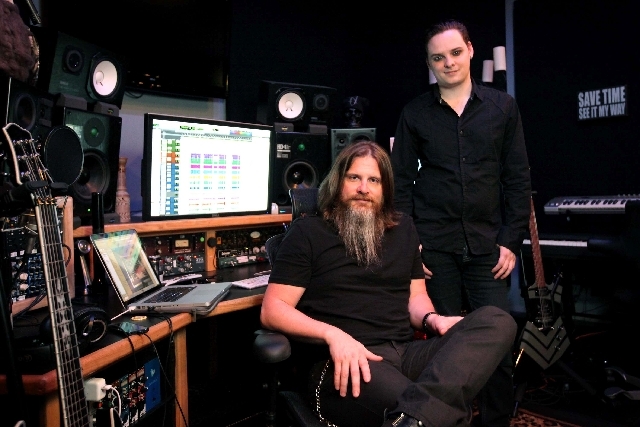 The walls shine despite the dimness. A constellation of gold and platinum plaques gleams from behind glass picture frames, the rock 'n' roll equivalent of the stuffed grizzly and mounted antlers in a big-game hunter's trophy room.
The lustrous discs commemorate album shipments in excess of 500,000 and, in some cases, a million copies of recent records by heavy metal's can't-believe-he's-still-alive granddad Ozzy Osbourne and one of the genre's current standard-bearers, Five Finger Death Punch, whose songs register like a series of knees to the groin of subtlety.
The generation gap between the two acts is mirrored by the father and son who have abetted the careers of both.
Kevin and Kane Churko are standing in the shadowy central hallway of The Hideout, the studio they run in a strip mall behind an Italian restaurant on the city's south side.
The elder Churko, 45, leads the way on a tour of the compact, high-tech facilities, aglow with red mood lighting and the flicker of scented candles that fill the place with the fragrant aroma of the potpourri aisle of a Bed Bath & Beyond.
In the main studio room, where the likes of Rob Zombie, Judas Priest frontman Rob Halford and others have worked in recent months, a pair of ceramic hands give the "sign of the horns," heavy metal's signature gesture, encircled by black, heavily soundproofed walls.
In a room across the hall is another, smaller recording suite where Kevin, 27, frequently works, connected to his father by the five miles of cable tucked into a nearby closet that wires the studio together.
A few weeks earlier, the Churkos left the confines of The Hideaway, which they don't do all that often — "We're here 10 to 12 hours a day, six or seven days a week," Kane notes — to return to their native Canada. There they took home "Recording Engineer of the Year" honors for their work with Five Finger Death Punch and rising hard rockers In This Moment at the Juno Awards, the Canadian equivalent of the Grammys.
It was Kevin's fourth Juno, but the first one he earned with his son.
The elder Churko has had plenty of success on his own, having written songs and produced albums for big-selling rockers such as Hinder and former Guns N' Roses guitarist Slash and worked on records by a galaxy of stars such as Britney Spears, Shania Twain and Celine Dion.
It took plenty of years to get here, though.
"He's seen the poverty days," Kevin says, nodding in Kane's direction. "He used to deliver phone books on one side of the block, I'd take the other side of the block, and that's what we had to do to pay the bills."
But now, instead of passing out the Yellow Pages together, they're helping to make the songs that headbangers know by heart, even if this wasn't the career path that Kevin envisioned for Kane.
"I would say that I was the opposite of the supportive parent early on, because I know how difficult the business is. I would have much preferred for him to be my lawyer," Kevin smiles. "But he chose music and he got good at it. He's chosen this world now."
But in many ways, it chose him.
Both of them, really.
BONDED BY BLOOD — AND ROCK 'n' ROLL
One of them has the lengthy mane of a man on the run from his barber and a wizard-worthy beard suggestive of a serious allergy to shaving cream.
If he knocked on your front door, you'd make sure the deadbolt was locked.
The other is whisker free and well-groomed with his hair neatly combed back, looking like someone who would be much more at home at a brokerage firm than in the presence of rock stars with tattooed knuckles.
If he knocked on your front door, you might expect a sales pitch and think about not opening it, but do so anyway because he seems like a nice guy.
One of them likes to ride motorcycles and drive fast.
The other sticks to the speed limit like gum on the sole of a shoe.
"It drives me crazy," Kevin Churko, the family leadfoot, chuckles of his son's cautiousness behind the wheel. "It should be the other way around.
"He should be the long-haired guy, I should be the business guy, but it's not like that. That's why it's a good relationship. We're similar enough to understand each other, but dissimilar enough to be interesting to each other."
There is, however, plenty that unites the two aside from the blood in their veins.
Both dress head to toe in black, making them practically indivisible from the walls of the studio in which they sit.
Both dig hockey, though Dad's the obsessive fan.
Neither of them is a metalhead — even though they work with plenty of them, bringing a different perspective — and they each grew up immersed in music, albeit in entirely different ways.
The son of a musician and music teacher dad, Kevin left school after the ninth grade to tour Canada coast to coast as the drummer in the family band Churko, which mostly played country tunes.
"I finished high school, but on the road I'd play clubs from 10 p.m. to 2 a.m., Kevin says. "Then I would do two hours of schoolwork after that in my room."
Kevin was still touring with Churko when Kane was born on the eve of his 18th birthday, with his son joining Kevin and his wife on the road until he was 4, when Kevin and his brother Cory decided to settle down in Vancouver, playing together in bands as Kevin began doing more production work.
He had a friend who owned a studio with an early, four-track version of Pro Tools, the now-ubiquitous recording software that would change the industry, largely replacing recording done to tape.
But back then, few people were even aware of the program, much less how to use it.
A tech savvy guy, the dude in the band who always tended to equipment maintenance, Kevin would master Pro Tools through trial and error, even though he had never even turned on a computer before attempting to record on one.
Eventually, Cory would land a gig as the fiddle player in Shania Twain's band.
Kevin would try out as the group's drummer.
"Boy, was I ever lucky that I never got that gig," he says. "That was the best failure I ever had in my life."
A REVOLUTION IN RECORDING
The computer monitor is brightened by an array of different colored columns that bring to mind the erratic scrawl of a polygraph machine.
To the untrained eye, it just looks like a series of malformed squiggles on the screen in The Hideout's main room.
But to a veteran producer like Kevin Churko, who was doing studio work long before this technology was even invented, they are game changers.
Each column corresponds to a separately recorded track — various takes on guitar, bass, vocals, etc. — which are eventually mixed into a single song.
With the click of a mouse, Kevin can fix any sonic imperfections and manipulate the sound of a given track to his liking, adjusting volume, adding effects, which used to be done on massive mixing boards lined with hundreds of faders and volume knobs that had to be painstakingly set to the producer's liking.
"I didn't have enough hands to do all the mixing that I wanted to do," he recalls.
Additionally, Pro Tools greatly simplifies the editing process, which was once done manually on tape, allowing Kevin to combine segments of different takes into that one perfect performance.
In the past, artists had to perform part of a song again and again until the entire segment was up to snuff.
One mistimed note in a solo, for instance, meant a guitarist would have to play it over. Now, said guitarist can record his solo in much less time-consuming, laborious fashion.
"He might have played it six times with little sections right each time that I can combine into one good take," Kevin says. "In the old days, the tape days, you had to repeat it over and over again.
"I possibly do a disservice to the musicians I work for, because it's, 'Do it again until I have what I need.' But that doesn't mean they got it right. In a sense, they don't always get as good as the musicians of 20 years ago. Maybe 20 years ago it was all about being a good performer and a good executioner of a song or a part. Now, it's just finding that awesome part and everything else can take care of itself."
Kevin saw the value of Pro Tools early on, while the software was still in its primitive stages and had plenty of bugs to be worked out.
"It was just like being a kid and seeing the future," he says. "I was one of the first guys to really get into Pro Tools. I'd have to say that there was probably very few people more knowledgeable than me in that field."
A guy in need of that knowledge back then was Mutt Lange, one of the most successful producers of all time, having overseen smash albums by Def Leppard, AC/DC and his wife at the time, Shania Twain.
Remember that failed audition Kevin had when vying to join her band?
Well, it came back to benefit him later, as he was able to use his connection to her, via his brother, to get his résumé to Lange, who needed technical help in his studio.
Shortly thereafter, the phone rang at the Churko household at 4 a.m.
Kane answered.
Before long, he'd be learning to speak French.
In Switzerland.
A HEAVY METAL TURNING POINT
Swiss law once mandated that every home be outfitted with a bomb shelter.
There, in a small studio built into this space in the Churkos' Swiss home, Kane spent much of his free time following the family's move to a French-speaking swath of the country in 2000.
They relocated after Kevin was hired as a Pro Tools engineer by Lange. Dad worked from 10 a.m. to 4 a.m. most every day with the notoriously meticulous producer.
While his father was away, Kane was constructing his own songs at home, mostly for fun, posting some of his tracks online.
A few years later, while he was working as a sound engineer in Dubai at the age of 19, Kane got a call from an L.A.-based manager who told him that he had been working with a singer who confessed to stealing Kane's material and passing if off as his own.
"This kid just took recordings off my website, burned them onto CDs and sent them to record labels," Kane says. "He had been flown around by different record labels to meet with different producers, been put up in hotels, drove around in limos. This manager tracked me down and he was like, 'I have opportunities for this music; you need to figure out a way to get back to the States.' "
It was easy. The rest of his family was already there.
After his tenure with Lange, Kevin moved to L.A., where a business associate hooked him up with Ozzy Osbourne's camp. The singer had recently built a studio in his home and needed someone to help him with it.
Eventually, Kevin was hired as the producer for Osbourne's 2007 disc "Black Rain," co-writing the album's first single, "I Don't Wanna Stop," which was later nominated for a Grammy.
"Ozzy was the biggest turning point," Kevin says of how "Black Rain" gave him the most significant break of his career, decades after it began.
Kevin also would oversee Osbourne's next record, 2010's "Scream," and while tracking that album, was approached to produce the sophomore disc for Vegas-based metallers Five Finger Death Punch.
Kevin initially declined because he was busy with Osbourne at the time, but eventually agreed, helping the group build upon their success with two more gold albums that sharpened the band's melodic sensibilities (Kevin and Five Finger recently finished recording the group's forthcoming two-album set, the first of which is due in July).
By this time, Kevin had relocated to Vegas, initially running a studio in a house before opening The Hideout about a year-and-a-half ago with the steadily growing involvement of Kane, who helped write Top 10 single "Remember Everything" for Five Finger's last record, contributed four songs to In This Moment's breakthrough album "Blood" and has placed more than a dozen tunes on various bands' records in the past year alone.
Increasingly, Kevin sees Kane as a key creative foil.
"When you're 45, you have different ideas for lyrics than when you're 27," Kevin says. "I'm not as creative now because I'm 45, and when I go home I'm not thinking about my next song. He's still thinking about it when he goes home. He just hasn't had the experiences that I've had.
"I think that's why we're a good team, because we make up for the inconsistencies in each other."
HERE TO MAKE HITS, NOT FRIENDS
Kevin Churko doesn't have to admonish his guests, because the sign does it for him.
"Save time see it my way," it reads, hanging next to the control console, which is just a computer keypad, really, in The Hideout's primary recording suite.
"I guess I'm pretty demanding, but I don't think I'm an ass," he smiles. "It's just that if you don't want to get it right, then go somewhere else.
"Is that being an ass?" he asks, turning toward Kane, laughter roaring out of him like an avalanche tearing down a mountainside as his son joins in.
A successful producer has to be many things all at once, an octopus of aptitude, with the ability to be a bit of a taskmaster high on the list.
He also has to be a skilled musician, a songwriter, a gear head, a life coach and a firewall between the artist and the record label.
Foremost, though, he has to serve as a kind of unlicensed therapist, massaging eggshell-delicate egos while simultaneously offering up constructive criticism that's most effective when it doesn't sound like criticism.
"It's really the difference between saying, 'That sucks,' or saying, 'I wonder if there's a way we can make this better?' " Kevin says of his approach to getting the best out of musicians without getting on their nerves. "I think that's skill number one to have, which these artists don't have themselves. But they don't need to have it."
That's what he's there for.
As such, some tough love is often necessary, a lesson that Mutt Lange emphasized.
"He used to tell me, 'I'm not here to make friends; I'm here to make hits,' " Kevin says. "Sometimes, if you want the best for the music, you have to mix it up with people, you have to argue with them, you have to stand behind what you want. You have to have a spine, but you have to be open to change, and you have to work at it."
In a way, the relationship between a producer and an artist, the well-meaning, sometimes exasperating give and take, is similar to that of a parent and child.
Maybe that's why Kevin and Kane seem to have such a loose, easy rapport with one another.
When one of them speaks, the other listens intently, and they're quick to give each other credit for their accomplishments.
"I can't think of one challenging day that we've ever had in the studio with each other," Kane says. "Ever."
They get along so well, in fact, that Kevin is beginning to focus on projects where Kane can be more involved.
"Now that we've had a lot of success with the stuff that we've done with each other, I think our goals are changing in the sense that the projects that I'm leaning towards are not the projects where it's a complete, contained band and all I have to do is basically record them," Kevin says.
"That's not as interesting to me as working with him more hands-on and collectively coming up with something really cool. I really enjoy that process a lot more."
It's a process that never seems to end.
Kevin hasn't had a weekend off in more than two months — and he doesn't seem like he really wants one too badly.
When he leaves the studio at night, Kane is usually just getting into his shift in earnest.
"This is all we do every day," Kevin says.
He takes a moment to reflect — just one. Then, as he finishes the thought, his features are brightened by a smile that, like so many other things, Kane shares with him.
"I'm not so sure that every father and son could do what we've done."
Contact reporter Jason Bracelin at
jbracelin@reviewjournal.com or 702-383-0476.