Indie label releases snapshot of Vegas scene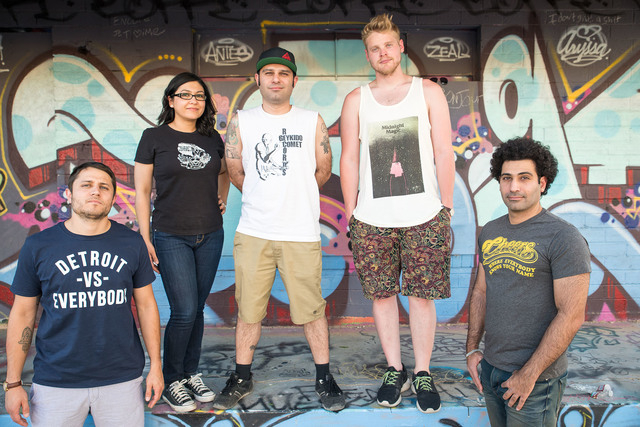 Shahab Zargari's clicking an invisible camera.
Sitting at a small table at The Beat Coffeehouse and Records on a recent Tuesday evening as Creedence Clearwater Revival righteously disturbs the peace in the otherwise quiet room, the founder of Vegas-based label GC Records mimes taking a picture as he discusses an upcoming compilation featuring local acts.
"We really wanted it to be this snapshot of the Vegas music scene," Zargari says, working on a coffee but not needing it, judging by his naturally high energy levels. "Whether or not you like it, this is what it is right now in 2014."
The release in question is significant for a number of reasons: it marks the 15th year of GC Records as well the launch of new imprint Yum Yum Vinyl Records, which will focus more on indie, dance and country artists as opposed to GC's punk-based roster.
Perhaps most importantly, though, it signifies a rebirth of sorts for GC Records, a cool, cult label that's worked with acts ranging from Oakland firebrands the Fleshies to Japanese cartoon-characters-come-to-life Peelander-Z.
GC was originally launched by Zargari and his wife, Heela Naqshband, in Southern California, relocating to Vegas in 2008 where it is perhaps best known for putting out records by late, great punks Holding Onto Sound (former HOTS and current Illicitor singer/bassist Zabi Naqshband is Heela's brother and is active in helping operate GC).
Running a small indie label is a thankless job — if you treat it like a job.
For a guy like Zargari, though, it's something else — a passion, a hobby, a joy, a source of frustration at times, and, above all else, a way to connect with and nourish like-minded artists.
Still, it can be a grind, and after going at it hard for a decade, Zargari began to focus less on GC a few years back when the combination of distributors folding and bands calling it a day took a real toll on the label.
"If the band breaks up, we're sitting on 500, 600 records and new fans are just nonexistent," Zargari says. "That was a really big issue in 2007, 2008. We were seriously thinking of closing up shop."
Husband/father/filmmaker/musician/writer/label owner — Zargari wears a lot of hats in addition to the black ball cap he's sporting on this day.
And so he had plenty to keep him busy aside from GC.
But then came a trip to Comic Con last summer with a couple of buddies, Ryan Brunty and Jacob Gallegos of collaborative art duo The 80s Kids, who got him enthused about releasing records again. And so they put together "GC047 – A Snapshot of the 2014 Las Vegas Music Scene," an excellent, eclectic collection of tunes from Vegas bands that you need to know like Rusty Maples, Hungry Cloud, the People's Whiskey, Illicitor and more.
If all goes well, "GC047" could lead to more releases from GC and Yum Yum, which wouldn't be limited to Vegas bands, but local acts would surely benefit.
GC will commemorate the forthcoming release of the comp., as well as their 15th anniversary, with a block party at 7 p.m. Sunday at the Civilian Clothing headquarters (6460 S. Windy Road), where there will be live sets from tongue-in-cheek Anaheim punks Four Letter Words, Vegas' The Quitters and Illlicitor, Zaragari's Einsturzende Neubauten-influenced performance art group Kill The Scientist, who haven't played out since 2000, and others.
It'll be a celebration of the past while looking toward the future.
"The music industry crashed," Zargari says matter-of-factly. "GC survived. Now it's time for a refresh."
Contact reporter Jason Bracelin at jbracelin@reviewjournal.com or 702-383-0476. Follow on Twitter @JasonBracelin.