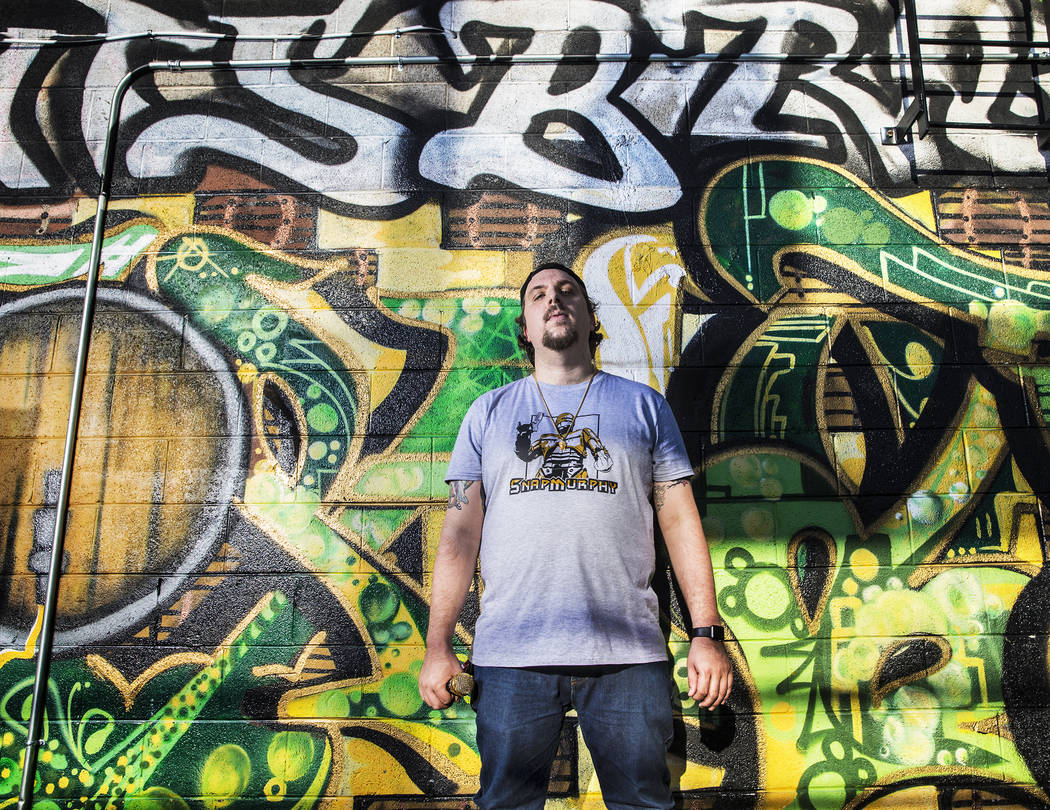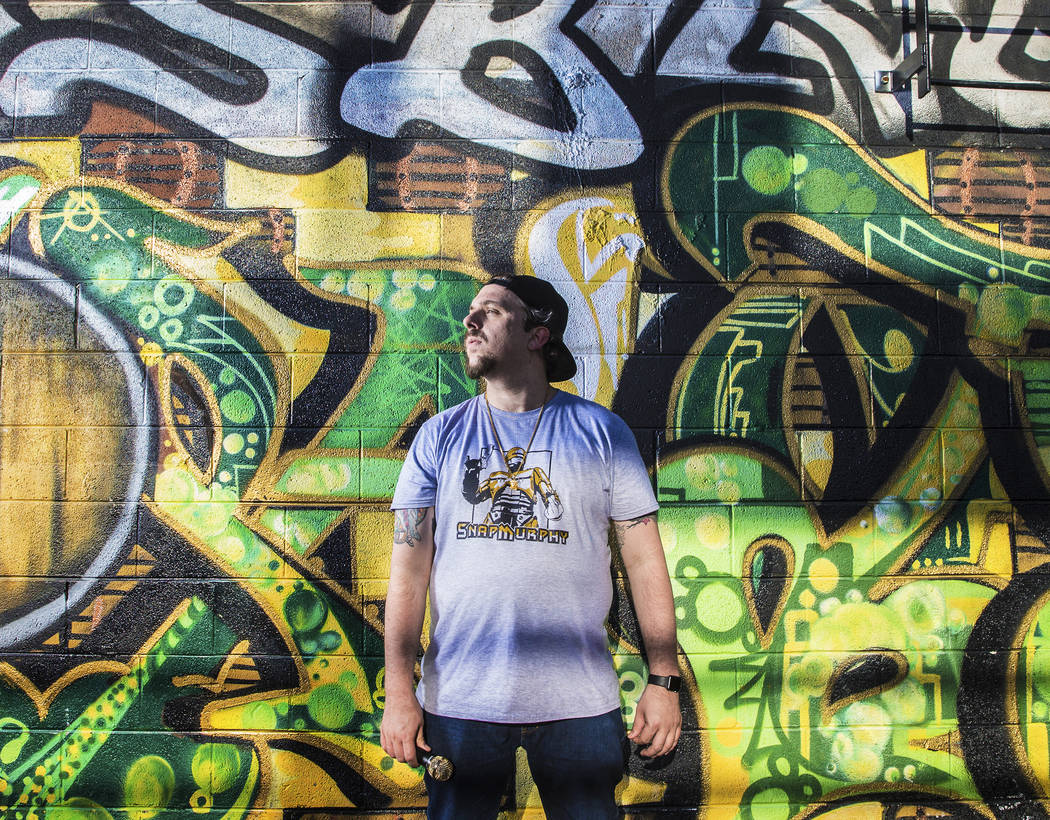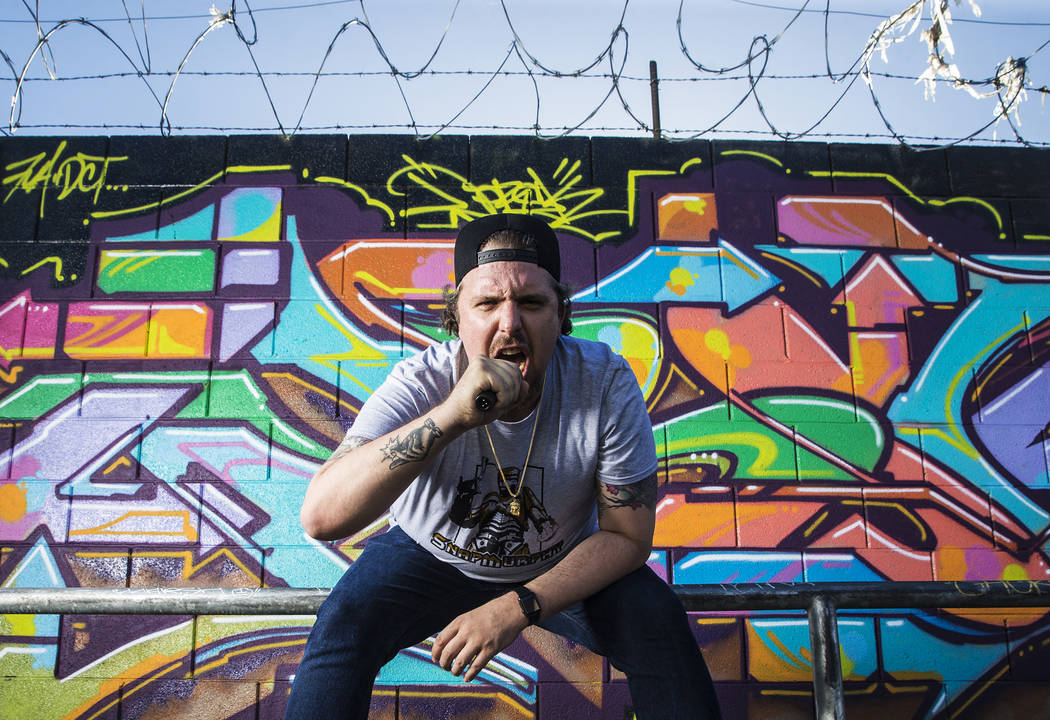 Amid the shattered beer bottles, curls of razor wire and graffiti-brightened trash receptacles, a dream is being pursued.
Slowly.
"At that dumpster, I'll probably stop and kill it for a minute," announces Snap Murphy, standing in a downtown alleyway, serving as both the star and de facto director of a guerrilla video shoot that soon commences when Murphy grabs the bill of his black ball cap and begins to creep forward.
"I'm an army of one," he booms, surrounded by a cast of two dozen huddling around him, countering his words.
They follow in his footsteps, the little boy not yet of kindergarten age, the young woman with a shock of red hair drinking vodka from the bottle, the dude with a battle-ax tattooed beneath his eye.
This is how an independent rapper goes about filming a clip for one of his songs, marshaling a crew of supporters who volunteer their time on a Wednesday evening to be part of a DIY shoot where the stereo in Murphy's gray Honda serves as the sound system and audience participation is encouraged.
"When you see me doing jumping jacks, feel free to do jumping jacks," instructs Murphy, a scruffy, animated presence quick with a smile.
This is what it means to be a working-class MC, doing everything yourself, networking constantly, turning cracked asphalt into impromptu sound stages.
Murphy's a lifer, a 32-year-old true believer fond of inspirational tomes like "The Secret" whose rhymes are a corollary of such reads, mostly posited on an anything-is-possible spirit of self-reliance and hope.
He's a blue-collar, hand-to-mouth artist through and through: After completing his shift at a sports card shop during the day, he often works four to five hours as a Lyft driver, not to make money, but to potentially expose riders to his music, selling T-shirts and copies of his most recent double CD, "Happiness of Pursuit," out of the trunk of his car.
Hard times, harder rhymes
To peek into Snap Murphy's life is to part the veil on the rigors of being an aspiring rapper, where there's little glory and lots of struggle. Murphy knows all about the former: Originally heralding from Indiana, he grew up with an abusive father and watched his two older brothers tangle with the law and gang life.
As early as the age of 7, he began writing songs, music becoming a refuge.
"I had acne really bad in high school. People used to pick on me. I had low self-esteem, couldn't get a girlfriend. I thought I wasn't good enough for the world," Murphy says earlier on the day of the video shoot over a coffee at Sambalatte in Summerlin. "And I realized something one day: If you don't like the way I look, look the other way. You've got to be comfortable in your own skin."
Since then, Murphy has grown comfortable being uncomfortable, his music candid and confessional.
"My life's a cartoon, with no caption / My image sucks, I have no fashion / I'm just another white dude rappin' / But at least I'm telling you exactly who I am," he rhymes on "Fresh Air."
Murphy readily acknowledges how rocky a path his career has taken him down.
Last November, he went on a 30-day tour with rapper Sapient, sleeping on Motel 6 floors every night even though he has three bulging disks in his back.
"I'm pushing myself," he says. "I'll be on stage with a cane if I need to be."
'How much do you want it?'
Then there was the time he had a gig booked in Salt Lake City but was so broke that he had to sell his couch for gas money.
He traveled over 400 miles to perform in front of 15 people, but one of them was an event coordinator for a larger festival scheduled for later in the year in Salt Lake.
"Three months down the road, they paid me three times more than what the couch was worth to come back," Murphy grins. "I tell people, 'That's what you need to believe in. How much do you want it?' "
Murphy wants it badly enough to live the life of a starving artist, doing so almost with relish — he's been known to post pictures of his empty wallet on Instagram.
Yeah, a couple of shiny gold rings brighten his right hand, but they're more than a rapper's de rigueur fashion accessories: He received one of the rings after his first communion, the other following his confirmation, given to him by his mother and grandmother, respectively.
"Someone could look at me like, 'Typical rapper, got the gold rings on,' " Murphy says. "But when I hold that microphone, I always look at those, and it reminds me of who I fight for every day, the two women in life who have taught me to be who I am."
Murphy says that the ultimate goal of his music is to become successful enough to open up a youth homeless center and mentor struggling kids. It's something that resonates with him on a personal level: One of his brothers was homeless for a time, and Murphy recounts a winter his sibling spent on the frigid Chicago streets.
Nowadays, Murphy volunteers for the Las Vegas Rescue Mission.
He knows that he's the very definition of an underdog in hip-hop, and he's open about it.
"I'm willing to be vulnerable," he says, "because I know that people need that, they need to hear somebody who's willing to spill their heart and soul."
Soon, the spilling ceases, at least for the moment.
Snap Murphy's got a video to shoot, alleyways to take over, dreams to chase.
Contact Jason Bracelin at jbracelin@reviewjournal.com or 702-383-0476. Follow @JasonBracelin on Twitter.