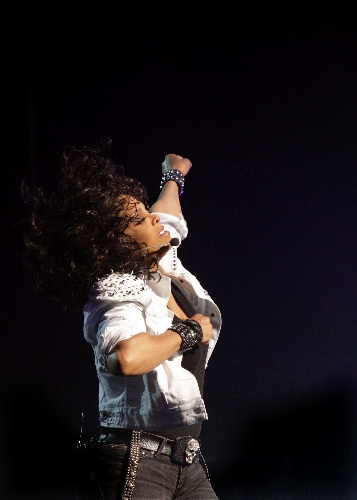 It was good Janet vs. bad Janet.
Who would win?
Definitely not the audience.
The scene: a packed Mandalay Bay Events Center three years ago, when Janet Jackson's "Rock Witchu Tour" hit town in a retina-blasting blitz of hot-under-the-collar hits and high-concept absurdity.
At one point, Jackson appeared on the giant video screens above the crowd in a pre-taped segment, dressed in black, posing as her evil alter ego.
And then she was ostensibly vanquished by the "good" Janet onstage, bathed in white light and matching attire.
No, we didn't quite get it either.
But, the scene did provide something of a metaphor for Jackson's career, which can most certainly seem like the work of two distinct entities at different points over the past three decades.
With Jackson playing Vegas this weekend, let's take a look at how "Good Janet" and "Bad Janet" have manifested themselves over the years.
BAD JANET
ACTING IN FLATULENT FILMS
Eddie Murphy in a fat suit, busting out fart jokes about as smile-inducing as a ruptured testicle, and Tyler Perry in, well, anything, ever, equates to a supernova of suckiness, a pop culture black hole capable of devouring planets, careers and cerebellums.
And yet, Jackson has sullied herself with both by acting in celluloid ipecac such as "Nutty Professor 2" and "Why Did I Get Married?" (Better question: Why Did This Film Get Made?), two cinematic double flushers that did for laughter what the bubonic plague did for life expectancies.
And do you remember "Poetic Justice"?
No?
We wish we could say the same.
GOOD JANET
CREATING SELF-EMPOWERED POP
On "Control," one of the defining musical statements in '80s pop music, contemporary R&B and feminine assertiveness simultaneously, Jackson cast a shadow as long as the one she stepped out of in distancing herself from her family legacy.
This is the record that millions of teen girls sang into their hairbrushes and were all the better for it.
"When I was 17, I did what people told me, did what my father said, and let my mother mold me. But that was long ago," Jackson purrs on the album's title cut over Jimmy Jam and Terry Lewis' modernist production values, which resulted in a sound nearly as huge as the chip that Jackson was shoving off her shoulder.
"I do what's right for me. And me wants to groove," Jackson later adds on the aforementioned tune. "Is that OK?"
That's a rhetorical question, of course, as Jackson was no longer asking for anyone's approval.
BAD JANET
ENGAGING IN LIMP SEX TALK
Janet Jackson has long been in touch with her sexuality, but on her eighth disc, 2004's "Damita Jo," she rubs your nose in it like a dog caught peeing on the carpet.
The result is Jackson's most blush-worthy record, as she nicknames her naughty bits and engages in the kind of juvenile sex talk that seems cribbed from the toilet stalls of high school locker rooms.
"I'll drive that ass crazy," she sings at one point, and honestly, we don't understand why she has to drag a creature as beloved as the donkey into this.
Jackson even invents a kind of clumsy coital vocabulary at one point, coining new words like "sexplosion" (ewww), "sexplore," (double ewww) and "sexhibition." (Isn't that what you call a preseason game in the Lingerie Football League?)
OK, fine, we'll play along.
Seriously, Janet, we need a sexplanation for such sextreme lameness. There's no sexcuse for such sexasperating and sexessive nonsense.
(Deep breath.)
Sorry for getting so sexcitable.
GOOD JANET
STRIKING A BALANCE
On her fourth record, Jackson shook her derriere and her fists with equal vehemence.
If "Control" was a proclamation of her emancipation, "Rhythm Nation" saw her expanding her world view — and musical palate — targeting larger societal ills (drugs, poverty, prejudice) over a bristling backdrop of hip-hop, industrial and hard-rock flourishes.
The result was a sort of commercial consciousness, once common among the biggest artists on the airwaves such as The Beatles, Bob Dylan, Marvin Gaye and countless more, but lacking by the late '80s as the gap between political discourse and popular music widened.
Jackson didn't entirely bridge this chasm with "Rhythm Nation," which tended to address injustice and inequality in generalized terms and is hardly an album of protest tunes, but she did develop a voice as distinct as her dance moves.
As such, a little more than two decades later, "Rhythm" still reverberates like its namesake.
Contact reporter Jason Bracelin at jbracelin@ reviewjournal.com or 702-383-0476.
Preview
Janet Jackson
9 p.m. Saturday
The Colosseum at Caesars Palace, 3570 Las Vegas Blvd. South
$75, $95, $150, $195