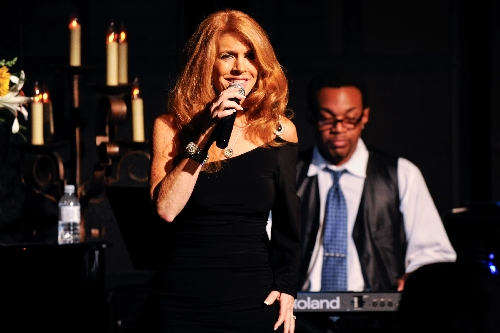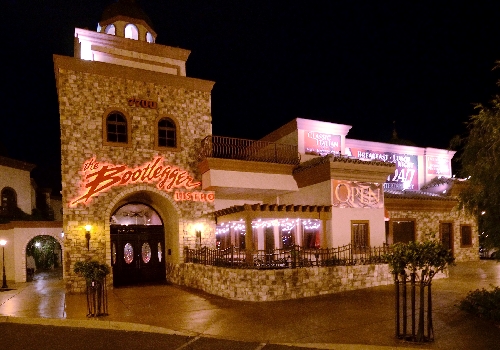 In 1978, on the "Rhoda" TV show, actor Michael DeLano played an oily lounge singer named Johnny Venture.
"Now," jokes DeLano, "I am Johnny Venture."
Most Monday nights at the Bootlegger Italian Bistro, DeLano is one of 20 or so singer/entertainers who sign up to participate in Kelly Clinton's Open Mic Cabaret. DeLano is drawn to the Bootlegger because he can sing with a live band and be heard by an appreciative audience.
"You're very kind," he says after performing two songs made famous by Frank Sinatra. He leaves the stage and, like the other entertainers, receives a hug from Clinton.
Every night is a night of food and music at the Bootlegger, says Lorraine Hunt-Bono, president and CEO of the family-owned business that includes the 24/7 restaurant. Hunt-Bono used her successful early singing career as a steppingstone into real estate investing and later, a career in politics.
The Bootlegger opened in 1972 near Tropicana and Eastern avenues and quickly attracted a loyal following. It moved to a larger facility at 7700 Las Vegas Blvd. South in 2001, while Hunt-Bono was serving as Nevada's lieutenant governor.
"I was president of the Senate five days a week. I flew home every Friday to watch over the restaurant and introduce our entertainment," she recalls. " And if they asked me to sing … I did!"
Hunt-Bono's mother, Maria, was and is – at 95 – the executive chef in the family. Maria's late husband, Al, was the original musical influence.
"When my parents opened their early restaurants, entertainers were always welcomed, but we didn't have the right performance space for them. With this restaurant, we made sure we had a stage area, lighting, a first-rate sound system (even folks in the restrooms don't miss a beat) and a piano that is tuned regularly," Hunt-Bono explains. " I personally designed the elevated bar area so when the entertainment begins and the shades between the bar and main dining area are lifted, the performers can also be seen by the bar patrons."
In addition to Clinton's Open Mic Cabaret, Gus Mancuso is the featured artist three nights a week, playing piano, vibes, baritone horn and other instruments. In days gone by, Mancuso was married to Hunt-Bono and performed with bandleader Tony Pastor, the Mary Kaye Trio and Sarah Vaughan, among others. On Thursdays at 8 p.m., he calls on musician friends such as Richie Cole, Joe Locatelli and Santo Savino along with his wife, Maggie Peterson, to join him in a showcase called Jazzology .
Trumpet player Rick Jones, who acts as master of ceremonies for Jazzology, says, "The best jazz players and singers in the business come in for these jam sessions. I'm thrilled to play with them. I look around the room and see who wants to perform and we're off. Most importantly, we have fun."
Other nights of the week, veteran musicians such as Tommy Deering, Joe Darro, Billy T, Howie Gold and Charlie Shaffer handle piano-based entertainment duties. The lineup changes from time to time, but entertainment is always important to business. At least once a day, a call comes into the Bootlegger asking, "Who's the entertainment tonight?"
"When we opened this restaurant and hoped to have entertainment, " Hunt-Bono recalls, "I ran into an old friend, Sonny King. He was around 80, but agreed to come in and host Friday and Saturday night programs we called Off the Cuff. Sonny had friends from all over the country. They came to tell stories and watch Sonny work the room. "
"My friend Lena Prima and I came often to Off the Cuff," Clinton says. "The show was almost like a spiritual experience as Sonny and his friends talked about the Rat Pack days, Louis Prima (Lena's Dad), Jimmy Durante and others. The spirit of entertainment was in the walls, and the place was always packed."
Carrying on in that spirit, Monday nights are now like weekend nights in terms of business. Besides introducing others, Clinton, a singer and comic, regularly adds laughs to the Monday night package.
"The show is different every Monday," Clinton explains.
During an August show, the musicians onstage with Clinton were Mike Clark, Adam Schendel, Jim Snodgrass and Jim DeNoon. They played for everyone from Clinton and her husband, entertainer Clint Holmes, to up-and-comer Malia Civetz and Grammy Award winner Deniece Williams. The show starts between 8:30 and 9 p.m., and reservations are recommended.
While the musicians may change, some of the fans in the audience do not. Attorney Steve Primak has been a Monday night regular for eight years; Bill Bane's Monday night table has been his for seven years.
Three years ago, Dianna Paschall and her husband, Perry, came to the Bootlegger at the recommendation of friends who said Holmes sometimes sang there. "We were seated in the bar when we heard an announcement introducing Wayne Newton," Dianna recalls. "We ran to see what was going on. It was Kelly Clinton dressed as Newton, and she was hilarious. We grabbed a table when we saw an empty one, and we've been coming every Monday night since."
For the past five years, Hunt-Bono has been married to singer Dennis Bono. Bono hosts his own syndicated radio variety show recorded live at the South Point on Thursday afternoons. Talent from the Bootlegger often appears on Bono's radio show, and Bono occasionally sings during Open Mic Cabaret nights, too. Special guests on Bono's show often are entertained after the show at – where else? – the Bootlegger.
Younger generations have discovered the Bootlegger, too. Some are musicians from high school invited to sit in on Jazzology night, others are young singers whose parents know about Monday nights, while yet others are voice students of another popular Las Vegas singer, Denise Clemente.
Clemente schedules once-a-month Sunday afternoon Rising Star programs for her students. Initially, those programs were held in half the Bootlegger main dining area. The crowds soon occupied the whole dining room. "Then, folks were almost fighting for tables," Hunt-Bono says.
The Bootlegger complex includes a large area once occupied by another restaurant. Rather than rent out the space, Hunt-Bono says she and her son, Ronnie Mancuso, company chief operating officer and a successful musician himself, operate the Copa Room (Casa di Copa) as a banquet hall and performance space. Clemente's shows moved to the Copa Room several months ago. Audience members can have an all-you-can-eat Italian buffet lunch for $15 and listen to the lineup of students.
"The public is invited," Clemente says.
WHAT'S GOING ON
To find out more about the entertainment scene at the Bootlegger Italian Bistro, visit BootleggerLasVegas.com.