John Prine is bringing his celebrated songbook to Las Vegas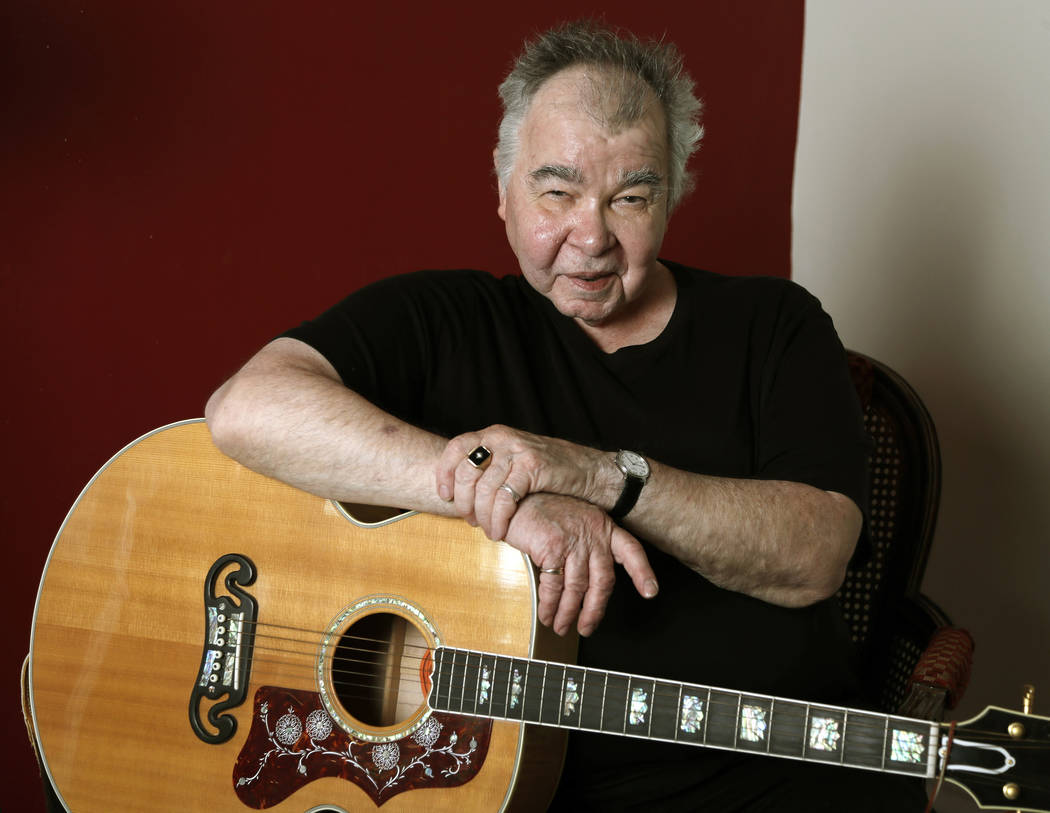 Leave it to one titan of song to best distill the essence of another. "Twenty-four years old and writes like he's two hundred and twenty." That's Kris Kristofferson talking in the liner notes of Prine's self-titled debut, which the former produced.
Kristofferson's words would be echoed over the years by plenty of those who know their way around a tune, including fellow folk, country and rock greats such as Bob Dylan, Johnny Cash and Roger Waters.
Prine has never looked or even sounded all that special: a slightly rumpled Everyman with a voice that, while unerringly sincere and deeply felt, could be on the flat and nasally side.
But his lyrics are a different story — and what stories they tell.
Prine is like a method actor of song, inhabiting characters, bringing them to life, making them feel like someone you know intimately — a neighbor, a lover, the person in the mirror. He's done so with wit, humor, grace and empathy for close to 50 years.
With Prine coming to Las Vegas, let's revisit his celebrated songbook by delving into an album from each decade of his career:
'John Prine' (1971)
If the Vietnam War was the first armed conflict to be televised, "Sam Stone" was its musical corollary, a song that simply, stingingly conveyed the toll that all the bloodshed took on the psyche as well as the flesh.
One of Prine's most iconic works, the spare, unflinching number tells the tale of a soldier struggling with addiction upon returning home from combat.
"There's a hole in Daddy's arm where all the money goes," Prine sings on what's become a folk standard. "Jesus Christ died for nothin' I suppose."
Three cuts later, Prine dismisses self-serving patriotism on "Your Flag Decal Won't Get You Into Heaven Anymore," another song of the times that's since become a song of the ages.
As with any Prine record, there are moments of levity here — "Illegal Smile," "Spanish Pipedream (Blow Up Your TV)" — but, ultimately, this is an album defined by its poignancy. If you don't get misty-eyed hearing Prine's tribute to what coal miners like his father once had to endure ("Paradise") or the loneliness inherent in our twilight years ("Hello in There"), it's time to get some Drano for those tear ducts.
'German Afternoons' (1986)
Empty hearts and full glasses of beer, so goes this alternately beatific and biting reflection on love's blossoming and wilting.
The centerpiece is "Speed of the Sound of Loneliness," a song written when Prine's marriage to fellow musician Rachel Peer-Prine, who sings on the record, was crumbling like a sandcastle falling prey to the sea.
"Well, I got a heart that burns with a fever / And I got a worried and a jealous mind," Prine confesses on the ringing ballad. "How can a love that'll last forever / Get left so far behind?"
It's a question for which Prine doesn't have an answer, though that doesn't stop him from searching for one on the Budweiser-abetted "Out of Love" or amid the lap-steel ache of "They'll Never Take Her Love From Me."
It's not all tears and tallboys, though: High-stepping, higher-spirited waltz "I Just Want to Dance With You" is as sweet as the wedding cake Prine eyes with suspicion elsewhere.
'In Spite of Ourselves' (1999)
Mining the past in the face of an uncertain future, this collection of mostly classic country covers was the first album Prine released after being diagnosed with cancer in 1998. Surgery that removed a portion of his neck added a dash of grit to his singing voice.
A series of duets with some of Prine's favorite female counterparts, from Lucinda Williams to Emmylou Harris to Patty Loveless to album MVP Iris DeMent, "Spite" sees Prine shaking the dirt off his honky-tonk roots with audible relish, savoring the marrow of his musical backbone.
Must-plays include album opener "(We're Not) The Jet Set," which cheekily testifies to the joys of rural life ("Our steak and martinis / is draft beer with weenies / Our Bach and Tchaikovsky / is Haggard and Husky"), and the almost painfully beautiful " 'Til a Tear Becomes a Rose." Sung with his wife, Fiona, it's capable of eliciting enough of those titular tears to grow a garden.
'Fair & Square' (2005)
John Prine's love songs pierce the heart like Cupid's arrowheads.
He proves to be the harvester of a thousand sighs once more on "Long Monday" from his only album of new material released during the 2000s.
"We made time look like time could never fade," he tells his lover in a plaintive lilt on a song about coming and going, the former easing the ache of the latter. The line is a Prine staple: a few words that distill a depth of emotion that would be hard for most of us to convey with a thousand.
"Monday" is one of the standouts on an album that pendulums between the wistful and the world-weary, where Prine testifies to the glories of love while wondering why we don't all exhibit more of it.
'The Tree of Forgiveness' (2018)
When John Prine gets to heaven, a nine-mile-long cigarette awaits.
Or so he hopes.
At 72 years old, Prine eyes the afterlife with a wink on his first album of new material in 13 years, which also became his highest-charting record when it debuted in the top five in April.
It's a ruminative, understatedly affecting album, with Prine's wizened voice conveying his age like a tree trunk's growth rings.
Warm, intimate and sparely arranged, "Forgiveness" often sounds as if Prine is in the room with you, practically whispering these songs in your ear as he pines for "Boundless Love," playfully swipes at science skeptics, and takes your breath away on standout ballad "Summer's End."
"Yeah, this old man is goin' to town," Prine announces at album's end. By that point, you feel fortunate just to have been able to eavesdrop on the old man's party for a while.
Contact Jason Bracelin at jbracelin@reviewjournal.com or 702-383-0476. Follow @JasonBracelin on Twitter.
Preview
Who: John Prine
When: 8 p.m. Wednesday
Where: International Theater at Westgate Las Vegas, 3000 Paradise Road
Tickets: $49-$99 (702-732-5111)