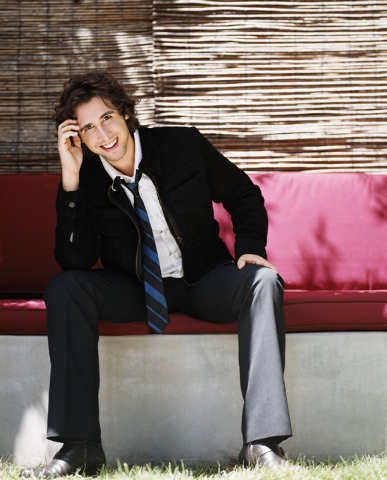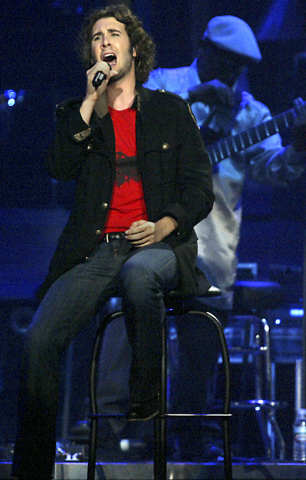 It's my favorite piece of hate mail.
"Hate" may be too strong a word, though.
The two-page letter, dated April 9, 2007, is a funny, sometimes eerily accurate skewering of myself in the wake of a Josh Groban concert review that I wrote, which the author of said letter appreciated about as much as broken wind in a confined space.
It has hung in my cubicle for years now.
My review wasn't that cutting, really.
I admired Groban's gorgeous voice, which is among the most distinctive and stirring in pop music, an instrument with the natural beauty of a Winslow Homer painting.
Ultimately, though, I was put off by how overstuffed the show was with excess instrumentation and melodrama. It was like being outfitted in cement long johns and plunged into an ocean of schmaltz.
And then there was the actual content of the songs, which was syrupy enough to gag Aunt Jemima.
"Groban's pretty much a Hallmark card come to life," I wrote, "his lyrics rife with generic, one-size-fits-all platitudes that seem as if they were cribbed from a sack of fortune cookies."
This assessment did not go over well with Groban's intensely loyal fan base, who responded with as much angry email as I have ever received save for the time I suggested that Clay Aiken's "Invisible" was a really creepy stalker anthem.
All the ill will culminated with this letter, a thing of disgruntled beauty, far more inspired — and inspiring — than all the emails wishing bad things upon me and my dog — and I didn't even own a dog.
The letter is an imagined account of my day leading up to the Groban concert.
It begins with me waking up to the sounds of my "favorite song," Buckcherry's "Crazy Bitch."
OK, so that's a low blow.
No matter how mad someone has made you, there's no need to toss around allegations of Buckcherry fandom.
That's just rude and uncalled for — kind of like the band in question.
Next, as the story unfolds, I meet up with my buddy "Peter" and we head downtown to watch the races — guess this was when the Grand Prix still came to Vegas — where I knock back 20 beers.
Apparently, I was taking it easy that day.
Then, I get a call from the editor-in-chief who informs me that I will be covering the Josh Groban concert that night.
"That guy isn't my type of music," I complain. "I like 'extreme rock,' not that sappy stuff."
"Jason, if you want to keep your cushy job with the R-J, you will be there," I'm told.
This is how most reviews are assigned, actually, only with more shaking of fists and insulting of mothers.
"My boss wants me to see that pansy ass singer Josh Groban," I bemoan to Peter, setting down that 21st Schiltz, "so no chicks, beer and wings for me tonight."
Eventually, I get to the show late after struggling to find a parking spot upon being turned away by an MGM Grand valet attendant who is somehow oblivious to my awesomeness — "Hey, dude, don't you know who I am?" I thunder incredulously. "I'm Jason Bracelin, a writer of the R-J."
(Way off there. In reality, I introduce myself as "Jason Bracelin, THE writer of the R-J.")
Once inside the arena, I stand in the back for a few songs, and then leave and head to a bar.
I wake up the next afternoon and decide to "wing it" through a write-up of the concert, practically sweating envy — along with last night's brew.
"Your review sounded like you are very jealous of Josh and it made you feel like a big guy by bad-mouthing him," the author writes, putting me in my damn place.
The letter ends with the suggestion that I would be better suited working on a pig farm, which really isn't that much of a stretch, as I grew up in rural Illinois surrounded by them.
Despite being taken to task like this, not to mention that slanderous Buckcherry comment, I appreciated the letter on a couple of levels.
First, instead of sending an anonymous missive like most other aggrieved readers do, I applauded that the author included her name, address and phone number even.
And so, with Josh Groban coming back to the MGM Grand on Sunday, I thought I'd give the writer, Janet Shadowen, a call after all this time to get a different take on her beloved singer.
"You're the last person I ever thought I'd hear from," she says with a laugh upon returning a voicemail I had left for her.
She remembers writing the letter clearly — "oh, definitely, I wasn't too happy with you" — and says it's not something that she's done very often, but that my review struck her as particularly ill-informed.
"I read that and I just went, 'Oh my God, I know he didn't go to the same (show) that I went to,' " recalls Shadowen, a former flight attendant who flew for 40 years. "There were 10,000 people there. They can't be wrong."
I may have gotten under Shadowen's skin in the past, but on this day, she's a pleasure to speak with, especially nice and good-humored considering that she was chatting with someone who had once annoyed her so much.
I ask her what it is about Groban that makes him so endearing to her.
"He just makes you feel good," she says, noting that she has seen him in concert around 12 times and will be at his show this weekend. "It's like he's your friend. He relates to everybody. He's just a really, really nice, talented man."
This is the other thing I dug about her letter: the passion behind her response and the extent to which she felt compelled to share her view on things.
Say what you want about Groban and his fans — and clearly, I have — they are an earnest lot.
What may strike me as mawkish or treacly when it comes to Groban does come from a genuine place.
His tunes might strike me as pretentious, from time to time, but there's no pretense in the relationship that his fans have to his music, and so when it gets criticized, it's as if they are being criticized themselves — this is the degree to which Groban's audience identifies with, and is moved by, the man's art.
I can respect that, even if I don't always have the same level of respect for the art in question.
With my reviews, I'm just trying to bring some perspective on a given artist.
With their feedback, readers such as Shadowen are just trying to bring some perspective on me.
And so, in a way, that Josh Groban concert seven years ago helped illuminate us all.
Think that's what Shadowen's letter was trying to say all along.
Either that, or just reaffirm how much I totally suck.
I'm no Josh Groban, after all.
Contact reporter Jason Bracelin at jbracelin@reviewjournal.com or 702-383-0476. Follow on Twitter @JasonBracelin.
Preview
Josh Groban
7:30 p.m. Sunday
MGM Grand Garden arena, 3799 Las Vegas Blvd. South
$56.60-$120.95 (800-745-3000)