Journey drummer had to relearn his own hits after 32 years
April 27, 2017 - 11:00 am
Updated April 27, 2017 - 8:58 pm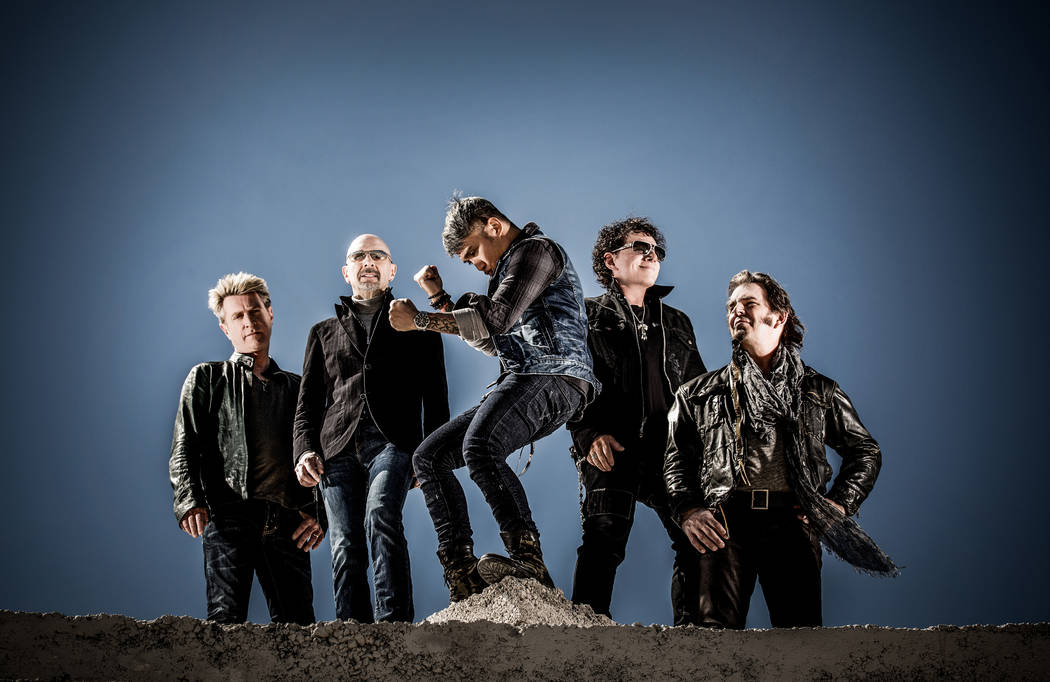 Steve Smith tops Modern Drummer magazine polls, conducts drum clinics and, three weeks ago, was inducted into the Rock and Roll Hall of Fame. But he's just like you, Mr. Aspiring Drummer, in one sense:
He's been playing along to Journey albums.
That — as well as careful chart transcriptions — is how Smith caught up to the band he played in during its peak years but left in 1985 to pursue his jazz-fusion muse. (A brief reunion for the 1996 "Trial by Fire" album evaporated before the band could tour.)
"After not playing this music for 32 years, I really didn't remember my part," he says. The best way to catch up is to "put the album on and play it front to back."
Smith was coaxed back to Journey after the June 2015 arrest of longtime drummer Deen Castronovo on domestic-violence charges, a month after Journey's first Las Vegas residency in May 2015. (The band fired Castronovo that August and he devoted himself to rehab and recovery.)
Smith is not just relearning the hits, but some deep album cuts as well. He says it was his idea to devote the Wednesdays of Journey's three-week Hard Rock Hotel run to playing the "Escape" and "Frontiers" albums in their entirety. (Fridays and Saturdays through May 20 will be the usual mixed bag.)
Those 1981 and 1983 blockbuster albums include most of the band's biggest hits, including "Who's Crying Now," "Separate Ways (Worlds Apart)" and "Don't Stop Believin', " which "at this point is more popular than it was originally," Smith notes.
But the second side of "Frontiers" was rarely heard in arenas. "There are a couple of tunes we didn't play ever: 'Troubled Child' and the title track ("Frontiers"). "When you only have so much time and we have hit songs, the people want to hear those hit songs. We have to make tough choices, really night after night."
Between the Wednesday and weekend shows, Smith will fill up his Thursday dance card with three visits to The Gallery of Music & Art in the Forum Shops at Caesars to promote "The Fabric of Rhythm," a 2013 series of photographic prints and companion book based on his drumming.
Smith will have a small drum kit at the gallery to demonstrate how he would play with luminescent drumsticks while a camera photographed him in long exposures, to create motion streaks of light and geometric patterns.
"Playing with the lighted drumsticks is something I had been doing for years," Smith explains. "I would sit in a dark room in front of a mirror and practice, so I could see the actual pathways the sticks are making through space, and constantly refine my technique."
"I recorded a drum solo to go with each piece," he adds," "and we put it on a vinyl LP that comes with the book."
Smith used his Hall of Fame acceptance speech as an opportunity to cite his early jazz influences and to draw the line from big-band drummers to rock. He says it was a 1977 stint with jazz-rock violinist Jean Luc Ponty (who plays Aliante Casino on June 10) that "really started to bring some rock elements into my playing" and led to his first double-bass kit.
Journey guitarist Neal Schon saw Smith on that tour and later invited him to succeed the band's first drummer, Aynsley Dunbar. Both were inducted into the rock hall and shared in the performance during the April 7 ceremony. Former Journey singer Steve Perry shared the stage with the band for the first time in years but did not perform.
"We asked him if he would want to (sing) and he declined," Smith says. "He was very gracious. We were all happy to see him" and grateful that "he acknowledged (current singer) Arnel Pineda and, to me, really passed the baton to Arnel."
Smith's jazz-fusion solo band, Vital Information, has a new album coming in September. The 62-year-old drummer says he feels free to bring "a lot wider palette" back to Journey and "updating it so it makes sense with the way I play now."
Contact Mike Weatherford at mweatherford@reviewjournal.com or 702-383-0288. Follow @Mikeweatherford on Twitter.