Katy Perry's Las Vegas show goes on wild ride into pop culture
January 21, 2018 - 2:24 pm
Updated January 21, 2018 - 11:19 pm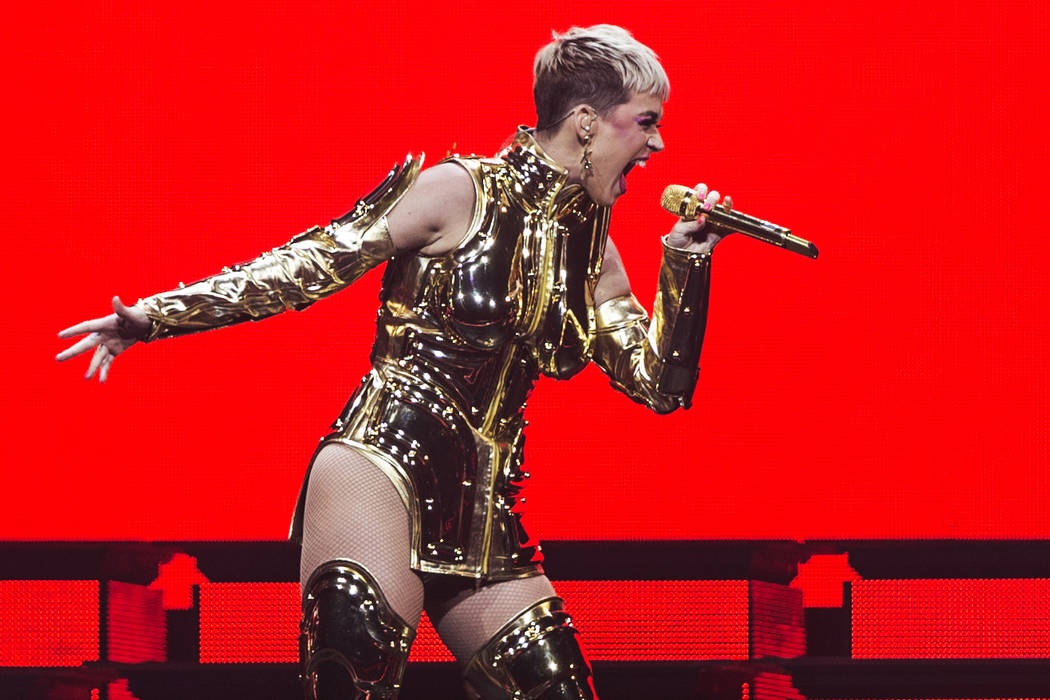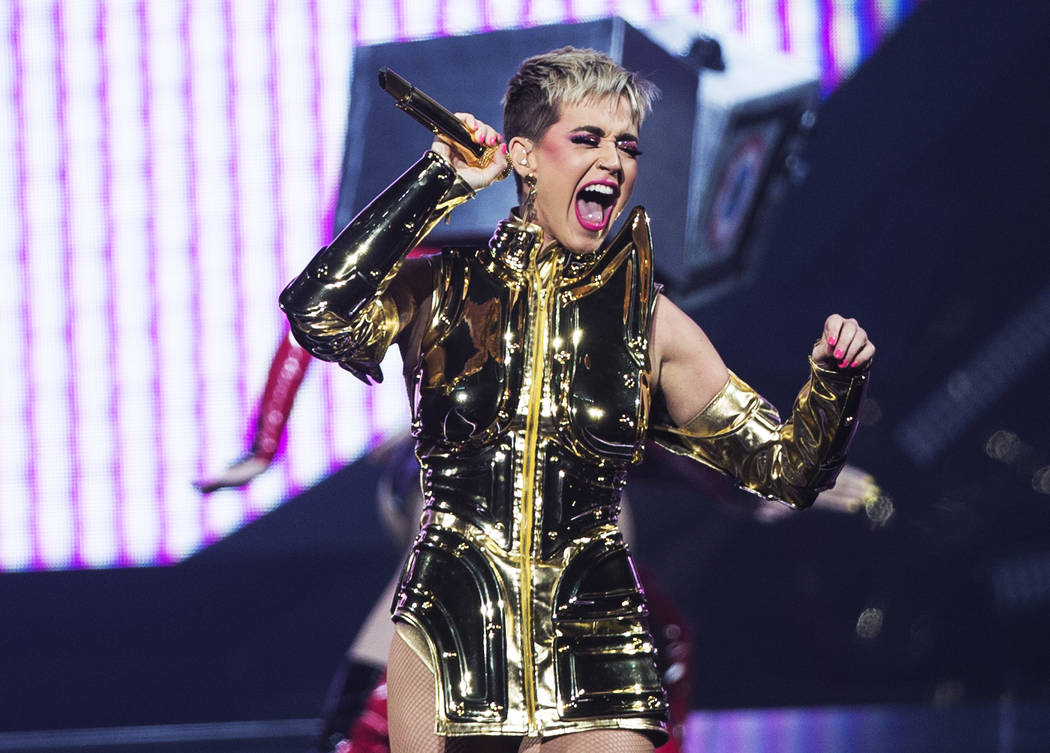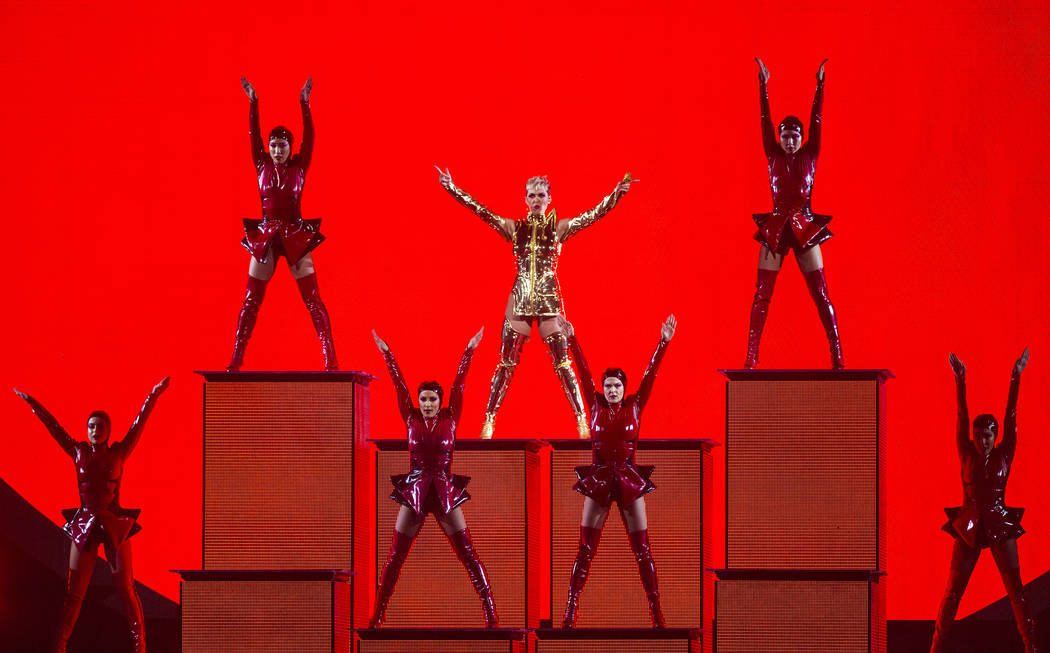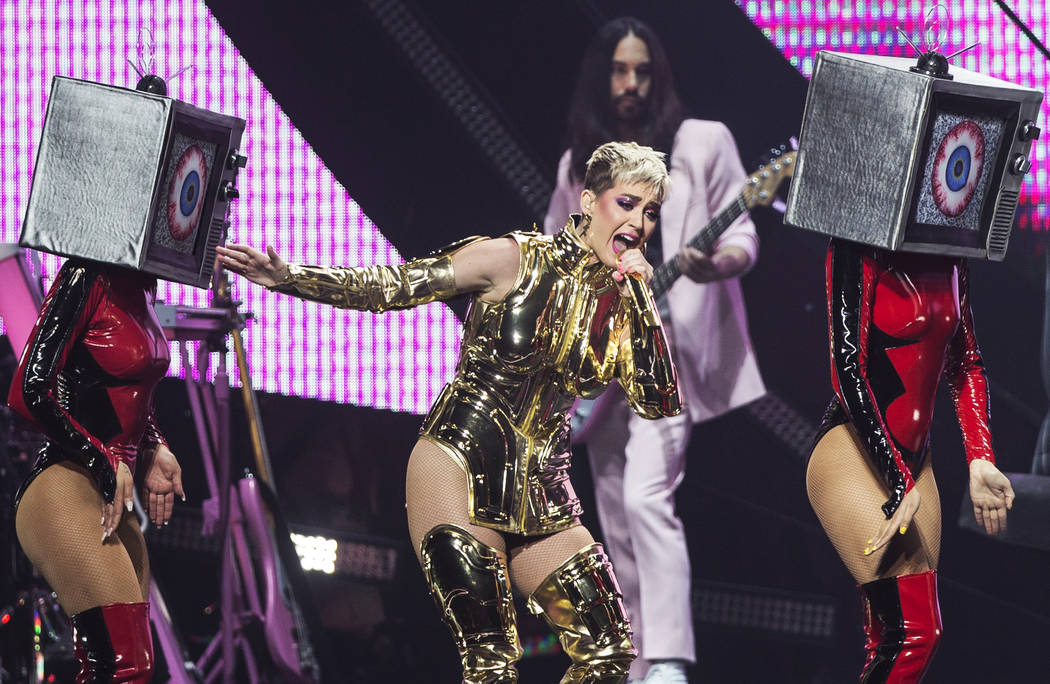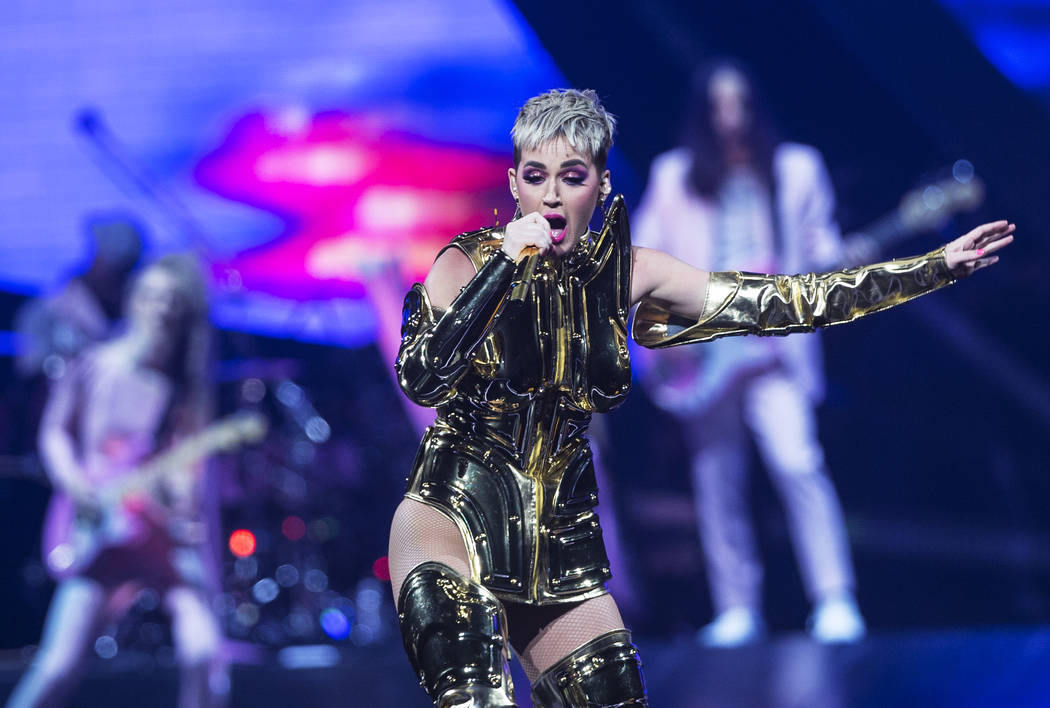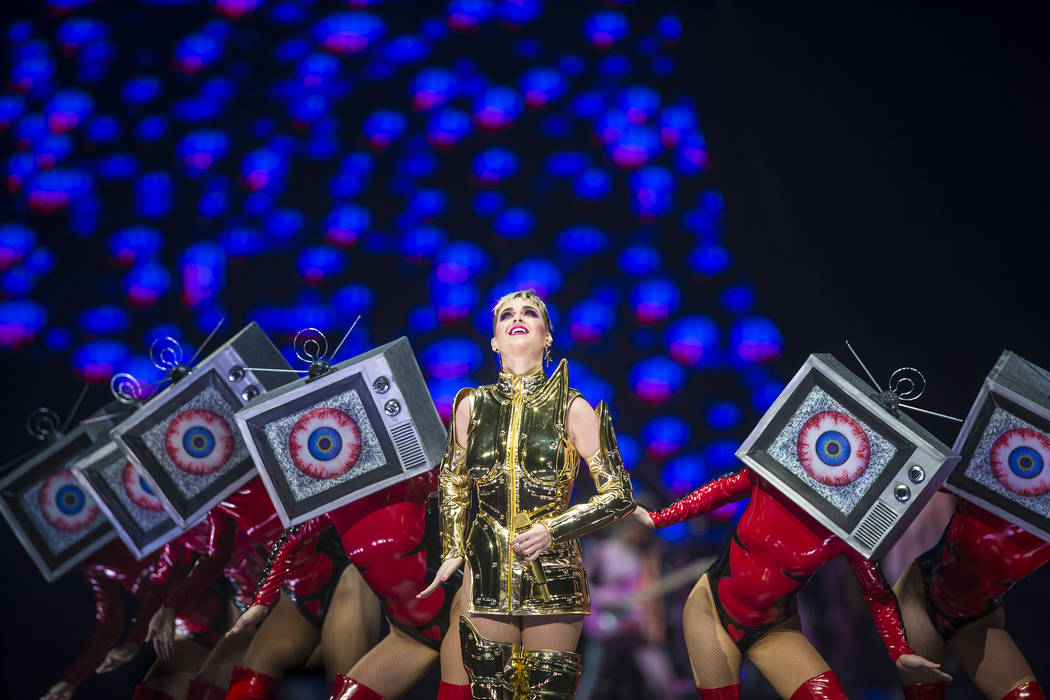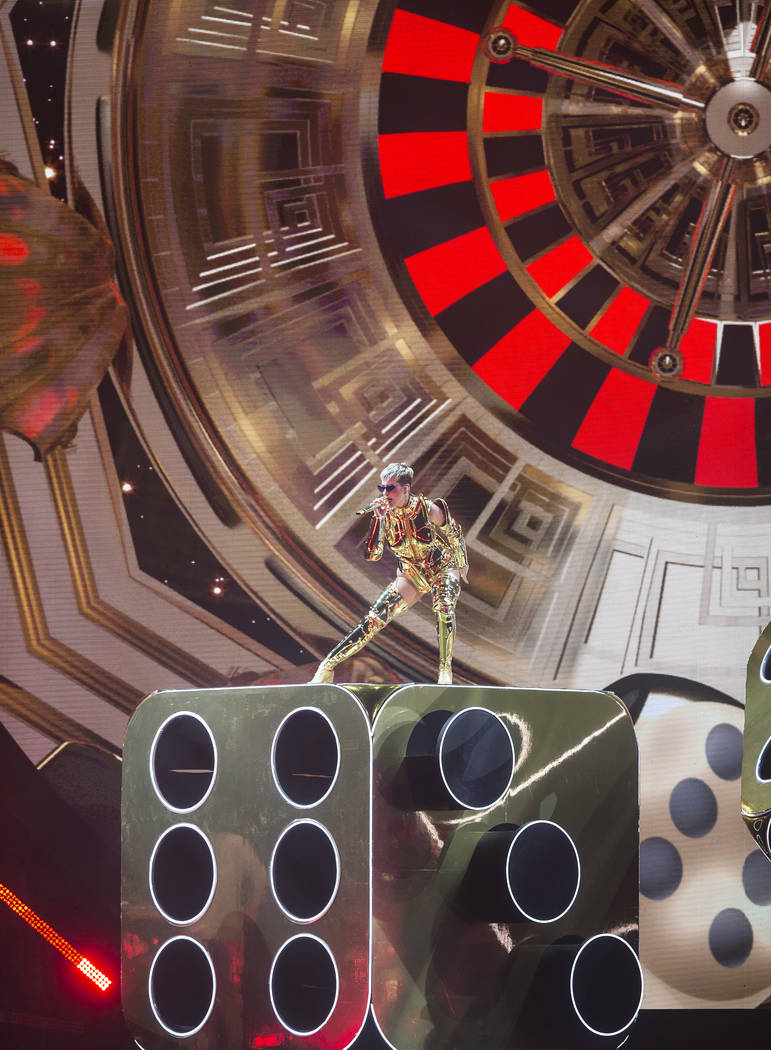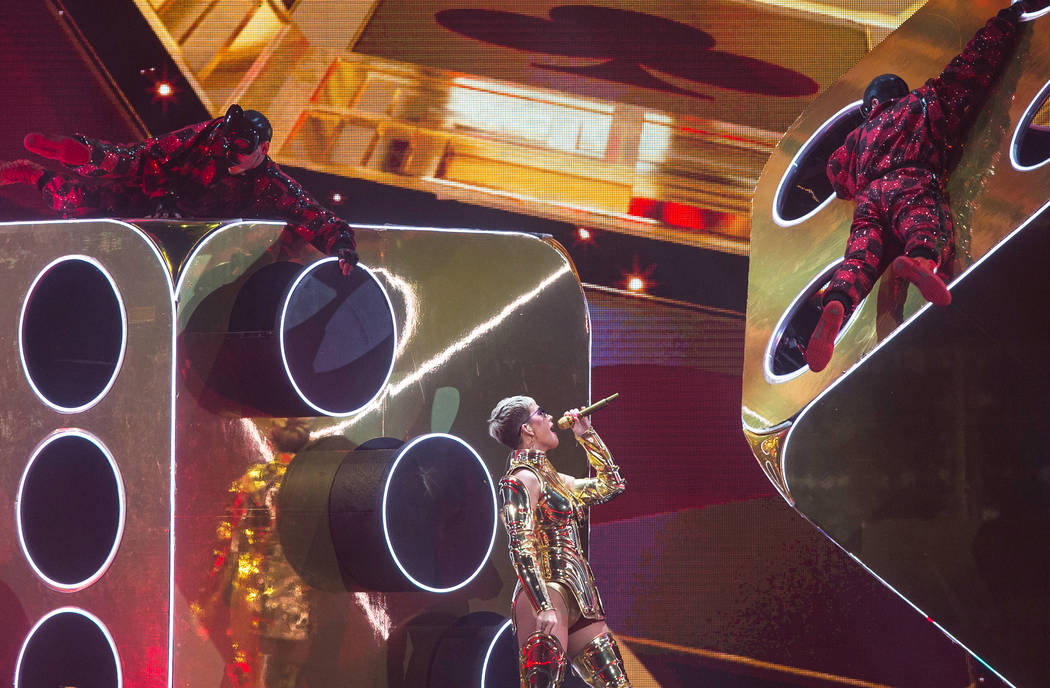 When 5-feet-tall hot pink rotary phones are involved, critical analysis becomes moot.
Katy Perry used this anachronistic stage prop to call her mother midway her show at T-Mobile Arena on Saturday.
Things we learned: That Perry's parents were married in Vegas, that her mom's nickname for her is "Feather" and that a chin-stroking assessment of Perry's performance would be about as useful as a designated driver at an O'Douls kegger.
And so we won't even try.
Instead, we'll simply share the top four "Say what?" moments from Perry's "Witness" tour stop in Vegas:
She loves the '80s
It was like "Alice in Wonderland" with Punky Brewster in place of Alice, as evocative of the '80s as "Alf," "Flashdance" and brick-thick shoulder pads.
All "Miami Vice"-worthy pastels and nod after nod to the neo-expressionist art of the decade in question, Perry's stage design was truly befitting a child of 1984.
The stage was a marvel: From a massive eye-shaped video screen extended a catwalk shaped like a flowing tear, flanked by a smaller stage designed to look like a solitary teardrop.
Perry's latest record is hit-or-miss mash of modern electropop and '80s new wave, and this production followed suit, with near-constant allusions to the era of Reaganomics and butt-ugly leg warmers, from the Pac-Man motif of "Part of Me" to her covering a portion of Janet Jackson's "What Have You Done For Me Lately."
Mercifully, parachute pants were not involved.
'Arrival' in hot pants? 'War of the Worlds' in pleather leotards?
"Do you believe in aliens?" Perry asked by way of introducing the clapping beats and throbbing futurofunk of "E.T."
Without giving the near-capacity crowd time to answer, Perry was soon evading a winged stilt-walker costumed like an extraterrestrial fly in front of a massive silver Venus flytrap with pink tentacles.
Before long, Perry was lounging on a big fig leaf as scantily clad dancers used huge salt and pepper shakers to season her in glitter.
We know what you're thinking, 'Hey, didn't I see that exact same scene the last time the Mormon Tabernacle Choir was on tour?'
Yes, but the dancers' leather bodysuits were black, in this case.
And there's the distinction.
Of course there was a dude pole-dancing on a flower
Hmmm, how to visually bring to life a song that equates a romantic encounter with a seismic sea wave capable of killing thousands, ruining lives, crippling economies?
Please.
Katy Perry goes yard on softball questions like that.
Obviously, you do so by recruiting a near-topless chap to do some Cirque du Soleil-style acrobatics on the stem of a towering, two-story rose with an eyeball embedded inside its petals.
The tune: "Tsunami," a breathy come-on with darting synth lines.
As Perry delivered it atthe end of the catwalk, her dancer did the splits while suspending himself in the air vertically.
What did it all mean, exactly?
Cher meets Neil DeGrasse Tyson interlude
Perched atop a multicolored Saturn in a solar system of what-the-hell-is-going-on-here?, Perry donned her most regal outfit of the evening for an acoustic "Wide Awake," strumming a white guitar while being elevated to the rafters, her voice rising with her dramatically.
"I had to bring all my diamonds out for Vegas," Perry purred, clad in a sparkly headdress and matching, she-went-to-Jared dress.
A few songs later, Perry spotted a 6-year-old in the crowd wearing her exact get-up and brought her up on stage.
"What do you want to be when you grow up?" she asked the young'un, whose name was Olivia.
"A Disneyland tour guide," she answered without pause.
Never too early for a little on-the-job training.
And this was the perfect place to start.
Contact Jason Bracelin at jbracelin@reviewjournal.com or 702-383-0476. Follow @JasonBracelin on Twitter.