Keith Urban doesn't waste much time looking back
October 20, 2016 - 9:49 am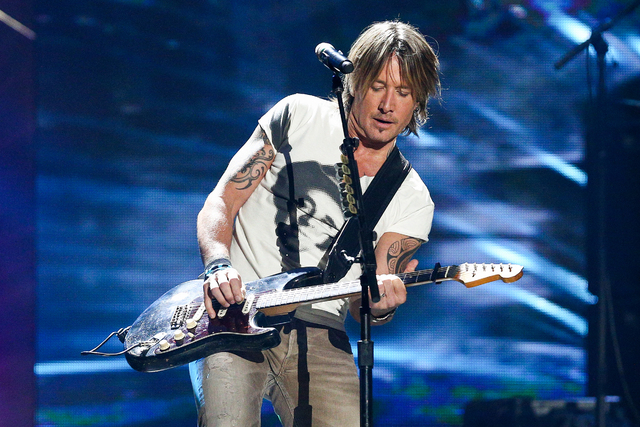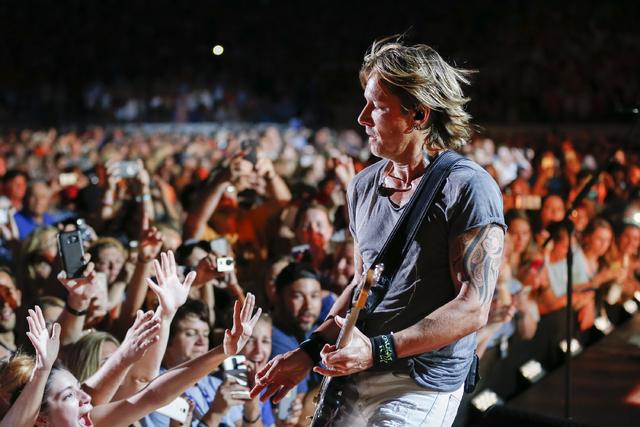 Can't wait to hear Keith Urban play all those "Golden Road" hits again, and maybe flash back to what was going on in your life when he played the Las Vegas Hilton in 2002?
Well, Pops, maybe you'd better wait to steer that Edsel down to Reba and Brooks & Dunn when they come back to town.
Country's rules have changed, but the Australian star — who turns 49 on Oct. 28 — has stayed in the game.
If Friday's show at the T-Mobile Arena is like those that kept his "Ripcord" tour on the road all summer, it will include "a whole new audience that came along three records ago," Urban notes.
"They weren't here during 'Golden Road' or 'Be Here' (from 2004) or 'Love, Pain & The Whole Crazy Thing' (from 2006)," he says. "Some came along during 'Defying Gravity' (from 2009) or 'Get Closer' (from 2010). There's any amount of them that just came along during 'Fuse' (2013). 'Fuse' was the record that first grabbed a lot of those people."
Urban says he wouldn't be averse to a Las Vegas residency. He and his wife, Nicole Kidman, already "fly down to catch shows. Nic went and saw J-Lo's recently and loved it."
But the "Ripcord" tour reflects his currency. Around six songs from the album make most set lists, a big shift from the catalog-based retrospectives of Garth Brooks or Rascal Flatts.
Four seasons as an "American Idol" judge couldn't have hurt. "At the end of the day it's all cumulative things," Urban says. "You've still got to have music that delivers. Having celebrity isn't going to land you a No. 1 album. You've still got to have songs that connect, that sort of thing."
The wide gamut of "Idol" viewers "just gives you a little more awareness for people to at least check out the music, which is all I ever wanted. Come to the concert and see what I do. Give me the chance to keep you from there on."
Urban doesn't just roll with modern country's larger mindset of looking forward not back. He can even explain it.
"We're just in a disposable generation, so much more than ever before. It's just where we are," he says. "We process and dispose of things at just a rapid rate."
Urban also was early to the party of not looking like the "hat acts" that dominated Nashville in the '90s, as well as that of not caring much about whether he sounded "modern" or "traditional."
If genre walls hadn't completely crumbled when "Fuse" came out, they certainly had by the time Urban teamed with Pitbull and veteran R&B producer Nile Rodgers for the new album's "Sun Don't Let Me Down."
Urban says it's a better use of his time now to ponder the order of a concert set list than the song sequence of an album. "It's a bygone era. People are going to cherry-pick songs," he says, adding, "If you even buy the record anymore. And if you do, you make your own playlist."
"Ripcord" did debut at No. 1 on Billboard's country album chart last May, and at No. 2 on its all-genre Top 200. But it's an album with different co-producers on each track, tied together by "the fact that it's the same guy singing every song," Urban says with a laugh.
"I have a very strong vision of each song when I get into the studio, so it doesn't really matter who I work with. My thumbprint is going to be on each song. That's really what ties it all together. Working with other people is where the diversity comes in for me. That's what I love about collaborating."
Urban thinks he can explain his own eclectic reach, as well as why we listeners care less about whether something is "authentic" country than when he first broke out as a star.
"I've always had this theory that one of the things that had a big impact on us as listeners was the shuffle feature on the first round of iPods," he says.
"I really think that had an influence on getting us accustomed to hearing diversity back to back. In a way we might not hear on any radio station or any other format. Because it's (the listener's) own record collection. It's their own collection of music.
"You've got Sam Hunt and then you've got Frank Sinatra, then you've got Tom Petty, Grouplove. Somehow it just goes together, and the reason why it goes together for you is that it's all your music. These are all songs you've loved anyway.
"That's my theory, that it started to attune us to eclecticism. There's an energy about these songs that resonates with you and they all go together."
Read more from Mike Weatherford at reviewjournal.com. Contact him at mweatherford@reviewjournal.com and follow @Mikeweatherford on Twitter.
Preview
Who: Keith Urban, Brett Eldredge, Maren Morris
When: 7:30 p.m. Friday
Where: T-Mobile Arena, 3780 Las Vegas Blvd. South
Tickets: $39.95-$115 (888-929-7849)