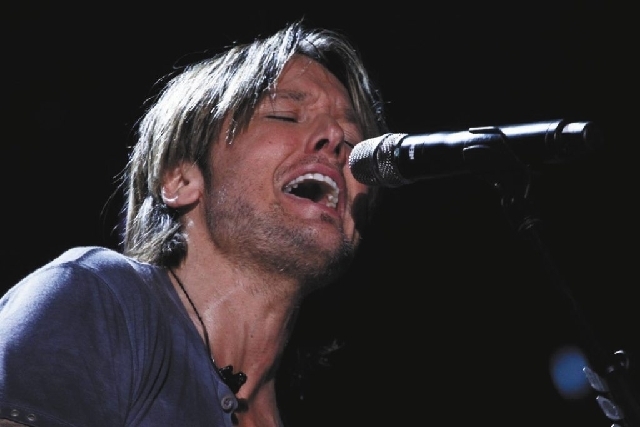 If you think Keith Urban is breaking down musical walls by sitting next to Harry Connick Jr. and Jennifer Lopez on "American Idol," you should hear his playlist.
Although country stars keep getting younger, the 46-year-old Urban just keeps getting more popular. He has redefined the look and sound of mainstream country since his 2002 breakout hit "Somebody Like You." Only now he's doing it with his smartphone.
"You can assemble an extraordinary playlist by traveling around the world and Shazaming for six months," says Sunday's headliner at The Cosmopolitan of Las Vegas, making a verb out of the Shazam app that identifies songs in places such as Norwegian villages where Urban's wife, Nicole Kidman, is on a movie location.
If his cool hair and aggressive lead guitar set the Australian apart from Nashville's "hat acts" in the 2000s, Urban's latest album "Fuse" does it more through sheer sonics.
Eight producers collaborated on the album, including the Norwegian pop team known as Stargate. The results surround even straight-ahead country narratives such as "Cop Car," the last single, with pop textures such as drum loops.
"The album was also influenced by the amount of travel I was doing," Urban says of 2011 and 2012, when he was following Kidman to European film sets and launching his TV career as a judge on the Australian version if "The Voice" while recovering from vocal chord surgery.
"The Shazam app has been probably the most profound thing in my phone for opening up all different kinds of musical influences," he says. "I'd start putting all these crazy, eclectic playlists together. I think those things became the catalysts for the album."
He began working with different producers "knowing very well some of it wouldn't work," and expecting to eventually settle on just one guiding hand. Then he realized the mixed bag was turning into something with "diversity, yet coherence."
Fans have backed him up by making No. 1 hits of "Little Bit of Everything" and "We Were Us," the rollicking duet with Miranda Lambert.
But Urban has been a genre-bender ever since he headlined the Las Vegas Hilton in 2002, on the strength of his breakthrough album "Golden Road." His longevity is "amazing," he agrees, "but at the same time I've always had the same intent I think."
"It's always the next thing that I'm interested in and want to figure out. Whether it's the next album, the next tour. … Whatever it is, it's always the next thing … the next spark of inspiration."
Backstage at the Billboard Music Awards in May, Florida Georgia Line's Tyler Hubbard opined, "Before you know it there won't even be genres. It'll just be music." Does Urban also think that day is near?
"The listener really is the one always who decides what they want to call something," he says. "I think our genre has always had that diversity within it anyway," he adds, noting "Eddie Rabbit doesn't have anything to do with Ernest Tubb."
Another way to expand audiences is to become a judge on "American Idol." Urban is returning for his second season alongside Connick and Lopez, and says the exposure translated into ticket sales for this summer's "Raise 'Em Up" tour.
"That's been really, really gratifying. I can see we've built a whole new audience based on ('Idol')," he says.
"I'm like any artist, I just want the chance to play to people who might not otherwise have come to see it, for myriads of reasons. Misconceptions and all that sort of stuff. Just come. If it's not your sort of thing, cool. But it might be, so just give it a shot."
Is there any advice he's doled out on the show that he decided he could use himself?
"I'm of the belief that every advice anybody gives is ultimately what we need to hear ourselves," he says. "Subconsciously, that's why it resonates with us as an important piece of advice."
If there are "eight pieces of advice I could give to somebody and all of them relevant, why do I choose that one? There's a high likelihood there's something in me that resonates, having worked on that, or needing to work on that," he says with a laugh. "It's something to do with me."
If "Idol" judges stand accused of being too nice in the post-Simon Cowell era, know that Urban is not down with the musical showboating the show seems to encourage of contestants who make singing into sport.
The most common mistake he sees is "the overperforming, which is what you often do when you're younger. You just try too hard. You actually forget that you've got a really good voice and you could just tell a story and just sing. You don't need to do all the dramatic crap," he says with a laugh.
Contact reporter Mike Weatherford at mweatherford@reviewjournal.com or 702-383-0288.
Preview
Keith Urban, Jerrod Niemann, Brett Eldredge
8 p.m Sunday
The Cosmopolitan of Las Vegas, 3708 Las Vegas Blvd. South
$75-$150 (800-745-3000)