Kerry King of Slayer talks about the new album and living in Las Vegas
March 28, 2016 - 12:52 am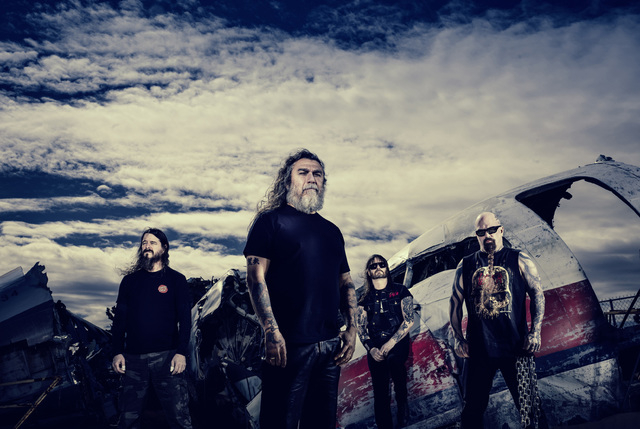 Las Vegas is steadily becoming a haven for hard rockers, serving as the home base for a number of metal musicians of all styles, from the guys in Five Finger Death Punch to Corey Taylor of Slipknot to, of course, Vince Neil. Now Kerry King of Slayer lives in the valley. Earlier this week we spoke with King in advance of his band's show on Saturday at the Joint at Hard Rock Hotel & Casino, and he talked to us about moving out to Vegas almost a year ago, what he likes about living here, what he loves about metal and how he first came to love it, and "Repentless," Slayer's latest album, the first without friend and founding guitarist Jeff Hanneman, who passed away almost three years ago. Here's some excerpts from our chat.
Las Vegas Review-Journal: So obviously you're on the road a lot and probably not here a lot, but when you are here, what kind of stuff do you like to do?
Kerry King: Everything. The most fun thing for me is learning what not to do on the Strip, you know, because when you're a tourist, that's where you go. When you live there, there's a place called BAR, Born and Raised. I think we went to one called Distill. Just all the restaurants, anywhere on the Strip, you can go to any of the main hotels, and there's like five star restaurants, times two or three. What's the last place we found… a place called Firefly, right off the Strip. It's a Tapas place that's really cool.
R-J: What do you love about metal? You've come to pretty much define metal with Slayer. What do you love about it, listening to it — well, do you still listen to it when you're not playing it — and what do you love about playing it?
KK: That's basically all I listen to, believe it or not. I don't know. It's more than music to me. I think it's lifestyle and how you live your life. I think the fans, especially Slayer fans, know that we're just like them. We just learned how to play music together, and they all like it.
R-J: What do you love about playing it?
KK: Playing it is fun. I mean, it's an adventure, for one thing. I like the aggression. It's probably what keeps me so mellow other than playing on stage. But yeah, it's fun making up music and then being able to go on stage and have people just being rabid to hear the songs that you wrote. There's nothing like it.
R-J: So how did you first get into metal? What made you fall in love with it? I've heard you mention Van Halen and Priest and going to see them at the Forum and stuff, but how did you truly fall in love with metal?
KK: I used to see all kinds of bands at the Forum. I think probably like the old L.A. stations — KLOS, KMET — they would hint at metal, and by that, I'm talking "Breaking the Law" and "Living After Midnight." When I heard that on the radio, I never knew what Priest was, but I could tell it had a metal edge. I loved the singer, two guitars, which is what I wanted to do.
And then I went out and got "British Steel," and then you hear the real metal, not the hits. You hear "Rapid Fire," you know. I was sold instantly. You know, and then you've gotta go back and you find out you didn't have any of the millions of records before that, so you buy all those and do your homework. One of those is still my favorite. "Stained Class" is my favorite Priest record.
R-J: What do you love about it?
KK: It's got monster riffs. There's just a lot of content on that record, and I like all of it.
R-J: Going back and listening to that stuff, did you pick up anything that you missed, and did it influence your style at all?
KK: I don't think so, because I was pretty, you know… I don't want to say I studied it, because it wasn't like that. But back then, especially, I knew the ins and outs of every song.
R-J: When I was growing up — and it still holds true today — if you were at a party and they were playing something else and someone would wisely put on Slayer, everybody would be like, "Kick ass!" And it's the same kind of thing now. No matter what style of metal people are into, Slayer seems to be the band that everybody agrees on.
KK: That's because we kicked around long enough and don't give them any alternative. (laughs)
R-J: You've influenced a legion of people. Really, it's kind of impossible to think about metal without thinking of Slayer. I think you guys kind of forged the template in a lot of ways. You'd be hard pressed to find a band that isn't influenced by Slayer or doesn't love Slayer.
KK: I just had an autograph given to me by Glenn Tipton. I think it's the first one I've ever got. I don't think I ever had a Tipton autograph. I got it from the guy who's artist relations at EMG pickups. I'm like, "Dude, get him to sign something for me," and he signed, "Screaming for Slayer." I'm like, "That's pretty f——— cool." Those are my heroes, you know, and Black Sabbath. The end of the day, there is no metal riff or band without Tony Iommi.
R-J: Did you ever imagine that that would be the case, that Slayer would leave that kind of legacy?
KK: No, dude. When we played Mayhem last summer and King Diamond asked me to play a Merciful Fate song with him, if you told 18-year-old Kerry King that, I'd tell you to go f—- right off. That ain't going to happen. It was awesome. What a great experience.
R-J: So, tell me, before we get into the new record, I read a quote of yours that I thought was interesting. You talked about how the '90s were a mess and that you were glad that Slayer survived it and made it through that era. What did you mean by that?
KK: We were having a big party through most of the '90s. If I had anything to do over, I'd get a mulligan on the '90s for sure. We weren't paying attention. Money wasn't a problem, and we really weren't … we certainly weren't making our best records. We made some great songs, without a doubt.
But I remember like when "Diabolous in Musica," when we were working on that record, and I was so disenchanted with music, because I couldn't understand why what was popular was popular, and I let it get to me.
That's the only time in my life I let it get to me, and you can tell by the way "God Hates Us All" came out, with f——— guns blazing. That was just me feeling sorry for my poor metal roots and not loving where music was going, and I let it get to me.
R-J: Well, it did get pretty inane, you have to admit. The stuff that was going on back then was pretty inane. But Slayer, like true metal, persevered.
KK: Yeah, I got my head out of my ass and made a great record.
R-J: So tell me about the new album, "Repentless." There have been mixed reactions to it. Some people love it and think that it's classic Slayer. And you've had other people that have bagged on it because they feel like it's a misstep. Obviously you don't pay any attention to that, I've got to imagine.
KK: I know very little about the hate mail. I mean, I'm just going to sum it up this way: How foolish would we have been if we told AC/DC not to go on when Bon Scott died. Look at all the great music we would've been left without. That's the end of my statement. (laughs)
R-J: I really love this record. I think it's terrific. I think it's classic Slayer.
KK: I love it. We're playing five songs live off it right now.
R-J: What can you tell me about making the record? Obviously when you went in to go do it, it was probably difficult to start working on music again, after the things you'd been through.
KK: I worked on music for this record since Jeff got the spider bite. I did that because right away, I said, "I don't know if Jeff's going to have ten songs, five songs, half a song. I have to be prepared, and if Jeff comes in with songs, then great. We're going to have a whole bunch more." As it turns out, we had one. So it's lucky that I did start working on stuff when I did. And we've got a lot of leftover stuff from this recording, too, like six to eight songs that you could consider done without lyrics. Way ahead of the game, but I'm conscious about coming up with stuff to add to that for whatever the next recording may be.
The weird thing for me — the only weird thing because I've been recording Jeff's rhythms for years — I would play his guitar through his rig, so you know, it would be just exactly like live. But after I'd done my tracks, I was dialed into the idiosyncrasies of every song and it would just be easier if I did it. That's why we went that way. So that was business as usual on this one. But the thing that was glaringly missing was Jeff's presence and input.
R-J: So how did you get around that? That had to leave a huge void. How did you muscle through that?
KK: Well, me and him did all the music since day one. So is half the writing team gone? Yeah, half the writing team's gone, but I've written enough songs, and I've taken on writing some moody ones, which is more of a Jeff kind of thing, because I didn't want to lose that aspect. That was my only question mark was whether I could convey spooky, moody thoughts in the music.
R-J: You're talking about songs like "When the Stillness Comes"?
KK: Yeah, "When the Stillness Comes." When we got that one done, I'm like, "Yeah, I got this." We still rehearse so primitively. I'll put a sock on an iPhone and put it outside the door, just so I can hear how the guitar works with the drums, because that's all I'm really looking for. And then I don't hear the lyrics on it until we get to the studio. I mean, I know how they go, but, you know, I don't know until Tom sings it. And then I'm listening to that one, and the hair's standing up on my arms. I'm like, "This is f——— creepy!"
R-J: What was your favorite part of making the record?
KK: Probably just hearing the finished stuff. I had all the pieces in my head, and like I said, I know how the lyrics went, but until Tom sings it, to have the last piece of Slayer come in and make it whole, that's cool.
R-J: What's one of the most memorable nights you had being in Slayer?
KK: Something that was really cool for me — and I didn't think it was going to be as cool as it was — was when we did the Big 4 shows. I think that was important. I think it mattered. When I went in, I thought it was going to be cool for the fans, but in the end, it was cool for me, too.
R-J: What was the coolest part of it?
KK: I don't know, just … the funniest thing in the history of Kerry King and Slayer is us and Metallica, we don't really run in the same circles. As similar we are, you know, we've never been on tour with those guys. To actually play with them on the Big 4 was really cool for me. I'd go back behind where Lars goes when he gets done with a song — we called that Larsland — we'd go watch the show from there. It was really cool. It was just cool hanging. Kirk would come and hang out, and we'd go do stuff with Lars. It was fun.
Read more from Dave Herrera at reviewjournal.com/music. Contact him directly at dherrera@reviewjournal.com or follow @rjmusicdh on Twitter.
Slayer, Testament, Carcass
7 p.m. Saturday
The Joint at Hard Rock Hotel & Casino, 4455 Paradise Road
$39.50-$125 (702-693-5222)