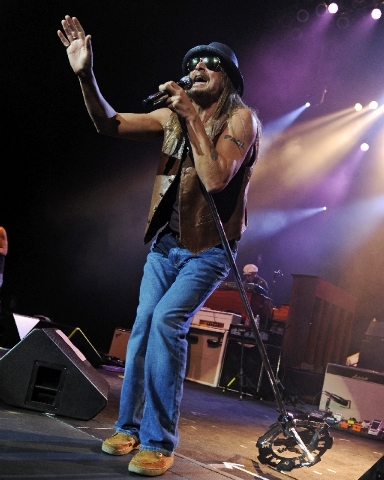 Tiger Jam has proved to be one resilient fundraiser over 15 years, weathering both Tiger Woods' personal scandal and its backseat role to Las Vegas favorite Andre Agassi's annual benefits.
While Agassi taps personal friendships with entertainers for his Grand Slam for Children, Tiger Jam more loosely aligns itself with stars already out on the road, a flexibility that ultimately worked in its favor.
The centerpiece of this year's two-day fundraiser is Kid Rock's "Rebel Soul" tour. The show with Rock's buddy Uncle Kracker might have landed at Mandalay Bay on Saturday anyway, but now helps raise money for the college-access programs of the Tiger Woods Foundation.
Rock also played for the foundation in 2001. And who better? He's one of those stars whose overall likability transcends genre and political divisions.
"Rebel Soul" is a suitably genre-hopping effort, with tunes such as "God Save Rock 'N Roll," "Redneck Paradise" and "Cocaine and Gin" promising anything but a staid, button-down benefit.
Contact reporter Mike Weatherford at mweatherford@
reviewjournal.com or 702-383-0288.
Preview
Tiger Jam featuring Kid Rock
8:30 p.m. May 18
Mandalay Bay Events Center, 3950 Las Vegas Blvd. South
$60.75-$134.25 (702-632-7580)