Killers bassist joins Smashing Pumpkins on tour
December 11, 2014 - 10:01 am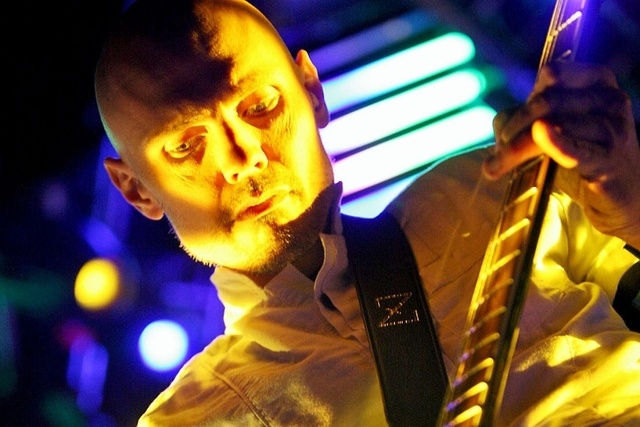 He remembers standing outside Tower Records at 6 in the morning to score tickets to see the band that he's now playing with.
The year was 2000, the band in question was the Smashing Pumpkins, and Mark Stoermer, then 22, was two years away from joining The Killers.
In the decade since, he's toured the world as the bassist for the biggest rock group to ever come from these parts.
Now, with The Killers on break, he's joined the band that he saw pack the Huntridge Theater back in the day.
"There is a bit of a teenage dream coming true," Stoermer says from the Pumpkins' hometown of Chicago where he'd been rehearsing with the group, braving wintry, 20-degree temperatures. "I'm not going to deny that there's the teenage fan in me who's really excited about this. But the 37-year-old me is here because of the music today."
Said music is "Monuments to An Elegy," Smashing Pumpkins' new record, which came out this week.
Stoermer is touring with the band in support of the album, though he didn't contribute to it, and that's part of the reason he agreed to join the Pumpkins for a few live gigs: to not have to worry about writing and recording songs and just enjoy performing the finished product, focus on his playing.
"It's a completely different process, kind of a challenge as a musician, which I guess is part of the reason why I took this on," Stoermer says. "It's a different game for me."
The game began with a phone call from Smashing Pumpkins majordomo Billy Corgan in October, who recruited Stoermer as a touring bassist.
Stoermer and Corgan have a mutual friend and have known each other for a number of years.
Former Rage Against the Machine and Audioslave drummer Brad Wilk and guitarist Jeff Schroeder round out the lineup.
Though Stoermer has been listening to some of the Pumpkins songs he's had to learn since he was a teenager, he was still surprised by what he found when he began dissecting the songs to familiarize himself with his parts.
"It was kind of mind-blowing how differently I perceived the songs once I actually sat down to learn them," he says. "First off, the thing I recognized very quickly is that the arrangements are actually pretty difficult. There's a lot of changes — even in songs I've heard hundreds of times. But when you actually listen, it's like, 'Oh, this time the verse is different or the chorus is different.' There's a lot of odd numbers of verses or bars or choruses that is kind of unusual and you don't really notice it as a listener."
Stoermer is quick to emphasize, though, that it was the Pumpkins' new material that really drew him into the band. "Monuments" plays to the Pumpkins strengths: It's a deceptively dense record rich with layers of guitar texture, elaborate arrangements and dramatic musical flourishes.
Like pretty much everything the Pumpkins have done, there's an immediacy to these songs, but plenty bubbling beneath their often beatific veneer.
Stoermer cites the song "Tiberius" as an example.
"It sounds like a simple pop song on the surface, but there's actually a lot of changes," he says. "If you wrote it out, it's almost prog rock — but it doesn't sound like prog rock, it sounds like a pop song. There's changes that keep it interesting. It never really repeats a part."
When it comes to working with Corgan, a big personality with a firm command of what he wants to do with his music and how he wants it played, Stoermer acknowledges that practice sessions were predictably demanding.
"He's a serious musician and we do intense rehearsals, which I'm actually all for," he says.
As for playing with Wilk, he says there was an instant connection with the hammer-fisted drummer.
"I'm kind of a heavy-handed player and probably naturally gravitate towards playing heavy, and Brad definitely does that as a drummer," he explains. "There was something that clicked right away with our feel."
Stoermer hasn't committed to touring with the Pumpkins beyond their current short run of shows, which ends Dec. 16, and isn't sure what his future with the band will be — if there's even a future of which to speak.
But even if his stint with the Pumpkins ends up being relatively brief, its effect on him as a musician won't be.
"I kind of felt like I needed a shake-up, and this was the perfect call," Stoermer says. "I like classical, I like jazz, I like a lot of classic rock and even metal and some prog rock, but I still love a pop song, and I think all of that's here right now in what we're doing. I think there's different subgenres of rock that I'm able to explore here that I haven't for a long time — if ever."
Contact reporter Jason Bracelin at jbracelin@reviewjournal.com or 702-383-0476. Follow on Twitter @JasonBracelin.
Preview
Smashing Pumpkins
9 p.m. Dec. 13
Brooklyn Bowl at The Linq, 3545 Las Vegas Blvd. South
$57.75-$60.50 (702-862-2695)