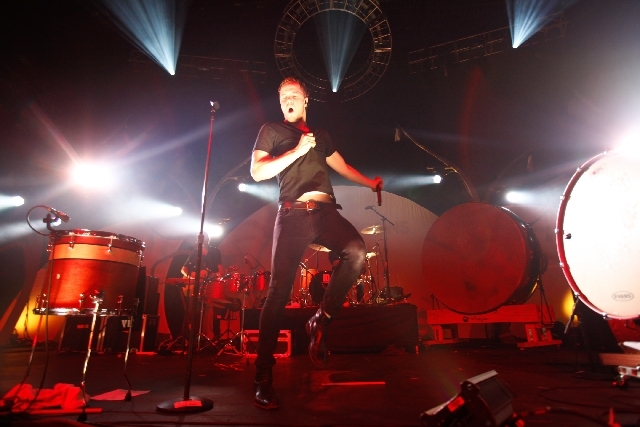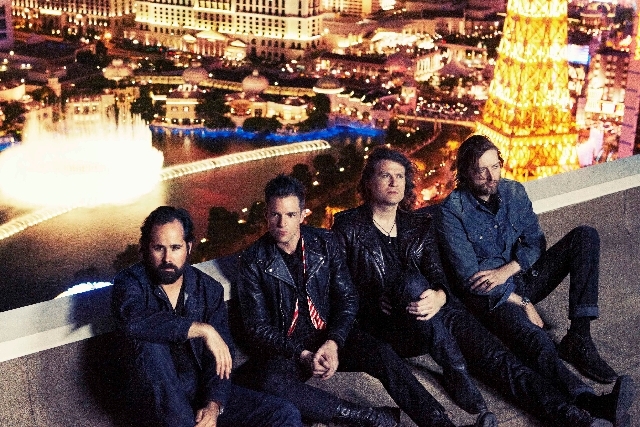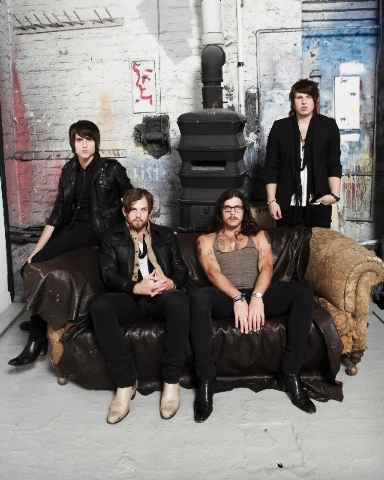 It's a new event with some familiar faces.
The Life Is Beautiful music, art and food festival, which takes over 15 square blocks of downtown Las Vegas on Oct. 26 and 27, will feature local breakout bands The Killers and Imagine Dragons among its top-billed acts.
Other big names include the Kings of Leon, who haven't performed locally since 2009 and who will be playing their first show after the release of their new album in September, alt-rock changeling Beck, effervescent pop rock troupe Passion Pit, psychedelic rockers Portugal. The Man, the rootsy Dawes and dozens of others.
The diverse lineup, which was announced Monday, ranges from of-the-moment hip-hoppers such as Danny Brown, Childish Gambino and Earl Sweatshirt to electronic music favorites Pretty Lights, Big Gigantic, Empire of the Sun and STS9.
There will also be a healthy selection of Vegas indie rock bands such as Kid Meets Cougar, Same Sex Mary, A Crowd of Small Adventures, Rusty Maples and more (see the complete list of performers at www.lifeisbeautifulfestival.com).
"This is a local festival as much as it is a destination festival," says Allen Scott, executive vice president of Another Planet Entertainment, the Berkeley, Calif.-based company that booked the fest and also runs the Outside Lands and Treasure Island music festivals in San Francisco. "We were very mindful of what the Las Vegas market wants to hear, and we built the festival foundation on that."
In addition to Another Planet, Life Is Beautiful is being spearheaded by Vegas-based companies the Downtown Project, which is led by Zappos.com CEO Tony Hsieh, Maktub Marketing, which oversees First Friday, and the Aurelian Marketing Group, which is run by the former entertainment director of The Cosmopolitan of Las Vegas, Rehan Choudhry.
The idea is to build upon the continued development of the Fremont East Entertainment District and the surrounding areas.
"The rebirth of downtown Vegas has started in the last couple of years," Choudhry says, "but it's really several years out, so to take a chance on a portion of the city that isn't necessarily established, it's a risk. But we all believe in it."
Beyond the music, there will be fine art and an emphasis on gourmet cuisine from celebrity chefs such as Bruce and Eric Bromberg, Michael Symon and others.
"What I wanted to do was take the music and food and truly integrate the two," Choudhry says. "We're going to take away the formality of the white tents and the small tasting plates. We wanted to create something that was more authentic, more fun and more true to the culinary experience."
Large, multiday festivals have been tried in Las Vegas before, to mixed results, most recently Vegoose, which took place at Sam Boyd Stadium and Star Nursery Field from 2005 to 2007. It drew tens of thousands of fans daily, but ultimately not enough to sustain the event.
Choudhry says Life Is Beautiful will differ, partly by focusing on cultivating a local following as much as a national one.
"If you look at festivals in Vegas in the past, they've typically been produced by outside parties," Choudhry says. "They walk in and say, 'OK, we're probably going to do 80 to 90 percent of our traffic from outside of the market, so we're going to promote heavily in those theater markets, and that's going to be the growth potential for this festival.' But the long-term success for a festival is having the local community wave a flag of pride and be able to say, 'This is ours.' "
Festival organizers are hoping to use the time of year that Life Is Beautiful is taking place to their advantage, too, bypassing the increasingly crowded summer festival ranks, where many of the same bands play.
"It's almost a reset from the summer," Allen says. "You're able to get some fresh artists in the fall that haven't been on the summer festival circuit, necessarily."
Bottom line, Allen and the rest of the Life Is Beautiful staff acknowledge that they will have to assemble something unique to make the event work in a city as entertainment-saturated as Las Vegas.
"From a festival experience, tried and true just hasn't worked in Vegas," Choudhry says. "We've got to completely shake up the model for it to really be successful."
Tickets for the Life Is Beautiful festival go on sale at 10 a.m. Friday.
Contact reporter Jason Bracelin at
jbracelin@reviewjournal.com or 702-383-0476.