'Kindie' rock star playing free shows at the Clark County Library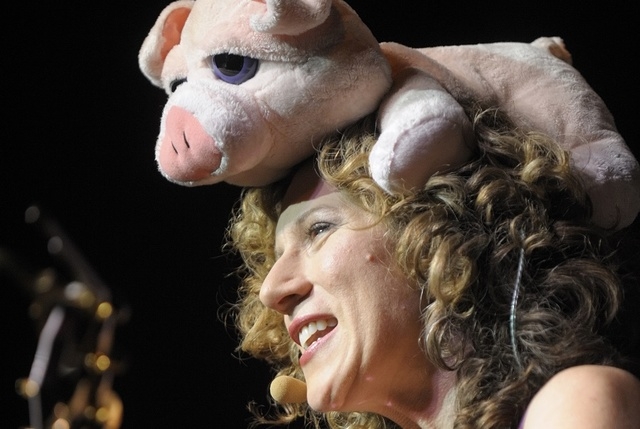 Like most successful singer-songwriters, Laurie Berkner paid her dues on the club circuit, playing in covers and originals bands in dive bars in and around New York City to small audiences way, way into the early-morning hours.
These days, Berkner is one of the hottest performers around. She plays regularly to large and enthusiastic audiences all over the country. She's released several bestselling albums. She's been a regular on national TV networks and maintains a video library on her own YouTube channel. She's even written songs for off-Broadway musicals.
Best of all: No more late shows with 4 a.m. load outs, because her current fans have, well, pretty early bedtimes.
Berkner is a superstar in a music genre known as "kindie rock," which is populated by artists who have transformed children's music by creating songs catchy enough for kids to love but smart and sophisticated enough that mom and dad can listen to them — over and over and over and over — without feeling the urge to beat themselves over the heads with full diaper bags in bored frustration.
Berkner will visit Las Vegas on June 4 to perform two hour-long concerts at the Clark County Library, 1401 E. Flamingo Road, as part of the Las Vegas-Clark County Library District's Club Read program.
Show times are 10:30 a.m and 6:30 p.m., and admission is free with wristbands that will be distributed one hour before each show on a first-come, first-served basis (limit one per person). For more information, call 702-507-3459.
Kindie rock is a mashup of "kids" and "indie rock.' The genre dates back to the late '90s and 'early 2000s, when a number of singer-songwriters, some of whom — Dan Zanes, formerly of The Del Fuegos, and the group They Might Be Giants, for instance — already had achieved success in mainstream adult music, succeeded in bringing a more sophisticated sensibility to often-cliched, saccharine genre of children's music.
Also helping to kick start the kindie rock movement was the increasing popularity of the Internet, which allowed creative performers to put out music and gain fans outside of the kid music corporate establishment. The internet, Berkner recalls during a recent phone interview, offered "a lot more opportunity for people who were not connected to a record label to actually do well, particularly on the kids' scene, because (parents) were looking for music that was different than what was handed to them."
Berkner's own journey to kindie rock stardom began with her own post-college years as a preschool music specialist who worked with infants to 5- and 6-year-olds, Attempting to engage her students with something more than cliched kid's music standards, Berkner began to write her own songs.
Then, she says, "people had started to ask me, as their child's music teacher, 'Could you come play at my kid's birthday party?'"
Berkner later began putting together cassettes that she'd sell at birthday parties and other small gigs she played. From there, it just spread," she says, as record store appearances led to performances before larger audiences in New York City and the Tri-state area.
Then, in 2001, an appearance on the "Today" show gave Berkner her first taste of national exposure.
"That was the first time there was this explosion of, 'Who is this person?' because we performed two songs as part of their summer concert series," Berkner says. "So that made a very big splash, and that was when people started to look for my music."
More national exposure came when Berkner's videos began to appear as interstitials — videos of only a few minutes' length aired between programs — on the Noggin (now the Nick Jr.) children's cable network.
What do children look for in a song? Berkner answers that that, when writing a song, the questions she asks herself include, "would I be able to sing this easily by myself? Would I find something about it — whether it's the content, the rhythm, the melody, a little hooky rhythmic part — that would catch my hearing and be interesting to a 4-year old?"
Kids also like to move, and the opportunity for kids to jump, dance and just have fun moving around is, Berkner says, "a big part" of her songs.
"But I think I can definitely say with confidence that I'm very much in touch with my inner 4-year-old," Berkner adds with a laugh. "I do think there's something very special about that age. That's pretty much the median of the group I write for. Not that I wouldn't want to write for other age groups, but I definitely feel comfortable with them. I feel I can connect with them."
Another, perhaps more practical, kids' songwriting mission: Creating songs that kids will love but which parents won't find annoying after the inevitable repeated playings a kid inevitably will give them.
"I've been doing this long enough that kindie rock didn't really exist when I started. I feel I've been sort of grandmothered into it —'Oh, you were there at the beginning' " Berkner says.
"But the point for me was to try to make songs that kids would want to sing over and over again," as well as "songs I would want to sing over and over again, because i was going to have to," Berkner says. "Being a music teacher, I couldn't sing 'Old MacDonald' every day, so I came up with other animal songs, or just ways to make my own job fun. And the nicest thing about that is, I think parents wanted exactly the same thing without really realizing it."
Does Berkner ever feel a craving to write songs for an adult audience? "Mostly, I haven't," she says. "People do ask me that all the time."
Not that she's averse to writing for grown-ups. But, right now,"I tend to be inspired by kids' stuff," Berkner says.
And, right now, that's keeping Berkner busy enough. She'll be starting work on a third musical. She's recording another album that will be released later this year. She's remastering her songs and curating them into theme-specific collections to make them more easily accessible for music teachers to use them in the classroom. She does teacher training programs in which "I teach people to use my songs as part of their curriculum, whether (in) a classroom or a mommy-and-me-type class setting.
So is there anything else fans in Southern Nevada should be aware of before seeing her live? "Come to the show," Berkner answers," and they should bring an animal for their head."
Huh?
"'Pig on Her Head' is a song," Berkner explains. "It's a very silly song that requires people in the audience to be wearing (stuffed) animals when possible."
And it doesn't even have to be a pig, she adds. "Just a stuffed animal. So people should bring a stuffed animal for their heads."
Contact reporter John Przybys at jprzybys@reviewjournal.com or 702-383-0280 or follow @JJPrzybys on Twitter.
PREVIEW
Who: Laurie Berkner
When: 10:30 a.m and 6:30 p.m. June 4
Where: Clark County Library, 1401 E. Flamingo Road
Admission: Free, wristbands distributed an hour before each show on a first-come, first-served basis. (702-507-3459)