Kiss, performing Saturday, masters of marketing
August 10, 2012 - 1:25 am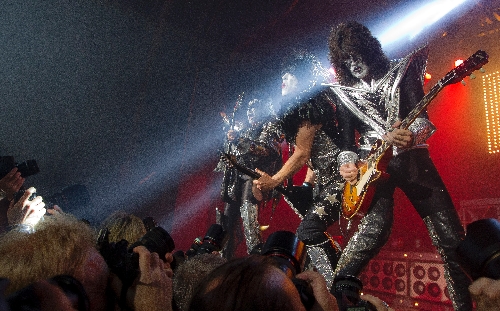 You haven't lived until you've putted a golf ball up a 4-foot-long metal approximation of Gene Simmons' tongue, and you haven't died until you've been laid to rest in a Kiss coffin.
From mini golf courses to comic books, lunchboxes to makeup kits, no band has ever spawned as much merchandise as Kiss has.
There is Kiss wine, garbage cans, air freshener, dinner plates, credit cards – and that's just for starters.
As impressive as the band's collection of product tie-ins is, however, there are a few highly lucrative business opportunities left out there.
With the band coming to town Saturday for a gig with fellow hard rock hedonists Motley Crue, we thought we'd share some of these brilliant Kiss-themed marketing ideas.
Just remember our cut of the profits, dudes.
'Let Me Know' Home Pregnancy Kit
Yes, there are "Kiss Kondoms," but like promises, bones and your hopes and dreams, sometimes they get broken.
Hence the need for a safe, effective way to determine whether or not a living creature is growing in your gut.
In this case, who better to turn to than Gene Simmons, who has claimed to have had sex with close to 5,000 women?
Obviously, he's an authority on mating.
Ladies, here is a man with whom you can trust your girl parts.
'Anything For My Baby' Potty Chair
If the test above is positive, congratulations!
Now to teach the fruit of your loins not to crap on itself.
Don't worry, once again, Kiss has you covered.
This sweet poopy throne will give your youngin' plenty of incentive to do his or her business on it, because the bowl will feature the likeness of former Kiss guitarist Vinnie Vincent, who was unceremoniously given the (platform) boot from the band back in the day.
Bombs away, kids.
'Not for the Innocent' Private Prison
Private prisons are big business these days, and it's about time Paul Stanley got his cut of the penal pie.
Gangbangers? Drug dealers?
P'shaw.
Kiss has battled nefarious inventors of devious mind control devices. (They even made a documentary about it: 1978's "Kiss Meets the Phantom of the Park.") Clearly, they know a thing or two about justice, Holmes .
Besides, what better way to punish the nation's miscreants than by subjecting them to "Music from 'The Elder' " on a continuous loop?
Recidivism would cease to exist.
'Thou Shall Not' Bible
Kiss isn't just a rock 'n' roll band, it's a religion, with cold gin in place of holy water.
Now, it's time for the group to make it official and lay down some rules.
A sampling of a few Kiss Kommandments: 1) You shall have no other God of Thunder before me. 2) You shall not make any graven image of me – without a licensing fee. 3) Thou shalt not covet thy neighbor's wife, unless she's totally hot. 4) Remember the Sabbath and keep it holy, unless Kiss is in town, in which case, rock. 5) Thou shalt not steal, except for the occasional Alice Cooper riff.
'Never Enough' Box Set of Best-Of Albums
In October, Kiss will release "Monster," the 20th album of their 40-year career.
In that time, the band also has released 20 best-of collections.
That's right, they've issued as many greatest hits compilations as they have actual studio albums.
How is this even possible?
Sorry.
Greatness should never be questioned like that.
Anyway, obviously, all these releases need to be assembled into a box set so that you can buy them all over again.
If you don't own 20 identical versions of "Love Gun," you're merely firing blanks in the target range of life.
Contact reporter Jason Bracelin at jbracelin@ reviewjournal.com or 702-383-0476.
Preview
Kiss
8 p.m. Saturday
Mandalay Bay Events Center, 3950 Las Vegas Blvd. South
$75-$150 (632-7580)