Know your nightclub profile for the best fit
December 27, 2013 - 3:58 pm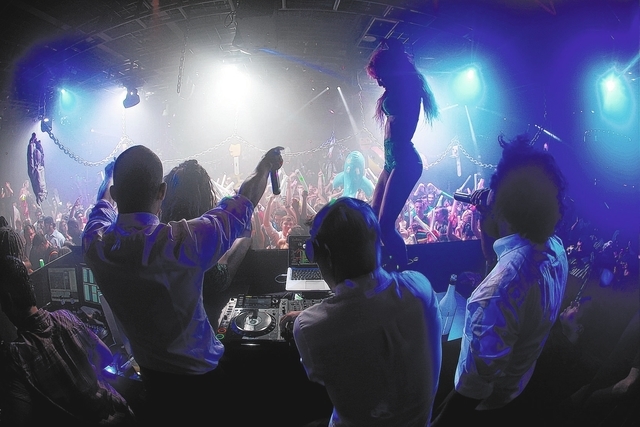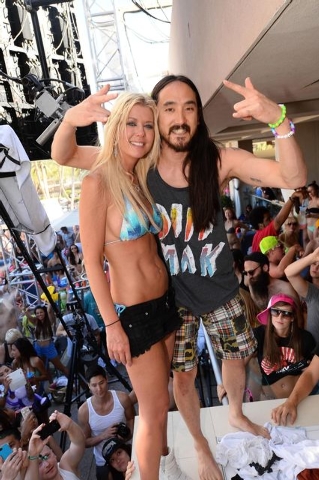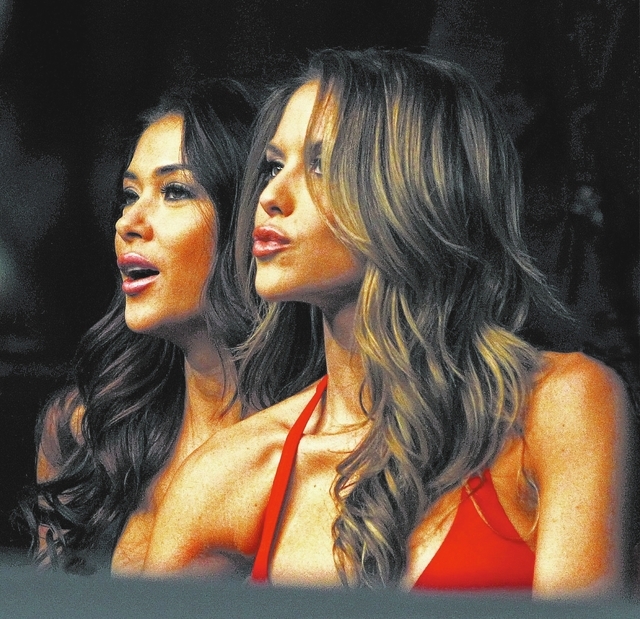 Which one of these three types of nightclub person are you?
A) Party Animal: I will go clubbing Friday, Saturday, possibly Sunday, plus New Year's Eve and maybe New Year's Day. I am quite thin.
B) Amateur Nighter: I just want to have fun one of those days this week, because it's the holidays, woo-hoo. Hopefully, the one person I know in the club business will set me up with a line pass. Fingers crossed!
C) Oh My Aching Back: I'm tired just reading about nightclubs.
If you are a Party Animal or an Amateur Nighter, you have better club and DJ choices in Vegas than anywhere in America (and possibly in the world). That's not a rah-rah Vegas thing to say. It's the likely truth.
FRIDAY
■ Steve Aoki and Fergie DJ perform at Hakkasan nightclub in MGM Grand. Aoki is a crazy man who sometimes throws cakes in the faces of fans. Fergie DJ is the most unsung DJ on the Strip. He makes great grooves. This Aoki/Fergie combo is a people-pleaser duo.
■ David Guetta DJs at XS nightclub in Wynn Las Vegas. Guetta is a hit-song machine. XS is probably the club of the year, despite openings of Hakkasan and Light.
■ Porter Robinson DJs at Surrender nightclub in Encore. He's a young and skilled musician.
■ Dash Berlin DJs at Marquee nightclub in The Cosmopolitan of Las Vegas.
■ Steve Powers DJs at Light nightclub in Mandalay Bay.
■ Dave Fogg DJs at Hyde nightclub in Bellagio.
■ Justin Credible DJs at Tao nightclub in The Venetian.
■ Eric Forbes DJs at 1 Oak nightclub in The Mirage.
■ Spider DJs at Tryst nightclub in Wynn Las Vegas.
■ Loczi DJs at Haze nightclub in Aria.
■ Beacher's Madhouse opens in MGM Grand. That's gonna be crazy. Jeff Beacher combines little people, costumes and controlled debauchery.
SATURDAY
■ Morgan Page DJs at Surrender. Page is the real deal.
■ Calvin Harris and Burns DJ at Hakkasan. Harris used to be a little more underground and DYI, but he has turned himself into a hit-song/YouTube-video factory. So if you want to catch the most mainstreamed star DJ on the Strip, this is your guy.
■ Steve Angello DJs at XS. He got big by being one-third of Swedish House Mafia.
■ Sander van Doorn DJs at Marquee. He plays fun, uptempo dance music.
■ Thomas Gold DJs at Light.
■ Vice DJs at Tao. Vice has been on the Strip longer than most DJs, he knows how to change speeds to accommodate his crowds' nightly tastes, and he sometimes gets visited by famous people who have known him forever.
■ Gusto DJs a t Lavo.
■ Que DJs at 1 Oak.
■ Pauly D DJs at Haze.
■ Jermaine Dupri DJs at Tryst. Yep, this is the same Dupri that has produced hip-hop hits for years.
■ Joe Maz DJs at Hyde.
■ Celebrity hosts: The UFC's nearly naked lady icons Arianny Celeste and Brittney Palmer appear with Josh Barnett at Body English nightclub in Hard Rock Hotel for an after-fight party.
■ Celebrity host: Holly Madison appears at Moon nightclub in the Palms. The former "Peepshow" star is a new mom this year.
SUNDAY
■ Tiesto and Danny Avila DJ at Hakkasan. Tiesto is a living legend. Avila is a young whippersnapper who was respected enough to command a performance residency at Hakkasan when it opened this year.
■ Cedric Gervais DJs at XS.
■ Major Lazer at 1 Oak. This is the DJ collective known for its star DJ, Diplo. Their big hit this year was the undervalued strip club anthem "Bubble Butt."
■ T-Pain raps at the Bank.
■ Celebrity host: Brody Jenner appears at Ghostbar nightclub in Palms.
MONDAY
■ Nicky Romero DJs at Light. One time this year, he appeared onstage by sliding down a zip line from the top of the high-ceilinged club. Impressive
■ Afrojack DJs at XS. He has had quite a good year on the music charts, in the Wynn clubs, and at a few special events around town.
■ Hardwell and Michael Woods DJ at Hakkasan. This is a powerful two-fer DJ lineup.
■ Vice DJs at Marquee.
■ Icona Pop performs at the Bank.
■ The Weeknd performs at Pure.
■ Wale performs at Haze.
■ And Vegas' own Dan Reynolds, singer of Imagine Dragons, will DJ at Body English after his band performs in the Hard Rock Hotel's Joint. Imagine Dragons was named rock band of the year by Billboard magazine, and it was the most-listened-to band on Spotify's streaming music service in 2013.
■ Eva Simons performs at Hyde Bellagio.
TUESDAY
■ Kaskade DJs at XS. He was just named best American DJ by DJ Times magazine, again. He is awesome.
■ Calvin Harris and Fergie DJ perform at Hakkasan.
■ Lil Jon DJs at Tryst. Lil Jon has been DJing in Vegas for years, although this year, he was more well-known for his good run on "Celebrity Apprentice."
■ Diplo DJs at Surrender.
■ Miguel performs at Tao.
■ Vice DJs at Lavo.
■ Chuckie DJs at Marquee.
■ Sebastian Ingrosso DJs at Light. He was one-third of Swedish House Mafia. The only Swedish House Mafia guy who doesn't play Vegas much is Axwell.
■ Paris Hilton DJs at Hyde. Yes, Paris Hilton will be behind the decks, commanding the music, instead of just partying as she usually does in clubs.
■ Gusto DJs at Crazy Horse III strip club, which is located a few blocks from Mandalay Bay.
■ Ne-Yo performs at Pure.
■ J. Cole performs at 1 Oak.
■ Common raps at the Bank.
■ Keri Hilson performs at LAX.
■ Jeremih performs at Chateau.
■ Foxes perform at Moon.
■ John Legend performs at Haze.
■ Boyz II Men perform at Beatles Revolution Lounge in The Mirage.
■ Jabbawockeez pe rform at Gold lounge in Aria.
■ Celebrity hosts: Playmate of the Year Claire Sinclair appears at Deuce Lounge in Aria. Juicy J parties at Body English.
WEDNESDAY
■ Alesso DJs at Light.
■ Diplo DJs at Surrender.
THURSDAY
■ Mark Eteson DJs at Hakkasan.
Doug Elfman's column appears on Page 3A in the main section on Mondays, Tuesdays, Thursdays and Saturdays. He also writes for Neon on Fridays. Email him at delfman@reviewjournal.com. He blogs at reviewjournal.com/elfman.