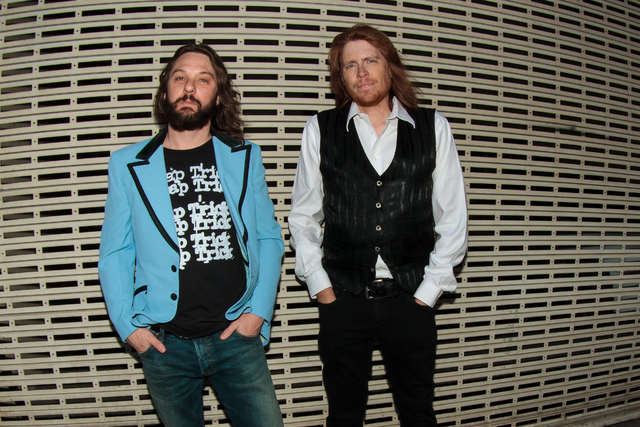 The lighting is low, the walls are covered in red velvet and the jazz that plays in the background is smooth — just in case you're not.
The setting at West Las Vegas bar and grill Herbs And Rye seems intended for romantic encounters, either with that special someone or a martini glass.
Maybe that's why Brent "BK" Kessler alludes to his lady when explaining why he doesn't overanalyze his approach to songwriting.
"It's kind of like my better half," says the singer-guitarist-bassist for Vegas rockers Leaving Springfield. "I quit trying to figure out why she stays around. I'm just glad she does."
It wasn't always this way.
"Early on, I'd write songs like, 'I need to fit this niche,'" he says, long blond hair flowing out of a white stocking cap, his bandmate, drummer Matt Norcross, sitting by his side.
"After awhile, when we started playing together, I said, 'I'm going to write what I write, and if one person shows up, cool, but we're going to have a good time.'"
This calculated lack of calculation is one of the things that distinguishes Leaving Springfield — that, and tunes that register immediately and then dog you for days.
The band's new album, "Zihuatanejo," their third full-length, ranges from punchy power pop that expounds upon the joys of watching hockey and "Oprah" ("Every Guy") to organ-laced yearning ("Velvet") to a plucky cover of Wax's "California."
It's Leaving Springfield's best album in terms of both sound and songs, with a warm yet crisp production complementing alternately tongue-in-cheek and heartfelt tunes.
The record feels like a turning point for these two, who met while they were both working as stage hands at The Orleans. They became friends and later bandmates, with Norcross introducing groups like Social Distortion and The Gaslight Anthem to Kessler, a lifelong rock dude with a love of acts like King's X and Accept.
Norcross equates the band to his version of a pastime like golf, something where the mere act of doing it is its own reward.
"I'd love to take this to another step," he says, his naturally high energy level matching that of the band's, "but for right now, the fact that he and I can just play, get some pretty good gigs and people come out, that's just like cloud nine to me. We're having fun, we're not up there being moody, 'Ugh, it hurts to do this.' We're giggling."
Don't let those grins fool you, though, Kessler warns.
"I am a tortured artist," he says, his amiable demeanor suggesting the opposite. "But I'm almost out of junior high school angst."
"Oh my gosh, high school angst is coming next," Norcross says, grinning. "The next album is going to be amazing."
Contact reporter Jason Bracelin at jbracelin@reviewjournal.com or 702-383-0476. Follow on Twitter @JasonBracelin.