Life is Beautiful lineup released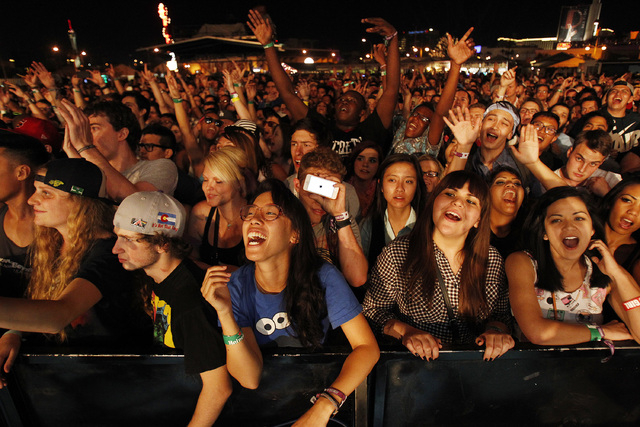 "Ms. Jackson" is returning to Vegas. But so are Mr. Yeezy, Mr. "All Night Long" and Mr. Grohl when the Life Is Beautiful festival returns in October with an extra day and wider-reaching musical lineup.
Hip-hop square pegs OutKast — whose aforementioned song was one of several hits from their celebrated 2000 disc "Stankonia" — headlines along with Kanye West, Lionel Richie and Foo Fighters and in the second edition of food and music festival, whose full line-up was disclosed Monday.
This year's event grows to a third day by adding Friday to the fest that occupies several blocks of downtown Las Vegas Oct. 24-26.,
Other big names include dubstep kingpin Skrillex, Brit rockers Arctic Monkeys, veteran alt-rock eccentrics the Flaming Lips, fast-rising country singer Kasey Musgraves and many others.
Just as the Coachella festival near Palm Springs, Calif., is known for reunions or "event" headliners, "We're trying to go with bigger stories" this year, Life Is Beautiful founder Rehan Choudry said, "giving Vegas locals a chance to see artists you normally wouldn't see."
Foo Fighters have been absent from Las Vegas since 2008 and OutKast for more than a decade. Foo Fighters also speak to the festival's first-year credibility, as frontman Dave Grohl "hand-selects every gig that he plays," Choudry says. "These guys haven't played Vegas in a long time intentionally."
And Lionel Richie? "I've never heard my father freak out the way he did," Choudry said with a laugh.
The culinary talent participating in the festival this year includes Hubert Keller (Fleur by Hubert Keller), Giada De Laurentiis (Giada), Spike Mendelsohn (Good Stuff Eatery), Duff Goldman (Charm City Cakes), Rick Moonen (RM Seafood, Rx Boiler Room), Frankie Pellegrino Jr. (Rao's Restaurant Group), Shawn McClain (Sage and FIVE50 Pizza Bar at Aria) and others.
Early bird tickets start at $199.50 for a three-day pass if purchased at their earliest availability and $595 for a VIP pass and go on sale at 10 a.m. Thursday.
"We felt like it was a natural progression to add the third day and solidify us as one of the really big festivals in the country in any given year," Choudry said.
Attendance patterns from last year found a majority of patrons on site for 12 hours both days, but still feeling like they had to make tough choices in programming. "It did feel like people were fighting to attend everything," Choudry said.
Adding Friday will bring proportionately more bookings, but also an attempt to better balance the programming.
Culinary demonstrations will take place earlier in the day, and last year's centralized "culinary village" will break up to move closer to the main music stages.
Secondary stages will be larger and host more touring acts than last year.
And as the musical selection expands, genres can be counterprogrammed: "Don't put Empire of the Sun and The Killers on the same day at the same time (like last year)," Choudry said. "We're going to be a little more cognizant of that across the board.
Contact reporter Jason Bracelin at jbracelin@reviewjournal.com or 702-383-0476. Follow @JasonBracelin on Twitter. Contact reporter Mike Weatherford at mweatherford@reviewjournal.com or 702-383-0288.