Life is mellow by festival's third afternoon
October 26, 2014 - 8:24 pm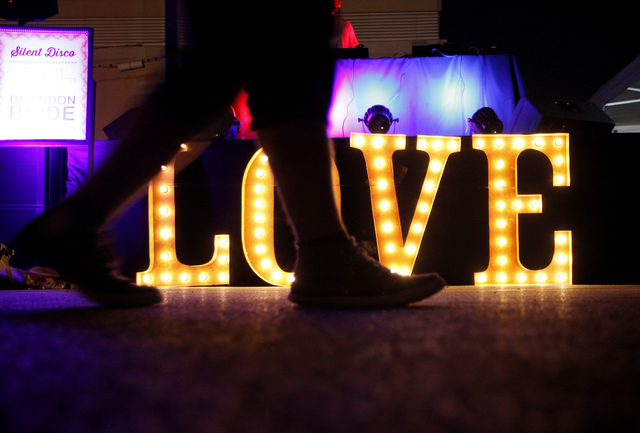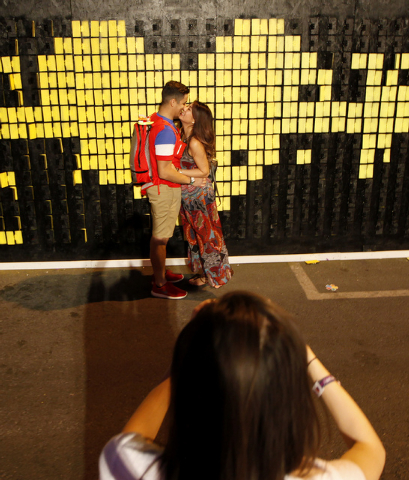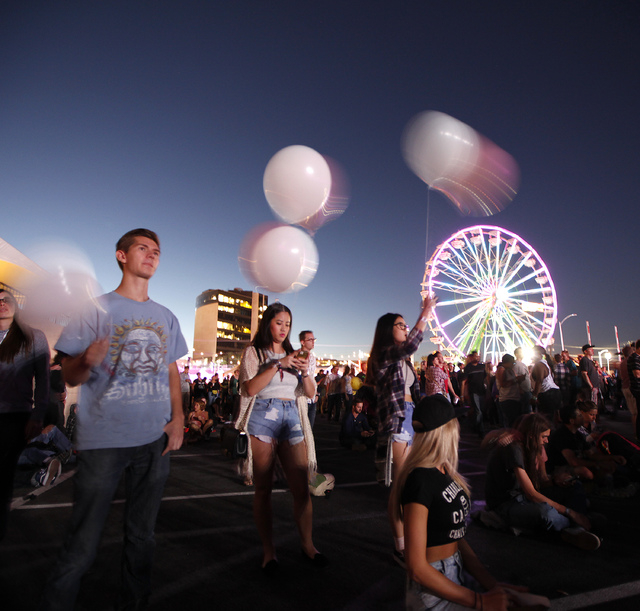 Dancing in the streets?
Well, If you round a corner and there's a band right there playing "Bust a Move," yeah, you pretty much have to. At least until you get a laugh from your friends. Otherwise, leave it to that cute little girl with the balloon and the Fitmob Dancers, who get paid to supply the energy for the Cover Flow band.
Life Is Beautiful is a fun festival, but on day three, a Sunday afternoon, it's a pretty mellow one. The line at the lemonade stand is longer than the one at the bars; though, to be fair, there are a lot more bars.
Molly and Shelby are two young Phoenix women who hit a lot of festivals with their blow-up doll, Paco. "It just helps us find each other," Molly explains, and they love "seeing everyone's reaction."
"I think every festival has its own personality," Molly says. But to pinpoint the personality for this one? "I'd say chill," Shelby volunteers.
"More artsy," Shelby adds.
Indeed, especially when a heat-of-the-day mainstage performace is the Las Vegas Philharmonic doing Beatles covers before being joined by the cast of Cirque du Soleil's "Love" in the closing stretch.
Artist Jerry Misko says his component of the festival was much improved from the inaugural one last year, when an old motel proved to be a "hostile" environment with limited services.
This year, right next to the speakers' sessions in the old Western hotel, Misko is almost out of the 3,000 cardboard circles he brought to allow people to complete the sentence "Life is …"
"I thought I was going to have leftovers," he says. "They were geared to be take-aways, but they ended up being leave-behinds," he said of discs filled with phrases such as "bean and cheese burrito" or "Netflix and cookie butter."
"I've had people sit for a half hour and put some thought into it," adds Misko, who plans to post a few of the works each day on Instagram.
Another young artist didn't bother with booth space. Maxwell Mandell, a 13-year-old filmmaker from Charlottesville, Va., stands with a camera mounted on his hat and a sign that says, "Say hi to my camera."
The fancier letters of the back side of his cardboard read, "Tell me why your life is beautiful." But Maxwell found the simpler approach more inviting, says his dad, Scott, who is looking forward to the finale set from the Foo Fighters.
Maxwell's camera is greeted by women in tiaras that might signal a bachelorette party. But no, they are nurses from San Francisco.
Inside Container Park, Jenna Adkins' Blue Ribbon Boutique turns out to be the source of more than 2,000 glittery temporary tattoos flashing around the festival.
"It's been a great networking exercise," Adkins says. "We've met people from all over the world."
Bob Rushing says he has been to 25 festivals this year and rates Life Is Beautiful in the top five. He's not a music critic but the national campaign manager for the Get on the List Campaign, encouraging people to sign up for bone marrow transplant donor matches.
"The way they promote this leads people to a sense of responsibility," Rushing says. About 300 people had signed up by Sunday afternoon, about 100 more than last year, when the effort resulted in at least one certified donor match.
Rushing also is pleased with the ethnic diversity of the festival, which is important in his campaign, which needs young people, more of them Hispanic.
Onstage at Container Park, Scott Conant is the last celebrity chef to do a demonstration at this year's festival. He's out of time, and a thick cut of meat still isn't done, so he decides to butterfly it while explaining he's no fan of condiments.
"I actually have anger toward ketchup," he says.
Ryan Hemsworth is the DJ and producer recruited to help Conant onstage, an example of the synergy promised by the collusion of food and music. Hemsworth can't wait for the meat to cook.
He has to catch a golf cart ride to his set at the Huntridge stage, where Sabriel has been crooning some jazz to those catching some early shade, thanks to the strategic placement of the building to the south.
It's one of those fall days that goes from warm to cool as soon as you step out of the sun. But there are plenty of curbs to pull up and no need to waste energy. Alex Turner of the Arctic Monkeys is willing to lend some as the crowd flows in to pack the mainstage area.
To the rockabilly-coiffed Turner, Las Vegas clearly has less to do with art, more to do with Elvis. "Are You Lonesome Tonight?" comes over the speakers before the Monkeys fire up "Do I Wanna Know?"
A couple of songs later, Turner adds "Las Vegas, I know you know …" to the lyrics of "Arabella," about a gal with "a Barbarella silver swimsuit."
Don't see many of those on this pleasant Sunday. But the Foo Fighters are still to come, so who knows?
Contact reporter Mike Weatherford at mweatherford@reviewjournal.com or 702-383-0288.

More coverage of Life Is Beautiful