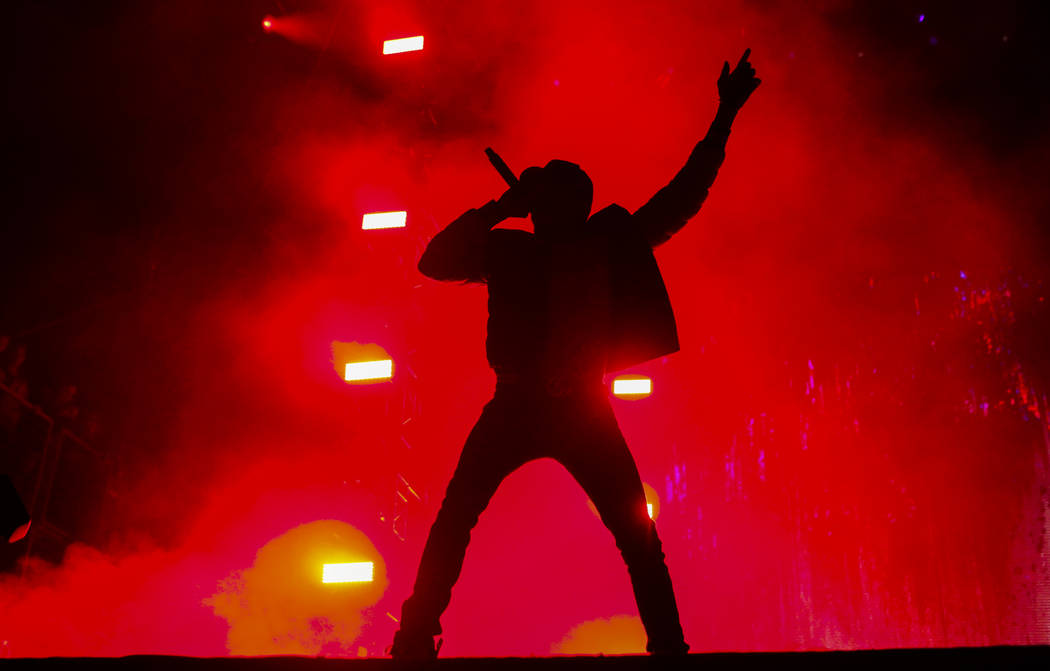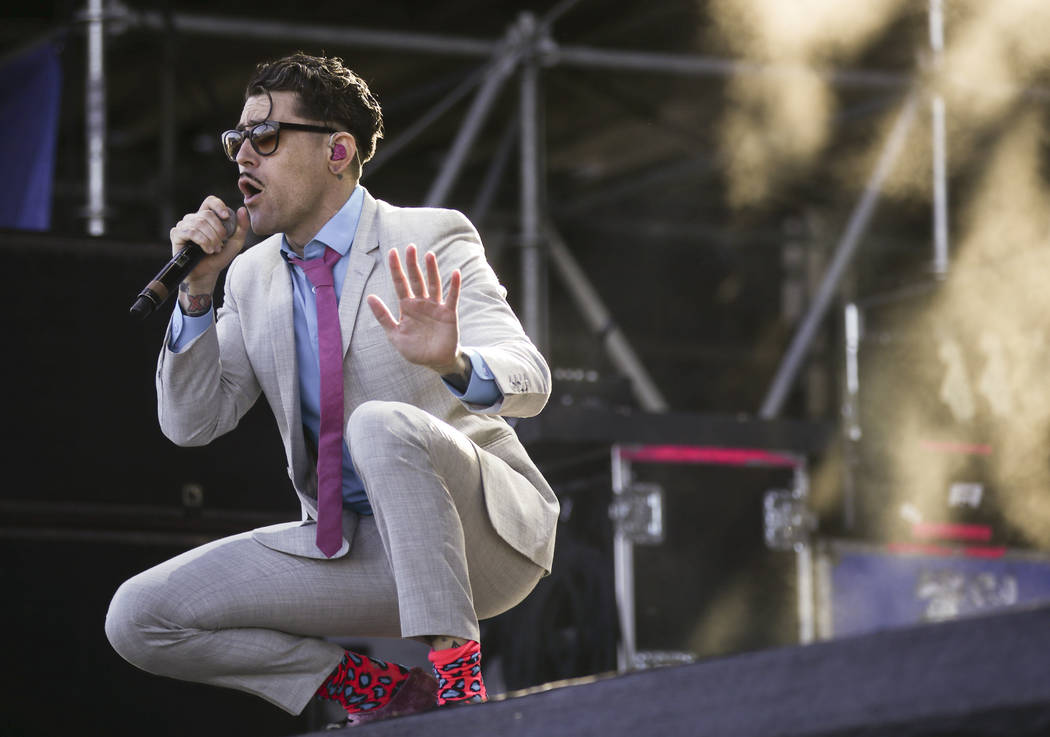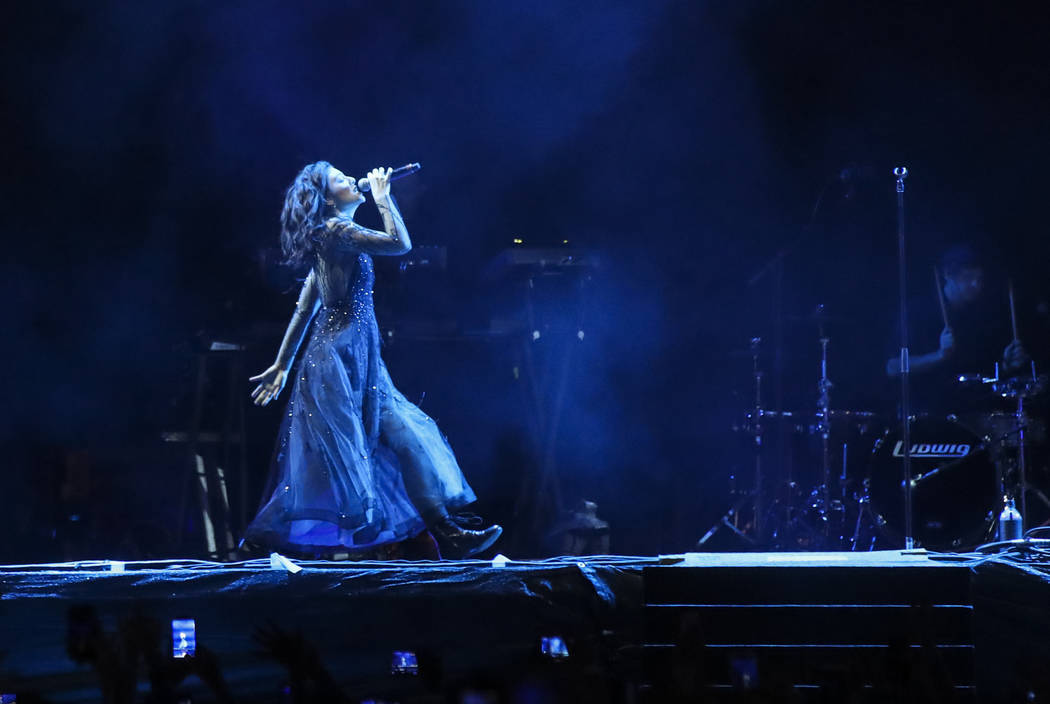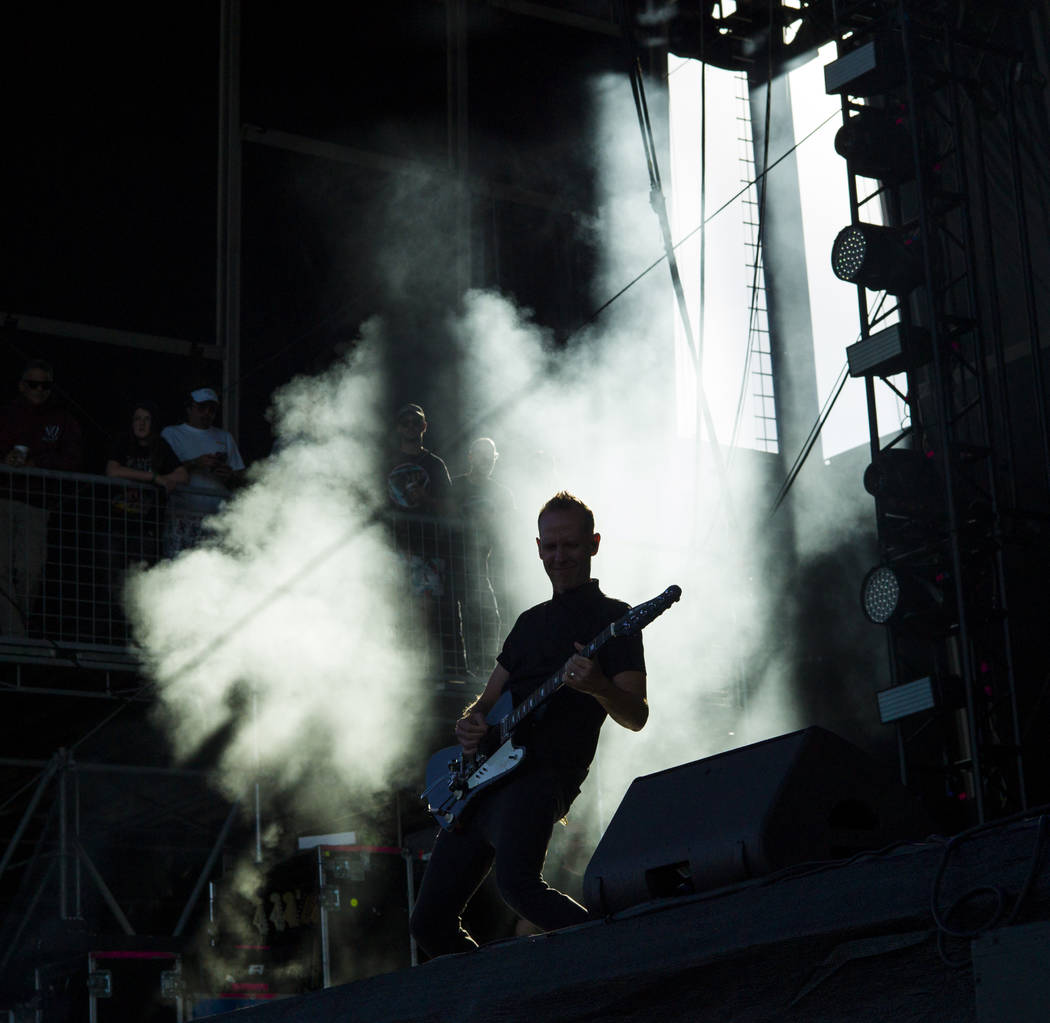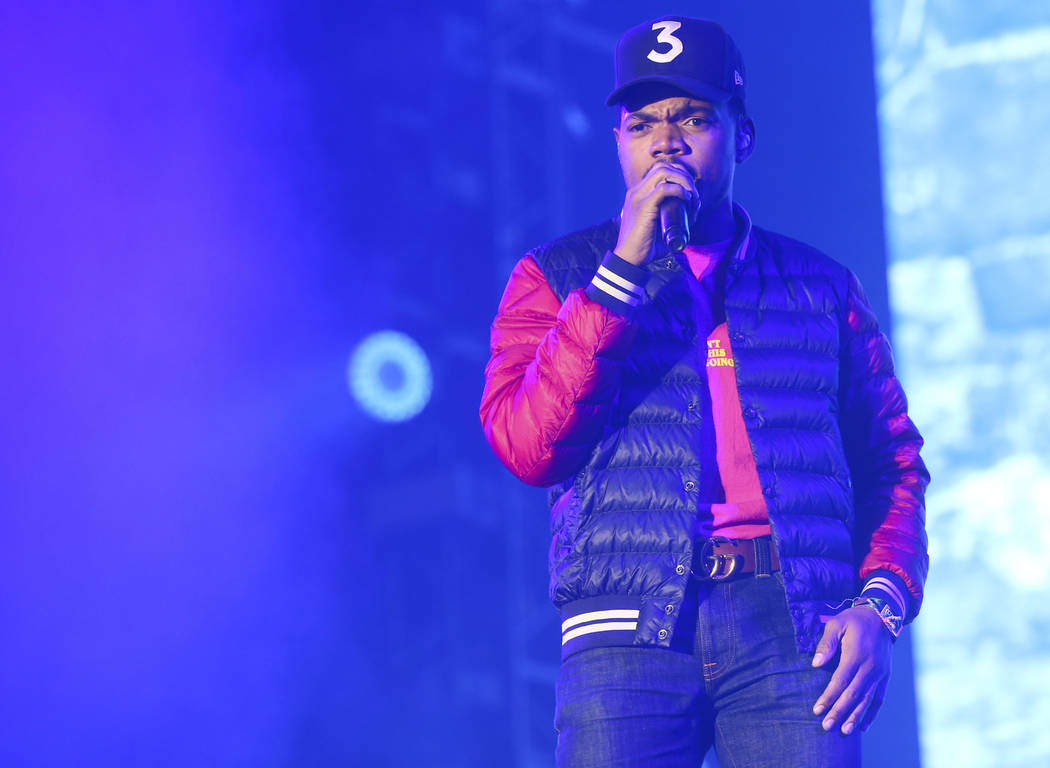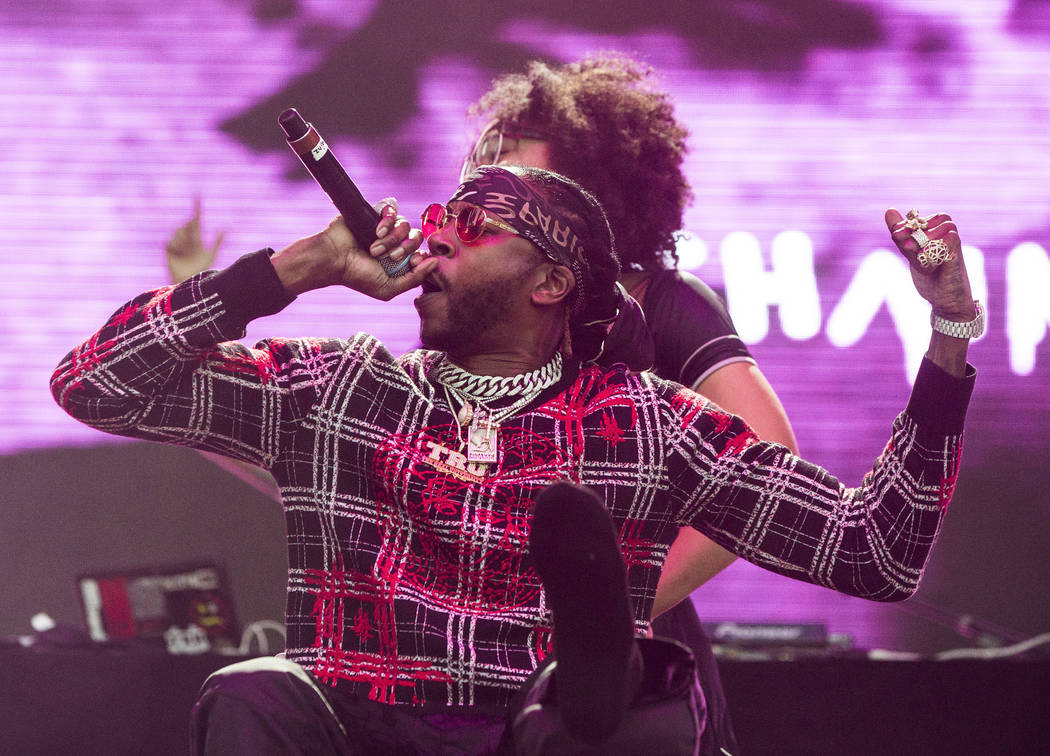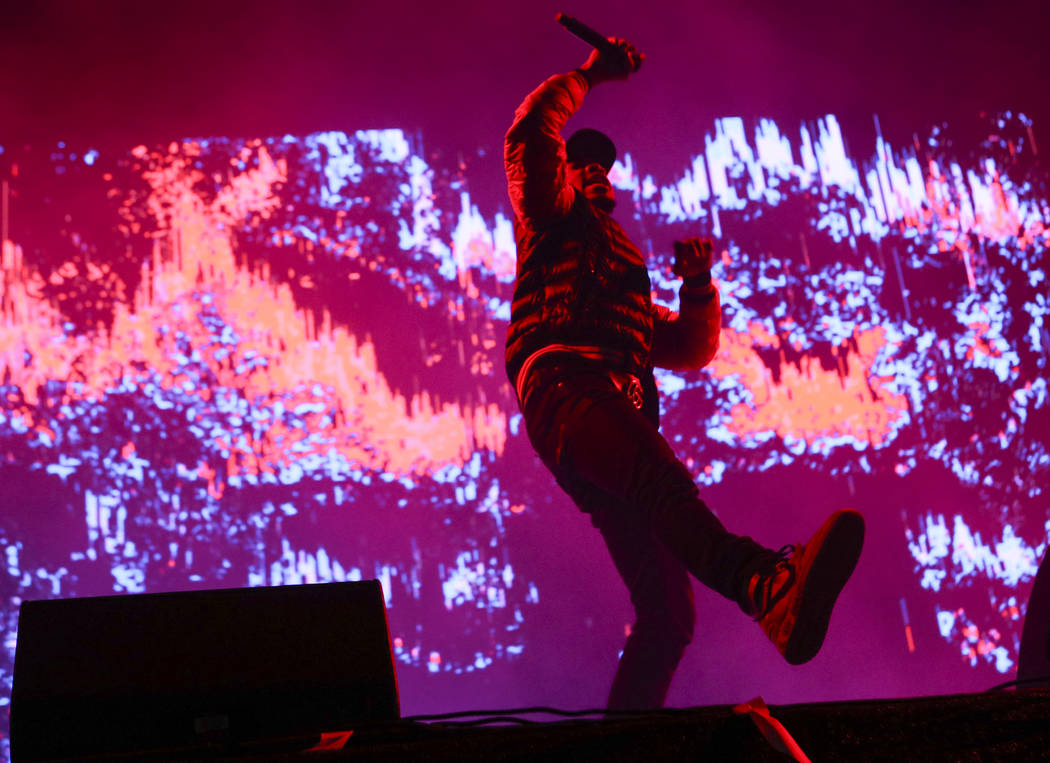 Even the security guards were dancing, the mood loose, the moves tight.
As L.A. duo They. began their R&B calisthenics routine on the Huntridge Stage Saturday during the opening night of the three-day Life is Beautiful music and arts festival, a pair of female staffers keeping an eye on the area indulged in some momentary shoulder rolling and hip swiveling, followed by a bout of shared laughter.
It was a nice break from the stern countenances and crossed arms of most stage sentinels.
It was also a scene that encapsulated the event's cheerful vibe.
Whether or not you buy into the notion of Life is Beautiful representing a "soul collective" meant to "inspire and transform," as written on the first page of the fest's guide, there's no denying the aggro-free atmosphere that hangs in the air alongside the co-mingled scent of suntan lotion and reefer.
On Friday, the crowd was big, boisterous and camera-ready.
To walk the Life is Beautiful festival grounds, which doubles as one giant terrestrial photo op, is to drop payload after payload of inadvertent photo bombs. You have to juke and jive with a running back's speed and agility to avoid being persona non grata in this sea of selfies.
It's all encouraged: festival volunteers in blue T-shirts will even snapshots for you at certain locations, like the monkey-bar enhanced purple box by the Ambassador Stage, where some revelers posed hanging upside down.
If you needed a break from it all, you could play a quick round of cornhole in the black light-lit El Cortez parking garage, cop a pirogi, maybe get a body paint tattoo.
The soundtrack to it all?
Vast and varied.
Here are five performances of note from Life is Beautiful day one:
Pimp my wheelchair
Of course, the wheelchair's rims were gold. Having broken his foot a month earlier, rapper/sweater aficionado (he has his own line, naturally) 2 Chainz rolled out onto the Downtown Stage, his ride gleaming beneath the fading daylight right along with his bejeweled teeth. And by "rolled out," we mean he was pushed by a buxom lass in a short black dress that she must have accidentally left in the dryer too long, because when she bent over, you could see her backside! We're sure she blushed aplenty. 2 Chainz? Not so much. He raps like a drill sergeant of the id, his bellowed rhymes delivered in choppy melodic clusters over bass lines that creep by slowly, as if tar-dipped. On Friday, he was joined by a phalanx of backing singers who added a soulful backdrop to trap anthems about guzzling codeine and saluting those members of the fairer sex in possession of ample derrieres. "All I want for my birthday is a big booty (nice young lady)," he bellowed during "Birthday Song." Mr. Chainz was not born on this day, and yet, his gifts had arrived early.
A drama queen receives her court
The lady in black gave voice to a sentiment as dark as her dress. "It sounds kind of goth, but everyone is probably going to leave you at some point," Lorde noted, perched at the lip of the Downtown Stage. She was introducing "Liability," a breathy, saturnine piano ballad from her second record, the truth-in-advertising "Melodrama." "They say, 'You're a little much for me,'" she observed on the song's chorus. "I'm a little much for everybody." Lorde's catalog is posited on sonic minimalism and emotional maximalism: the beats murmur, the synth broods, the occasional finger snap punctuates all the dead air. But in her physical bearing and her words, Lorde, still but 20 years old, is an outsize presence, all flying elbows and heart-on-the-line lyrics that address loneliness in terms as stark as the feeling itself. "I'm dancing, but why am I sad?" she wondered aloud through a big smile at one point. Simple: The former is among the best remedies for the latter.
Hey Mr. DJ, turn that guitar up
There's no moshing at Life is Beautiful — it's not some hard and fast rule, it's just that this fest doesn't book hard and fast bands. But the Fremont Stage had the feel of a massive pit when Big Gigantic had the crowd packed in so tightly, you could detect the flavor of gum your neighbor was chewing. Four years ago, this jazz- and hip-hop-informed electronic music duo performed on one of the smaller stages at the inaugural Life Is Beautiful. This go 'round, their audience had quadrupled — at least — with sax-fired dance music that was a mix of the corporeal (a powerhouse drummer, said horn player) and the digital, with electronic flourishes provided via laptop. Earlier, at the Fremont Stage, British DJ/producer Bonobo embraced this dynamic to a different end, crafting chiming, luminous soundscapes with a four-piece band.
Their tunes often began with a meditative lull, the reverie eventually punctured by tendrils of guitar, pricks of percussion or dashes of flute, their songs washing over you like the ocean waves captured in the nature footage projected on the screen behind them.
On dead girls and such
"Is life beautiful?"
Pause pregnant enough for labor to be induced.
"For a moment."
So said the man in turquoise, aka Dreamcar singer Davey Havok, who doubles as frontman for punk fashion plates AFI.
This '80s infatuated supergroup, whose lineup also includes everyone from No Doubt save for Gwen Stefani, mines an era that predates a hefty portion of the Life is Beautiful crowd, its alternately brooding and bombastic songbook the stuff of empty hearts and full dance floors, all propulsive synth lines, funky guitar accents and slapped, strutting bass.
Havok, a human emoticon, punctuates the end of almost every lyric with a dramatic yelp, as if he just sat on a tack, while giving winking, ceaselessly dramatic voice to songs about being beloved by dead girls and killing for delicacies (of the flesh).
Their later afternoon set on the Downtown Stage was akin to feasting on cotton candy for dinner: Not the most substantive of choices, but who can argue with a good sugar buzz?
Pearly gates to hip-hop heaven
It was like watching a preacher advance to his pulpit on a crotch rocket.
Chance the Rapper (Chancellor Bennett) took to his headlining set on the Downstage Stage astride a motorbike as pyro punctuated the moment with fire and sparks. It was a grand entrance for a man prone to humble sentiments: Unlike most of his peers, Bennett focuses less on the material than the immaterial (faith, love, righteous fealty). "Ain't no Twitter in heaven," he exulted early on in his 90-minute performance, delivered with the zeal of a Sunday sermon. "I know the difference between blessings and worldly possessions." The gospel underpinnings of the 24-year-old MC's latest mixtape, "Coloring Book," which took home this year's Grammy for Best Rap Album, became more full-throated on stage, where a quartet of backing vocalists sang in churchlike unison. Bennett has a warm, lived-in kind of voice – it's as disarming as his omnipresent smile — whether he's singing softly, sweetly while reminiscing about his grandmother or rhyming deftly, opening the throttle on his tongue.
His message is inherently spiritual, but there's something there for the secularists. "Music is all we got," Bennett announced between tunes at one point, offering salvation in song.
Contact Jason Bracelin at jbracelin@reviewjournal.com or 702-383-0476. Follow @JasonBracelin on Twitter.