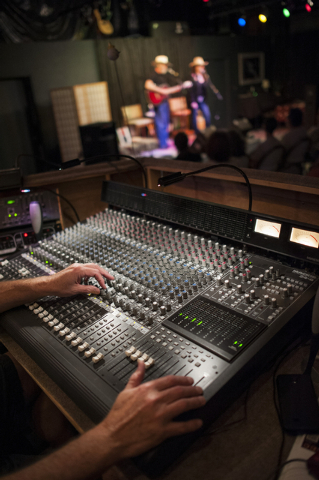 After building a stage inside his garage to fulfill his passion for music, Richard Stewart went one step further and began attracting underground talent to his northwest home.
A little more than a decade ago, he created a private venue dubbed the GarageMaHall, where he and his wife, Betty, host traveling musicians and help them create a wider fan base through musical gatherings.
"I started inviting people from local mics to come out and play at our garage. People were skeptical at first because nobody knew who we were, and we didn't have a reputation. Now that we have been doing this for 11 years, we've had some pretty amazing artists perform here," Stewart said. "This is a great hobby that keeps me busy."
Stewart describes the genre of artists he hosts as Americana — folk, country western, swing, blues or soft rock. He enjoys artists that tell stories through the songs that tie to life circumstances.
Every year, the couple attend the FAR-West music conference, which promotes traditional, contemporary and multicultural folk music, dance, storytelling and related performing arts in the western parts of North America.
The conference is where Stewart meets most of the musicians he hosts at his home. He watches them perform, and if he feels they would be well-suited for his audience, he invites them to the private venue.
He also works closely with the city of Las Vegas Office of Cultural Affairs to bring in diverse acts and performances.
"We do this on a volunteer basis," Stewart said. "We don't make any money. Our job is to bring talent into the area and promote it."
Since their garage is not heated or ventilated, the Stewarts typically host four to six shows a year during the spring and fall, but the venue has been known to be booked as far as two years in advance.
"Our musical gathering are great for traveling musicians," Betty said. "They can stop here and make a little money to help pay for gas."
Their 40-by-60-foot garage helps create a more intimate experience that brings audience members closer to the artists, Stewart said. The showroom consists of three couches and chairs.
Stewart provides musicians a space to sell their CDs, electricity and a full sound system. In addition, he offers his guests water, tea, coffee and snacks.
"Most of the musicians that perform here are not on mainstream radio, but they put on a good show and are really talented artists," Stewart said. "I try to have a variety of musicians here to keep things interesting."
The couple also encourage audience members to contribute with assorted desserts and snacks during the intermission.
He estimates that he spends $200 per show.
The couple do not advertise their musical gatherings. Instead, they reach out to people through word of mouth and through their website. They prefer to have people contact them if they want to join one of their gatherings.
Their house also doubles as a rehearsal space and recording studio for local artists and friends.
"The best part about these gatherings is that instead of going out, we bring the entertainment to our house," Betty said.
For more information, visit garagemahall.org or call Stewart at 702-456-7925.
Contact North View reporter Sandy Lopez at slopez@viewnews.com or 702-383-4686. Find her on Twitter: @JournalismSandy.