Looking back on the best music released in 2015
December 25, 2015 - 2:01 pm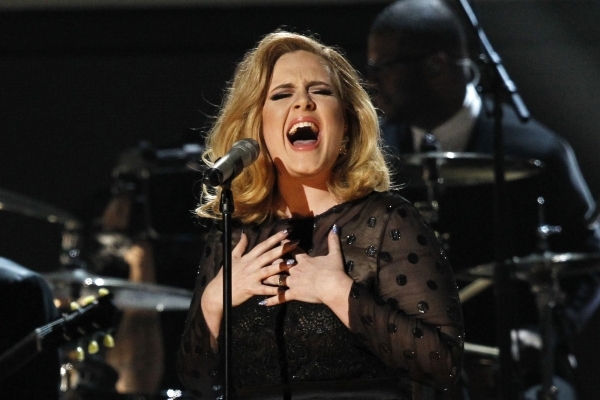 This year was solid in terms of musical releases. Several artists captured the collective consciousness and garnered critical consensus.
Adele, of course, received the most praise and attention — and deservedly so — with "25," the follow-up to "21," her previous platinum-selling release, and the best-selling album of the year. Behind her was Kendrick Lamar, whose latest album, "To Pimp a Butterfly," clinched a spot on year-end lists as soon as it dropped this past spring.
Then there was Drake and "Hotline Bling," which came with a video that prompted a parade of parodies that were every bit as entertaining as the original. And speaking of singles that were absolutely inescapable in 2015, we can't forget "I Can't Feel My Face" by the Weeknd, which played precisely every three minutes; "Trap Queen" by Fetty Wap; "Where Are U Now," Justin Bieber's collaboration with Skrillex and Diplo; "Lean On" by Major Lazer; and "Good for You" by Selena Gomez.
That's the stuff that seemingly caught the attention of everybody in terms of mainstream music in the terrestrial realm. Those who dug a little deeper found gems such as "Here" by Alessia Cara, which borrowed its backdrop from Portishead and contained some of the most literate, evocative, self-aware and incisive lyrics in all of pop this year, including lines like these, "Excuse me if I seem a little unimpressed with this/An anti-social pessimist, but usually I don't mess with this," where she reflects the discomfort and vapidity of the party culture of her peers. Releases from Miguel ("Wildheart") and Future ("DS2") also caught our attention.
There were tons of other highlights this year, including "S.O.B." by Nathaniel Rateliff & the Night Sweats, a tune that caught fire on Fallon and is now being featured in an Apple commercial; "Beautiful Now" by Zedd, the original of which was flipped to extremely edifying results by Skrillex protege Marshmello; "F**k the Summer Up" by Leikeli 47, the repetition of which annoyed at first but eventually worked in its favor; "Weight in Gold" by Gallant, whose soulful croon was every bit as stirring as Leon Bridges, who had about the most satisfying pure soul release in recent memory with his long player "Coming Home."
Oh, and we can't forget Shamir, a local artist who's well on his way to setting himself apart with his singular sound. From "On the Regular" to "Call It Off," it's hard to even pick a favorite track from "Ratchet," his debut, which garnered tons of press and landed him on Stereogum's list of 50 Acts to Watch in 2015.
Needless to say, there was an enormous amount of music to absorb this past year. We made it through only a fraction. There's still so much to explore, which makes us feel a bit remiss to crown these albums and singles as the absolute best of the year — surely there's some untapped brilliance we've yet to discover. That said, these are the songs and albums that most captivated us from everything we spent time with in the past year. If you're looking to add to your playlist or for a way to spend the gift card you got for Christmas, you can't go wrong with these tunes.
The latest release from the Wonder Years, "No Closer to Heaven," offered the most complete and fulfilling listening experience for us in 2015. From the earnest, evocative lyrics to the masterful dynamics, the Philadelphia outfit delivered a stellar album that improves with each listen. The sentiments in songs like "Cigarettes & Saints," frontman Dan Campbell's eloquent elegy for a friend, is undeniably affecting, particularly during the coda when he screams, "You can't have my friends/You can't have my brothers/You can't have my friends/You can't my brothers/You can't have me, no you can't have me."
It's hard to imagine a more fitting title for Kamasi Washington's latest album, "The Epic." From the interstellar artwork that adorns the cover to the sweeping sax that fills up 17 tracks, the record completely lives up to its name. Having played on "To Pimp a Butterfly" would be accomplishment enough for any artist, but Washington's case it's more of a nice "Oh, hey, by the way, did you know he played on that, too?" And that's saying a lot!
Nearly two decades after the release of "Fantastic Planet," Failure finally put together its follow-up, this year's highly anticipated "The Heart Is a Monster." It was well worth the wait. The sprawling album finds Ken Andrews and company at their absolute best, sounding sensational, as though no time had passed between records. It's most rewarding when you listen to it in headphones, sans distractions.
The exact same can be said for "Abyss," by Chelsea Wolfe, who issued a set of music that's as delicate as it is unnerving. You'll be hard pressed to find another album as bleak as this one that leaves you feeling exhilarated instead of downcast.
"Encyclopedia" by the Drums was another completely compelling release. Not only is it the outfit's strongest record to date musically, but lyrically, it finds Jonny Pierce at his most disarmingly honest and vulnerable. The songs from "Encyclopedia" represent a sharp contrast to the sunny disposition of "Let's Go Surfing," probably the act's most well-known song, but the dark shades Pierce uses here feel more substantive and rewarding.
The world of hard rock and metal saw an endless stream of enthralling releases this year, from all ends of the spectrum, including high-profile platters by Maiden and Slayer. For us, though, it was all about Baroness, whose new album "Purple" is so good that it seized our attention from the very first time we heard the stream. If this album, with its compelling cover illustration and strong songwriting, doesn't catapult this Georgia gentlemen into the mainstream, it will be seriously surprising.
We were also enticed by Elder's delicious doom on "Lore," while Ghost mesmerized us with its melodic hard rock on "Meliora," and Sunn O))) continued to stun the senses with "Kannon." Vanum made black metal sound absolutely bewitching with "Realm of Ascension," Crypt Sermon, a Philadelphia-based quintet, made a hell of a mark with "Temple Doors," its dynamic debut, and Queensryche, led by Todd LaTorre, exceeded all expectations with its latest album, "Condition Human," which easily stands up to the act's classic albums.
Every year it seems, some folks in country music's cognoscenti, presumably chagrined by the inevitable evolution of the genre, anoint an artist they can point to and celebrate for keeping the roots alive, staving off a civil war between the purists and rank-and-file fans. This year, it was Chris Stapleton, who dropped jaws at the CMA Awards by duetting with Justin Timberlake on "Tennesee Whiskey." Last year, it was Sturgill Simpson. The year before that it was Kasey Musgraves, and Jamey Johnson, and Miranda Lambert, and … you get the picture.
And while both of those artists are obviously fantastic, they are the anomalies. Modern country music, if you can get past critical cynicism, is producing a batch of burgeoning acts worth a listen, artists such as Cam, who gained a lot of ground with her stirring tune "Burning House," and Sam Hunt, whose speak-song style, which recalls "Lullaby"-era Shawn Mullins, caught on thanks to a series of singles such as "Take Your Time," "Break Up In a Small Town," and "Leave the Night On," from his debut, "Montevallo." Like Cam, Hunt, who began building his audience with a mixtape a few years ago, got his start writing for other acts but eventually claimed the spotlight for himself.
Maddie & Tae, meanwhile, put their so-called "bro country" brethren on blast with their stereotype-obliterating ode "Girl In a Country Song," in which they cheekily bemoan the tropes of those types of songs: "Well, I wish I had some shoes on my two bare feet / And it's gettin' kinda cold in these painted on cut-off jeans / I hate the way this bikini top chafes / Do I really have to wear it all day? (Yeah, baby)." Brilliant. We also really dug "I Got the Boy" from Jana Kramer, who sings about how "I got the first kiss and she'll get the last / She's got the future, I got the past / I got the class ring, she got the diamond and wedding band / I got the boy, she got the man."
Oh, man, there were so many other releases that captured our attention this year, records that are each worth mentioning, including "At. Long. Last. ASAP" by ASAP Rocky; "Dark Sky Paradise" by Big Sean; "Summertime '06" by Vince Staples; "Ego Death," by the Internet; "1989," Ryan Adams' reworking of Taylor Swift's album of the same name; "Gone By Dawn" by Shannon and the Clams, which is unbelievably good and doesn't even sound like it's from this decade; "Grey Tickles, Black Pressure" by John Grant; "I Love You, Honeybear" by Father John Misty; and "American Man" by the Yawpers.
Follow me on Twitter (@rjmusicdh) in the coming weeks, and I'll share links to some playlists.
There was also some outstanding music that was born right here in Las Vegas that we highly recommend seeking out, including new releases from Bee Master (beemaster.bandcamp.com), Same Sex Mary (samesexmary.bandcamp.com), Shayna Rain (shaynarain.com).
Read more from Dave Herrera at reviewjournal.com. Contact him at dherrera@reviewjournal.com and follow @rjmusicdh on Twitter.