Lorde leads caravan of Coachella acts coming to Las Vegas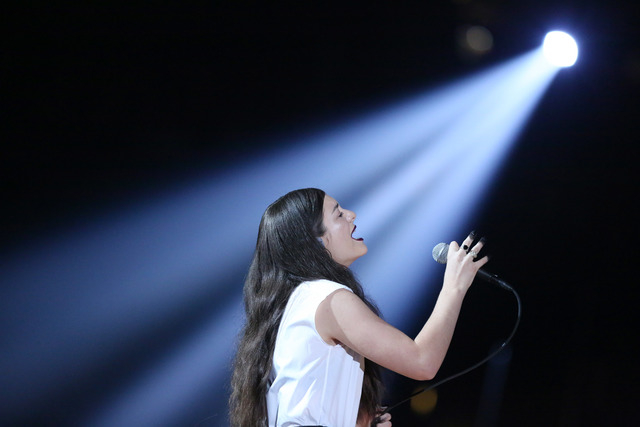 One of the reasons that Lorde has become a pop star is that she has no business being a pop star to begin with.
At least not if you listen to her tell it.
Perpetually black clad like a storm cloud casting shade on the top of the charts, the 17-year-old New Zealand singer-songwriter exudes a kind of knowing, deliberate indifference.
"It's a new artform, showing people how little we care," she sings on "Tennis Court," the first track on her debut album, "Pure Heroine," which has sold more than 2 million copies worldwide since being released in September and earned her a pair of Grammy awards.
She shouldn't be in this position, she's quick to remind you.
"We'll never be royals," Lorde (Ella Yelich-O'Connor) sings over finger-snaps on her breakout hit "Royals," one of the biggest songs of 2013. "It don't run in our blood. That kind of luxe just ain't for us."
Maybe not, but it's most certainly available to her now in a weird twist of fate: the misfit who's become the cool kid, her success celebrated with a shrug of her shoulders.
The sound of "Pure Heroine" Lorde's nonchalance: It's a hypnotic, minimalist album, for the most part, predicated upon slow building tension and gradual release, delayed gratification in the form of pinging, barely there beats and her unadorned vocals, which can go from somnolent to sirenlike in the span of a few bars in songs that reference hip-hop and electro-pop in their sparest incarnations.
It'll be interesting to see where Lorde goes from here, as much of "Heroine" is about finding contentment with one's lot in life no matter how shabby, about being happy with what you have even if what you have isn't much.
But now, the spotlight is firmly trained on her, and all that dark clothing must make its glare especially hot.
Testifying to her ever-rising profile, Lorde is one of the higher-billed acts at the Coachella music festival in Southern California this weekend and next, and as is the case this time every year, numerous bands playing the event stop here to and from the fest.
Lorde, who headlines the Boulevard Pool at The Cosmopolitan of Las Vegas on Tuesday and Wednesday, is but one of a bevy of Coachella acts performing here in the coming weeks.
Here are a few other notables:
■ Mogwai, Friday, Hard Rock Live. These great Scotts transfix with a largely instrumental catalog that harnesses meticulous attention to detail and swelling volume into songs that are by turns triumphant and understated, beatific and overpowering.
■ Lana Del Rey, Friday, The Chelsea at The Cosmopolitan of Las Vegas. Rey's murky, moody pop can be cartoonish and noirish, sometimes simultaneously, her singing voice deliberately flat and deadpan at times, ice-pick sharp at others. Her breakout sophomore effort, "Born to Die," was uneven and muddled, but still compelling despite, or perhaps because of, its volatility.
■ Disclosure, Friday, Brooklyn Bowl at The Linq. "If there are boundaries, I am trying to knock them down," guest vocalist Sam Smith sings on "Latch," the crossover hit from these two British brothers. The same could be said of Disclosure, too, as they blur the distinctions between numerous electronic music subgenres like house, electro and dubstep.
■ Ellie Goulding, Saturday, Boulevard Pool. Her pipes are boulder-big, but this 27-year-old Brit singer generally favors breathy buoyancy over vocal bombast, wrapping her lithe voice around alternately stirring and sensual synth pop.
■ Bryan Ferry, Saturday, The Pearl at the Palms. As frontman for Roxy Music, Ferry gives voice to glam at its most sensual, artful and romanticized. On his own, he recalibrates everything from Rolling Stones standards to, most recently, 1920s jazz in distinctly urbane, debonair fashion.
■ Jon Spencer Blues Explosion, Saturday, Beauty Bar. As literally named an act as they come, this raucous trio blasts forth with serrated R&B and snaggletoothed noise-funk voiced by a spasmodic frontman with the spirits of Elvis and The Cramps' Lux Interior warring for his soul.
■ Future Islands, Wednesday, Beauty Bar. Future Islands have been building a buzz of late with their hold-nothing-back live performances, which even the curmudgeonly David Letterman was moved by when the Baltimore band performed on "The Late Show" last month. Think synth pop with its hair on fire, with lots of sweat the only thing quelling the flames.
■ Haim, Thursday, Boulevard Pool. These three sisters made the asphalt rumble with an impromptu drum jam during their set at Life Is Beautiful last fall. It was a moment that encapsulates Haim's live performances, where their harmony-heavy pop rock becomes just plain heavy at times.
■ Chance the Rapper, Thursday, Brooklyn Bowl. This 20-year-old Chicago MC's jazz-informed 2013 mixtape "Acid Rap" is gritty and whimsical, touching and tough-nosed all at once. It was one of the most critically acclaimed hip-hop releases of the year, but perhaps the truest sign of the waves that "Acid Rap" has made is that it has elevated Chance the Rapper's profile to the extent that he's now getting dissed in song by Drake.
■ Motorhead, Thursday, The Pearl. So, Lemmy Kilmister, heavy metal god, what do you make of Motorhead playing in front of tens of thousands of hipsters, wannabe hipsters and decidedly nonmetal types at an event like Coachella?
"Well, they'll just have to change to accommodate us," he says with a hearty laugh. "We're gonna be what we are, you know?"
They couldn't be any other way if they tried.
And really, who would ever want them to?
Contact reporter Jason Bracelin at jbracelin@reviewjournal.com or 702-383-0476. Follow on Twitter @JasonBracelin.