Lotus based on intuition and feeling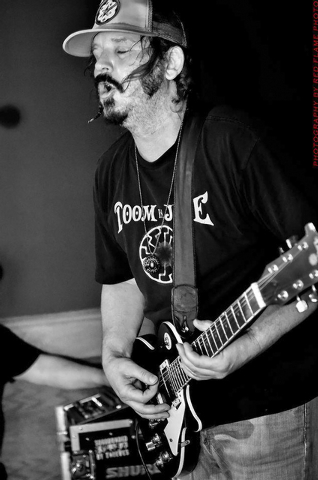 You don't even have to see the label of the beer that Eric "Lando" Hagen has to make a pretty good guess as to where it was brewed.
The first clue: Sewn on the singer/guitarist's jeans, along with a peace sign patch and the logo for metallers High on Fire, is the Green Bay Packers insignia.
The second clue: The same yellow-green-and-white "G" adorns the spare tire cover on the back of bassist Mike Schwarten's Jeep.
Yes, these are a couple of tried-and-true Wisconsin dudes, and so, naturally, Hagen is working on a Pabst, which, if not exactly Milwaukee's finest, is getting the job done on a recent Thursday evening.
"If you're from Wisconsin, and you don't drink beer and you don't like cheese, the Brewers, the Packers and all these other things, it's not going to work," Hagen says with a grin outside of the MDV Entertainment rehearsal space, shooting a knowing glance at his bandmate, who's at a wooden picnic table. "Mike and I are both from Wisconsin, so we have a lot of kinship."
The two don't exactly finish each other's sentences — Hagen does more of the talking — but they don't need to. There's a clear, unspoken connection between them.
And you hear it in their band, Lotus, whose sound is predicated upon intuition and feeling as much as anything else. Lotus, rounded out by drummer Scott Coonan, is nominally a stoner group, plowing forth with bulldozer riffs both heavy on the distortion and just plain heavy in general.
"I've always loved the fuzz, man," says Hagen, who made a name for himself in cult Bay Area rockers White Witch Canyon and Greenhouse.
But one of the things that sets the group apart from so many of their sci-fi-minded peers is a soulfulness, an emotional depth.
"I like the kind of stuff with heart," says Schwarten, a stocky guy whose physical bearing matches the beefiness of his bass lines.
You hear what Schwarten is talking about on tunes such as the contemplative, acoustic-guitar based "The Formula" and the plainly titled "Touch of Soul."
"It's being vulnerable with stuff and not being worried about taking a chance," Hagen says. "It's not just like, 'Yeah, it's stoner rock, they're going to sing about spaceships and blasting off to other planets.' "
There is that side to the band as well, on songs such as "Sun Chariot," where Lotus brings the rumble with guitars that sound like a hot rod's motor being revved.
They're preparing to enter the studio to cut their full-length debut. They return to the stage Friday after laying low for a while, playing the Doom of June festival at The Cheyenne Saloon.
As for how the record is shaping up, well, it's not.
It's shapeless, by design.
"It doesn't have to be anything," Hagen says, sounding a Zen-like note. "It just has to be what it is."
Contact reporter Jason Bracelin at jbracelin@reviewjournal.com or 702-383-0476. Follow on Twitter @JasonBracelin.