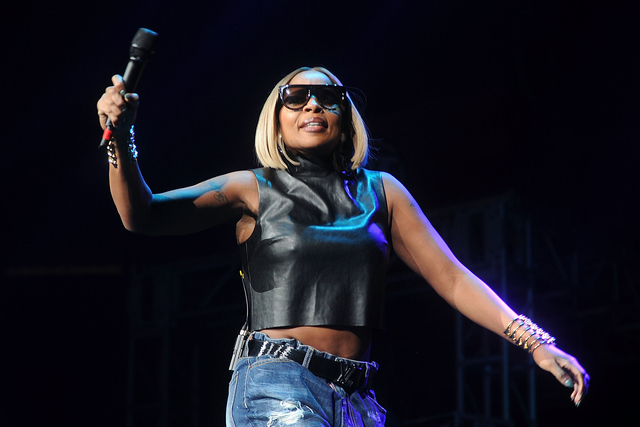 In an evening of short skirts and long stares, the human pheromone on stage gave local labor-and-delivery units nine months notice to steel themselves for some serious overtime.
"Who's gonna make a baby tonight?" Maxwell asked the heavily cologned and perfumed crowd at the T-Mobile Arena on Friday.
Rhetorical question.
There was a smattering of applause, but not the kind of boisterous response you might expect.
You could forgive the dudes for feeling just a tad cowed at this particular moment — the lady in the blue thigh-high boots, white panama hat and gold hoop earrings sizable enough for a daredevil to jump a motorcycle through gave them reason for pause.
This was the duality that defined the King and Queen of Hearts Tour, where impeccably tailored R&B ladies man Maxwell teamed up with hip-hop soul survivor Mary J. Blige to ponder love and its aftermath, romance and consequences, Cupid and divorce lawyers.
Blige was up first, her blend of swagger and emotional fragility distilled in deeply-felt soul sermons that mirrored her impressively chiseled shoulders: strong and feminine; her voice commanding yet supple — an instrument of beauty, poise and knock-you-on-your-knees power.
Occasionally she'd take a break from her performance to offer a bit of life counseling.
"Fellas, check this out, I got nothin' against you …" Blige said as she eased herself into a chair positioned at the end of a short runway that jutted from the stage during one such interlude. "But I can only speak for a woman."
And with this, Blige broke down five prerequisites for a strong relationship, admonishing the men not to compare their partners with other women while instructing the ladies to be secure with themselves, among other things.
She ended by emphasizing the importance of trust between a man and a woman, her words taking on a real-life resonance: Blige filed for divorce from her husband of 13 years in July.
"I hate this part of my life right now," she acknowledged. "But I wouldn't be Mary J. Blige if I didn't sing about it."
And then she did just that, in stingingly personal terms. "I be damned if all these years I let you dis me babe," Blige sang over a skittering beat on new song "Thick Of It." "I was there when no one wanted to stay with you, baby / You know I deserve more than this."
The emotional climax of Blige's performance came near the end of her time on stage, when she paired an aching yet cathartic "Not Gon' Cry" with "No More Drama," a song released 15 years ago.
"No one's gonna make me hurt again," Blige pronounced on the latter number.
That those words didn't prove to be true wasn't the point.
That Blige was still able to summon the resolve to sing them was.
It was into this prickly thicket of emotion that Maxwell then high-stepped.
Gliding onto the stage in shades and a natty suit, a disco ball shimmering above, he immediately lightened the mood with his weightless falsetto, his voice lithe, his smile bright.
Backed by a seven-piece band, Maxwell's bedroom-bound repertoire was often directly evocative of the carnality at its core, his window-fogging funk and buttery slow jams propelled by a rhythmic thrust meant to get bodies in motion — one way or another.
As the show progressed, Maxwell gradually went from the dance floor to the bedroom in song, offering visual cues along the way, first doffing his jacket, then loosening his tie little by little until it was dangling from his neck, undone.
This is the way Maxwell does things: his songs are posited on passion, but underscored by patience, both lyrically and musically, and his most sensual tunes register as a slow, deliberate striptease as opposed to a libidinal R&B bump and grind.
All this slow-handed seduction builds to an intense release: By the time Maxwell got to "'Til The Cops Come," a tune about lovemaking so vociferously that the authorities need to be called, it was a wonder that the venue wasn't blanketed in a mound of discarded clothing.
In an interview with the Review-Journal prior to his stop in town, Maxwell acknowledged, half-jokingly, that it was job to come out and demonstrate that men are still OK, still worth keeping around after Blige's tempestuous set.
Did he do so?
Check back nine months from now.
Read more from Jason Bracelin at reviewjournal.com. Contact him at jbracelin@reviewjournal.com and follow @JasonBracelin on Twitter.