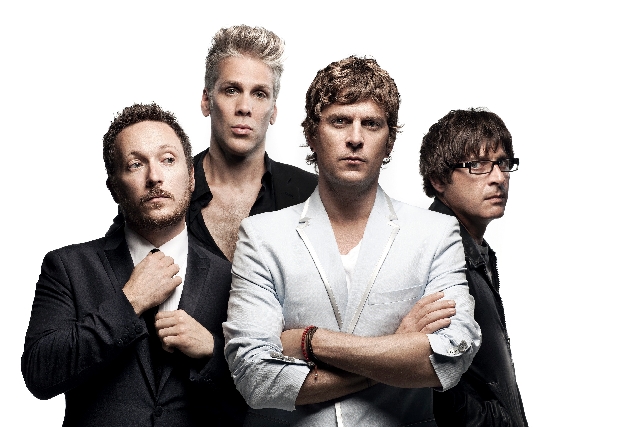 They call Matchbox Twenty soccer mom music. But on the soccer field a win is a win. And on sales charts, moms can push an album to No. 1 too.
The No. 1 debut of "North" last year was the first time that happened in the band's 17-year history.
It was even more of a surprise to Matchbox guitarist Kyle Cook. Partly because it had been five years since the band released new music, and partly because Cook has 11- and 14-year-old daughters at home.
"We're not guys in our early 20s anymore. The landscape out there is Taylor Swift, Justin Bieber," Cook says of the band that plays the Palms today.
"Trying to capture their attention, that age group and that generation of music listener, is almost kind of pointless really. To expect that generation to relate to what we do could be a tough sell."
When it came time to record "North," the group briefly considered one of "the young, hip producers doing what the landscape of Top 40 music is about right now." But they stuck with longtime producer Matt Serletic.
"We didn't see a reason to change the formula up, especially if the idea is to pander to pop radio or whatever," Cook says.
Instead, the band delivered a classic sounding pop-rock album full of backbeat and hooks, from the fun single "She's So Mean" to the dance floor call out "Put Your Hands Up."
There's even a song about old-school pop radio called, yes, "Radio."
Cook calls it "not being afraid to not always be so serious. Sometimes music should just be fun and danceable and bright and singable."
"I like the idea of always trying to keep the audience guessing a little bit, and if nothing else, not trying to repeat yourself too much."
The No. 1 debut with 95,000 sales "felt really good," Cook says. "It kind of validated that we're doing something right."
The album was the first full one from Matchbox in 10 years, though new songs showed up in various compilations during the interim. The group took a couple of breaks during that stretch, and Cook says it still grapples with where to draw the distinction between the band's sound and the solo work of singer Rob Thomas, who has solo writing credit on five of the 11 "North" tracks.
"It's a very opinionated band," Cook says, "and there certainly were a lot of times when we said, 'You know what? It really does sound like a Rob solo thing.'
"Making that distinction I think is really important to the audience," he adds. "The band, including Rob, is very protective of keeping that distinction. Because if you don't, it could be bad for both brands."
However, "It's tough to really nail down what those elements are. It's very subjective. It could be a guitar part, it could be the way the drum part is played. It's a case-by-case basis.
"We cite the Rolling Stones a lot. You really know the Rolling Stones when you hear them because there's a certain sloppiness that's kind of desired when you hear them. There's something about the way they perform together that has an organicness to it. … Each person has a voice that contributes to the overall sound of the band."
The long gap between albums perhaps created "a little more freedom there to kind of figure out what song choices would be the right move for a new Matchbox Twenty album after all this time."
The band — which also includes Paul Doucette on drums and Brian Yale on bass — even decided to live together in a Nashville, Tenn.-area cabin for a month to collaborate on the song demos. "That was another step toward that effort of keeping things interesting and inspiring for us.
"We've all got kids, we all live in different cities, we've all made a lot of money. You've go to get back to that place of being excited and being hungry. To put in the work, really, that it takes to make an album that doesn't sound like it was just phoned in."
Contact reporter Mike Weatherford at
mweatherford@reviewjournal.com or 702-383-0288.
Preview
Matchbox Twenty
8 p.m. today
The Pearl at the Palms, 4321 W. Flamingo Road
$79-$154 (944-3200)