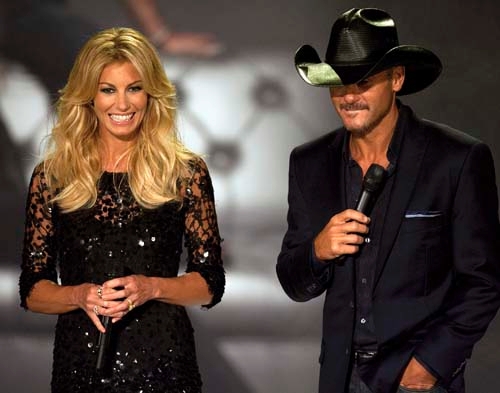 As they sat together on a couch just an arm's-length away, Tim McGraw and Faith Hill seemed very much like the couple you really hope will move in next door. And, in a manner of speaking, they are.
Country's golden couple on Tuesday announced a 10-weekend, 40-performance schedule at The Venetian. The "Soul2Soul" engagement in the comparatively intimate, 1,800-seat Venetian Theater begins Dec. 7 and extends through April.
Between them, the country superstars have sold 70 million albums and earned eight Grammy Awards, 14 Country Music Association Awards and dozens of other plaudits. They generally play venues such as the 50,000- to 60,000-seat arenas McGraw currently is filling on his summer tour with Kenny Chesney.
Their "Soul2Soul" debut coincides with the National Finals Rodeo, which annually draws thousands of country music fans to Las Vegas. In an interview in a 35th-floor suite after the morning news conference, McGraw said he hadn't been aware of the timing, but "it makes sense."
It also raised a memory. McGraw said he has performed the national anthem twice during his career, once during NFR and once at a minor-league baseball game. The latter performance, he said, was "terrible."
"I'm batting .500 on the national anthem," he said. "I'm not going to do it again."
While McGraw said during the news conference that the key to a happy home life mainly involves him remaining quiet while surrounded by a wife and three daughters, he was the more talkative of the two during the later closed-door interview. He said he had vivid memories of his first visit to Las Vegas when, as a 22-year-old on a "terrible raggedy tour bus," someone woke him up at 3 a.m. to point out that they were headed up the Strip.
This time around, though, most of their trips to Las Vegas will be family affairs. Their daughters, he said, like to attend Las Vegas shows, particularly those by Cirque du Soleil.
"They like to get away from home, bring a couple of friends and hang out in a hotel room," McGraw said.
The offspring aren't dazzled by the thought of their parents' extended run on the Strip.
"I think they see us as their parents," Hill said. "They probably think we're weird."
"I know they think I'm embarrassing," McGraw said.
Their daughters, the couple said, are the primary reason for the timing of "Soul2Soul."
"The Venetian worked around our kids' school schedule," Hill said.
The resort approached them, they said, and they have been working out the details since July 2011.
"The Venetian opened the doors here and welcomed us in such a gracious way," Hill said.
She said the couple have toured together three times, most recently in 2007. Those tours mostly involved each doing some songs by themselves and some songs together. This show, McGraw said, will be mostly the two of them together.
"It's a different way to see what we've done," he said.
Beyond saying that "the production will be very cutting-edge," they aren't revealing many specifics, mainly because the show still is in the process of being built from the ground up.
But asked whether the engagement was likely to be extended, in the manner of Celine Dion's residency at Caesars Palace, they said tour commitments already being set for next summer make that impossible.
"It's certainly a moment in time," McGraw said.
Performances are scheduled for 8 and 10:30 p.m. Dec. 7- 8 and 14-15; Jan. 18-19 and 25-26; Feb. 1-2, 15-16 and 22-23; March 1- 2; April 12-13 and 26-27.
Members of The Venetian's loyalty program, Tim McGraw and Faith Hill's official fan communities and Clear Channel subscribers may purchase advance tickets starting at 10 a.m. today; general ticket sales begin Aug. 13. Ticket prices are $95.50, $175.50, $255.50 and $295.50, including tax. A limited number of VIP packages – including preferred seating, a complimentary pre-fixe dinner at a select Venetian restaurant, two complimentary drinks, a merchandise credit and more – will be available for $1,000.
Tickets are available at any Venetian or Palazzo box office, online at ticketmaster.com or by phone at 888-823-7685.
Contact reporter Heidi Knapp Rinella at hrinella@review
journal.com or 702-383-0474.