Mo5aic, longtime opening act for George Wallace, back in a Vegas venue
October 3, 2013 - 10:31 pm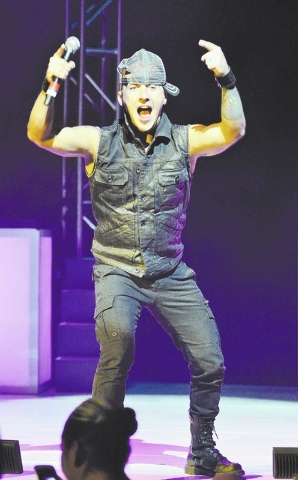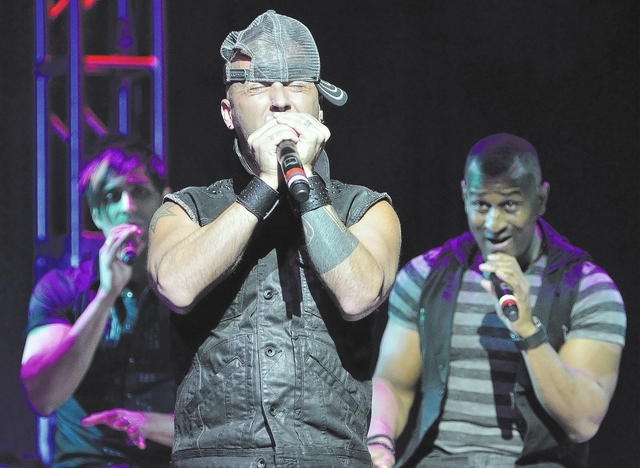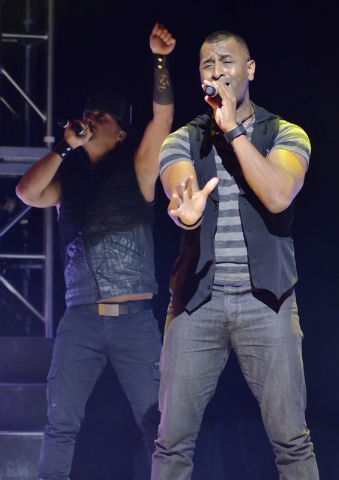 There are two versions of how the a cappella quintet Mo5aic came to be.
But because George Wallace is George Wallace, his story is funnier than the real one.
"I call 'em my kids," the comedian says of his former opening act.
Really. "Each one of these is my kids," he would tell audiences. "I met their mothers in different places. … The tall kid Josh, I met his mother in Colorado. I met another one in Jamaica."
The real story is more conventional: Josh Huslig, working in vocal groups at Walt Disney World in the early 2000s, inspired to "modernize" a cappella and recruited other talented theme park employees to form Mo5aic.
But Wallace is still a key part of the saga.
Huslig and his vocal partners agree that being part of the comedian's Flamingo show for more than three years taught them how to be themselves onstage.
"He taught us how to react in that moment," Huslig says. "Before, I think we were a much more structured group. We never really came off as stiff or unrelaxed, but we were always very structured. With George, we really developed a more off-the-cuff style. It was very influential on what the product has become today."
That product has returned to a Las Vegas show venue. This time, Mo5aic is selling tickets on its own in the Las Vegas Hotel's Shimmer Cabaret.
And although Huslig may be the rare a cappella singer to sport a multihued mohawk, singing without instruments has only gained more street cred over the years for him, Heath Burgett, Jake Moulton, Corwyn Hodge and Roopak Ahuja.
"The exposure of the art form as a whole kind of propels everything," Hodge says of the TV contest "The Sing-Off" and the traction it gave to vocal groups such as Pentatonix.
"What we do is different from most groups. But if a cappella succeeds, it only helps us," Hodge adds. "It's not like we're trying to claw our way to the top. We're doing our thing, we're doing it well and we're happy if other groups succeed too. It only helps."
Huslig says he loved the basic sound of a cappella even when singing at Epcot Center in the more traditional groups Voices of Liberty and American Vibe. But, he says diplomatically, "It just didn't resonate quite the way it does now, with the new face of a cappella."
It was Rockapella, with its rhythmic component of vocal "beat boxing," that inspired him to eventually team up with vocal percussionist Moulton and singers who evolved into the current lineup.
While working out of Orlando, Fla., the group was signed to Royal Caribbean cruise lines. On one 2006 excursion, Huslig remembers, "This guy comes up to us and asks us for a CD or any kind of promo materials we had."
He figured it was another of many guys he would never hear from again. But this time it was (since retired) Flamingo maitre d' Jack McKimmey. And this time, he got a call back from Wallace and his manager, inviting them to Las Vegas.
The group had already been thinking about just such a move, and didn't need to be asked twice. Three weeks with Wallace turned into three years, and 20 minutes onstage would sometimes turn to 40.
"I wouldn't let them off the stage," Wallace says. "I would challenge them to sing any song. The group sounded like a whole band and they could pull it off."
Since their years with Wallace, the group avoided the rat race of trying to run a show in Las Vegas, and stuck to corporate and cruise-ship work.
But they come back ready to live up to the way they describe themselves now, as an a cappella Rat Pack.
Huslig says the group has continued to evolve into "a perfect mix of celebrating our own individuality and the camaraderie that can exist between us."
"It's an interactive show, something we involve the audience in, and show our true personalities onstage," Burgett says. "We're around each other so much, we're just used to interacting with each other and also with an audience."
In the early weeks, the group plans to reintroduce itself to those who still may lag behind the concept of a cappella singers who aren't averse to the gym, and to deconstructing pop songs such as Bruno Mar's "Locked Out of Heaven" in a way that's become familiar in "The Sing-Off" era.
Once the show digs in, the group hopes to introduce more of its original songs, which explore an area Huslig calls "vocal drive."
If Mo5aic already made a cappella cool, then their new single "Speed of Sound" attempts to take it fully into the realm of electronic dance music. The group processes the human voice through effects units, just as musicians do with guitar pedals or synthesizers.
"Everything is still created with the voice as the source, the source input for the sound. It's just the way we choose to manipulate it," Huslig explains.
"It may be accepted by some, it may not be accepted by some, but I know for us as a collective, we're interested in the possibilities of what it can achieve," Huslig says.
Just as they have been since Mo5aic started, "We're just trying to call it something different."
Contact Mike Weatherford at mweatherford@reviewjournal.com or 702-383-0288.
Preview
Mo5aic
8:30 p.m. Friday-Sunday
Las Vegas Hotel, 3000 Paradise Road
$37.85-$71.95 (702-732-5755)