'Mostly unscripted' Meat Loaf show to include audience questions
September 26, 2013 - 3:55 pm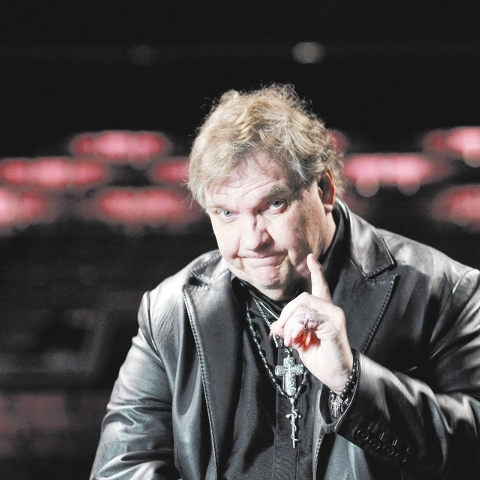 Meat Loaf is particular about his billing.
"Any time I see the word 'star' or 'superstar' or 'legend' I have them take it out (of advertising)," he says. "I don't think of myself in those terms."
So what is he then? We know Meat Loaf, who turns 66 on Friday, is the singer who has sold 43 million copies of "Bat Out of Hell."
He also performed on Broadway and has been in a bunch of movies, including the otherwise-unrelated classics "The Rocky Horror Picture Show" and "Fight Club."
Seems like at least some modest superlatives wouldn't be out of line for his stint at Planet Hollywood Resort, on select nights through Nov. 5.
"I think of myself as a really good plumber."
Say what?
"A plumber who will come to your house, fix your sink, charge you a fair rate and make sure your sink is fixed. So that the next time you have a problem, you'll call me back.
"I try to stay as grounded as possible."
If that description was a little, uh, unexpected, so too is the show Meat Loaf unveils this week at Planet Hollywood.
It's the kickoff for "RockTellz &CockTails," a series producer Adam Steck envisioned as a little bit of "VH1 Storytellers" and "Inside the Actor's Studio," only with full-band concert performances instead of acoustic strumming.
Turns out Meat Loaf was just waiting to be asked.
Had just that in mind, and then some.
"When they asked me, they had no idea that I was going to walk in and lay out this show," he says.
Turns out he's tired of one-night touring, and called his European tour this year "Last at Bat." But there is a qualified difference between "touring" and "performing."
"I don't want to tour anymore, I'm too old. I want to be in one place," he says.
When Steck learned of these desires through a mutual friend, he met with Meat Loaf and discovered "he had the entire thing laid out. He had everything ready to go."
It took a lot of budget-crunching, but "there is more stuff in this show than I ever imagined could be," Steck says.
It promises to be theatrical, as you would expect it to be of the man whose music and life are essentially rock opera.
"There's concert elements, because whenever we get to a song, we're in concert. But after the song is over, it's a whole other deal. And what is it? I couldn't tell you."
He says it will reflect his comedic influences of National Lampoon and Monty Python. And he promises to take the guise of different characters, befitting a man who has been in nearly 60 movies ("He's actually an actor playing the role of a singer," Steck says).
Although he will cue a basic structure via an iPad, he says the show is essentially unscripted and will include time for questions from the audience. "I don't have a writer. Everything you hear in this show is going to come from that moment, and the top of my head.
"If someone asks me a dark question, I'll answer it. If they ask me a sexual question, I'll lie," he adds.
Steck is only worried about having the show end in time for roommate production "Dancing Queen," given the expansive career of the man born Marvin Lee Aday (and who now sometimes answers to "Michael"). He talks in long, almost stream-of-conscious bursts that almost randomly work in statements such as "(Record mogul) Clive Davis said I was like Ethel Merman, and Ethel Merman's one of my idols."
"Bat Out of Hell" is one of the biggest-selling albums of all time, and Meat Loaf racked up platinum sales for some of its follow-ups. But career interruptions followed in the form of vocal problems and a falling out with Jim Steinman, the composer who gave Meat Loaf all those cool songs to sing. In 1989, the singer's star had fallen so far he played a club on West Sahara Avenue called Paradise Alley (now Big Dog's Cafe &Casino).
How does he account for such extreme highs and lows?
"Ask Sinatra. Ask Sinatra the same question," he says. "This is my 47th year. Any time you do anything for 47 years, you're gonna have peaks and valleys."
He says he is in reasonably good voice these days. "I'm not bad, but I'm getting older," he says, adding that he and his band still do the "Bat Out of Hell" classics "in the same keys we recorded them in 37 years ago."
And he and Steinman, whom he calls "Jimmy," are working together on a new album called "Brave and Crazy." They are three tracks in, and hope to record three more during his daytimes in Las Vegas.
If this show catches on, he would love to take it to the West End, Chicago, maybe even Broadway.
By then, people may even have a handle on what it is, and what to call it.
The star, or whatever he is, has a simple suggestion.
"Call it 'Meat Loaf.' "
Contact reporter Mike Weatherford at mweatherford@reviewjournal.com or 702-383-0288.