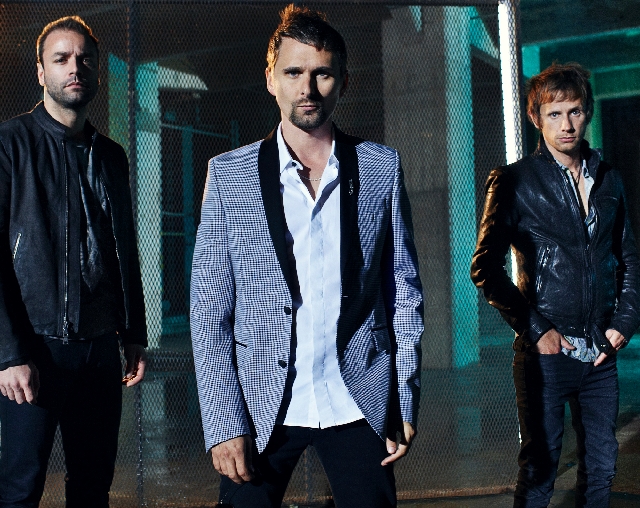 "This is my kind of town."
Seems like a tossed off line, right?
The kind of thing a rock star says from the stage to ingratiate himself to the crowd, a canned sentiment heard from Des Moines to Denver, disposable as dental floss and normally about as convincing as a half-hearted compliment to a bad cook prior to spitting dinner into your napkin when he's not looking.
But when Muse frontman Matthew Bellamy said as much during his band's packed show at Mandalay Bay Events Center on Sunday, it didn't seem quite as perfunctory as it normally does.
Why?
Because the same ethos that builds Taj Mahal-opulent casinos in this city, the notion that too much is never enough, is the enlarged heart that pumps the blood through this band's veins.
If Vegas is a knowing nod and wink to excess, so is Muse.
And in both cases, it works.
In Muse's case, it all begins with Bellamy, whose singing voice is capable of scaling nearly four octaves with an upper register suggestive of both Judas Priest wailer Rob Halford and the cacophonous shriek of an alley cat being fed into a wood chipper.
His guitar playing is similarly overstimulated, equally indebted to Eddie Van Halen and Prince, as he's fond of conjuring riffs that gust like a nor'easter.
At the conclusion of "Map of the Problematique," a song that began with the dark electronic pulse of a more muscular Depeche Mode before ending in a howl of six-string Armageddon, Bellamy held his guitar in the air triumphantly, like the head of a vanquished foe — said foe being the laughable idea of restraint.
All this ostentation was matched visually, with a pyramid of ascending and descending video screens that flashed above a semicircular stage exploding with light like a red giant's cosmic discharge.
It's kind of ironic then that the band's latest record, and sixth overall, "The 2nd Law," is a loose concept album based upon dwindling resources in the face of humankind's insatiable, and ultimately unsustainable, appetite for more of everything, because it's this very impulse toward maximum output that propels Muse.
They're a power trio in every sense of the term (live, they also perform with a touring keyboardist), with drummer Dominic Howard matching Bellamy's righteous fury — on a rotating drum kit, no less — and bassist Christopher Wolstenholme's playing approximately the menacing buzz of a perturbed mud dauber.
Together, they create an ever-swelling sound whose magnitude seems intended to dwarf the soccer stadiums that they sell out abroad.
Lyrically, Bellamy seeks to up the ante further still.
"Do just what you want to," he instructed during "Panic Station," a funk fireball with slashing bass lines. "Stand up and deliver your wildest fantasy."
The man speaks from experience.
It's a fine line, though, between laudable ambitiousness and overwrought pomposity.
Muse toe this line within millimeters, as evidenced by bombastic show-closer "Survival," a full-on rock opera complete with fat lady crooning.
But few bands are capable of the kind of energy expulsion inherent in songs such as "Knights of Cydonia" and "Stockholm Syndrome," the rock 'n' roll equivalent of nuclear fission.
This is beer-in-the-air music, but with a brain, progressive and populist in equal measure.
There's a distinguished, if small, lineage of bands that marry a prodigious level of technical prowess with mainstream appeal.
Muse acknowledged a handful of these acts at various points in the show, when they ended a song by jamming on the signature riff of a slew of hard rock classics (Led Zeppelin's "Heartbreaker," Rage Against the Machine's "Freedom," Guns N' Roses' "Sweet Child O' Mine").
Clearly, Muse see themselves as members of this family tree.
And it seldom ceases to be a kick watching them swing wildly from its branches.
"Can you free me, free me from this world?" Bellamy asked in song during an uncharacteristically subdued "Explorers."
Dude, that ticket was punched years ago.
Contact reporter Jason Bracelin at jbracelin@
reviewjournal.com or 702-383-0476.
Review
Who: Muse
When: Sunday
Where: Mandalay Bay Events Center
Attendance: 11,000
Grade: A-