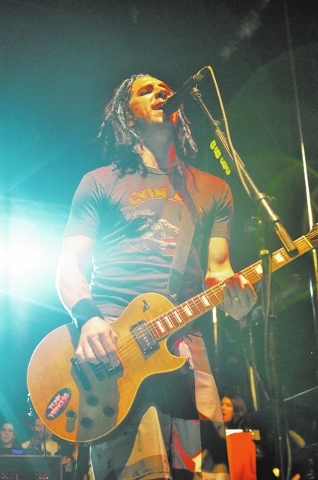 Punk Rock Bowling is back, and Bob Oedy wants you to remember it this time.
"I've seen people at Punk Rock Bowling just get hammered and kind of ruin the whole weekend," says the veteran punk rocker and author who fronts the band The Grim, which is playing PRB once again this year. "It's like, 'Man, if you're shelling out the money, you want to have a good time, the whole time, and you want to see as much as you can.' I'm just into it, and I couldn't wait to tell people about it."
And so Oedy penned "The Punk Rock Las Vegas Survival Guide: Beer, Bowling and Debauchery Las Vegas Style," a comprehensive rundown of just about every facet of the annual music festival, which returns to Las Vegas for the 16th year this weekend.
It's a straightforward, fat-free read that ranges from tips on succeeding in the bowling tournament and festival do's and don'ts to assorted musicians sharing their favorite hangover cures — "Bacon, and more beer," KC Maddox of the Whitekaps helpfully recommends — to a list of the best Las Vegas jails (seriously).
The book, which is available on Amazon, is being released in time for this year's festival, which opens Friday with shows in assorted downtown clubs and continues through Monday with concerts at the festival grounds on the corner of Seventh Street and Stewart Avenue and at various venues after the outdoor shows conclude.
The lineup is loaded with caffeine-addled pop punks the Descendents, the just-plain-addled NOFX, Brit hooligans The Adicts and Vegas' The Gashers and The Objex among the 27 bands playing the festival stage. Meanwhile, hardcore lifers the Cro-Mags, psychobilly mainstays the Reverend Horton Heat, the muscular, melodic All and dozens of others will be taking over the clubs.
Underscoring just how big a national draw Punk Rock Bowling has become, every show has sold out in advance.
Really though, the bands are only half the attraction of PRB: It's the crowd itself that makes for much of the fun.
With fans flocking to downtown Vegas from around the country, the fest has the feel of a particularly debauched family reunion.
"It's a really accepting crowd," says Oedy, recalling his first foray to Punk Rock Bowling in 2006. "I was just blown away. I made a bunch of friends the first night. I've just been hooked ever since."
The PRB faithful take over much of downtown during the Monday shows at Backstage Bar &Billiards (for a full schedule of events see www.punkrockbowling.com).
Even if you don't have a ticket to any of the shows, it's still a kick to see the annual cultural clash that ensues when the mohawked PRB masses intermingle with the Fremont Street Experience regulars.
"It's a crack-up. It really is," Oedy says. "If you're scared of punkers, it's not the place to be."
Scared of punkers?
Not us.
We'll be fully immersed in the Punk Rock Bowling festivities this weekend. There's plenty to see and do, but here are 10 bands in particular that you don't want to miss:
■ Anti-Nowhere League, Saturday, festival stage. These British hardcore punk reprobates hate people, can't stand rock 'n' roll and once boasted in song of getting it on with a goat. Finally, here's your chance to see Grandma's favorite band live and in the flesh.
■ Poison Idea, Friday, Backstage Bar &Billiards. Don't just "Feel the Darkness" with one of the greatest hardcore punk bands ever, become consumed by it at the callused hands of these Portland, Ore., greats whose catalog is as heartfelt as it is heavy.
■ Cerebral Ballzy, Monday, festival stage. These Brooklyn, N.Y., skate punks blast forth with speed-of-light jams about cutting class, getting high and refusing to do what they're told. On its forthcoming new album, "Jaded &Faded," due in June, the band fattens up their sound as if it's spent the three years since their last record force-feeding it the pizza they so lust after.
■ Masked Intruder, Sunday, festival stage. They may dress like they're about to knock off a liquor store, but these ski-mask-clad pop punks mostly favorite earnest, sweet-voiced love songs, though there is the heart-palpitating "Stick 'Em Up," in which they brandish a knife, steal all your money and then go on a QVC shopping spree.
■ Cock Sparrer, Saturday, festival stage. These British Oi! forebears turned in one of the most stirring sets at Punk Rock Bowling 2011 when they had thousands of fists punching the air to tunes that served as the clarion call of the working man. England may belong to them, as they celebrate in song, but so did PRB that year.
■ Dwarves, Sunday, festival stage. Returning to Punk Rock Bowling for the fourth time in five years, punk's foremost hedonists have become as much of a PRB institution as studded denim jackets and ruthless hangovers. They're back on the main stage this go-round, where they'll come fast and hard with catchy come-ons as addictive as the many illicit substances coursing through their veins.
■ SNFU, Sunday, festival stage. These sardonic, tenacious Canucks don't know when to quit and Punk Rock Bowling is all the better for it. "Reality is a Ride on the Bus," and those wheels keep on turning.
■ Judge, Saturday, LVCS. The pedigree of this militant New York City straight-edge crew is as lengthy as the coast from which they hail — prime movers like Youth of Today, Warzone, Shelter, Glassjaw, CIV and Gorilla Biscuits all have ties to Judge, arguably the most confrontational band of the bunch.
■ Against Me!, Monday, festival stage. Fronted by transgender singer-guitarist Laura Jane Grace, these firebrands question the revolutionary promise of punk rock (see "I Was a Teenage Anarchist") while at the very same time helping to fulfill it.
■ Naked Raygun, Friday, LVCS. What to call these posthardcore, pregrunge, arty, poppy, way-ahead-of-their-time Chicagoans? Well, we'll just call them great and leave it at that.
Contact reporter Jason Bracelin at jbracelin@reviewjournal.com or 702-383-0476. Follow @JasonBracelin on Twitter.