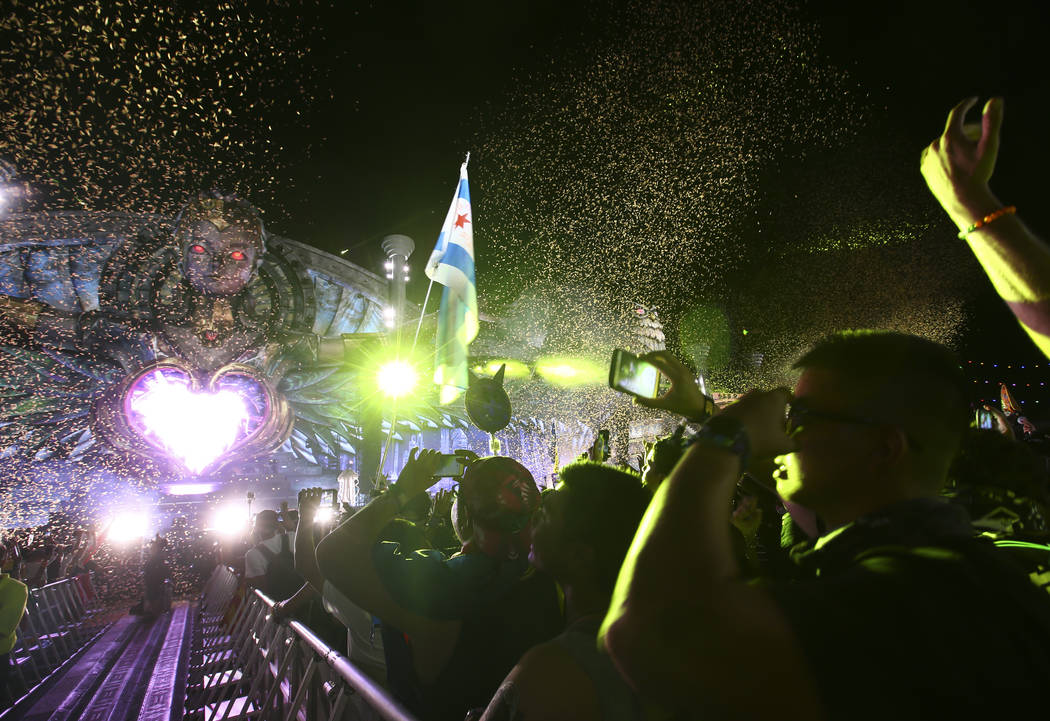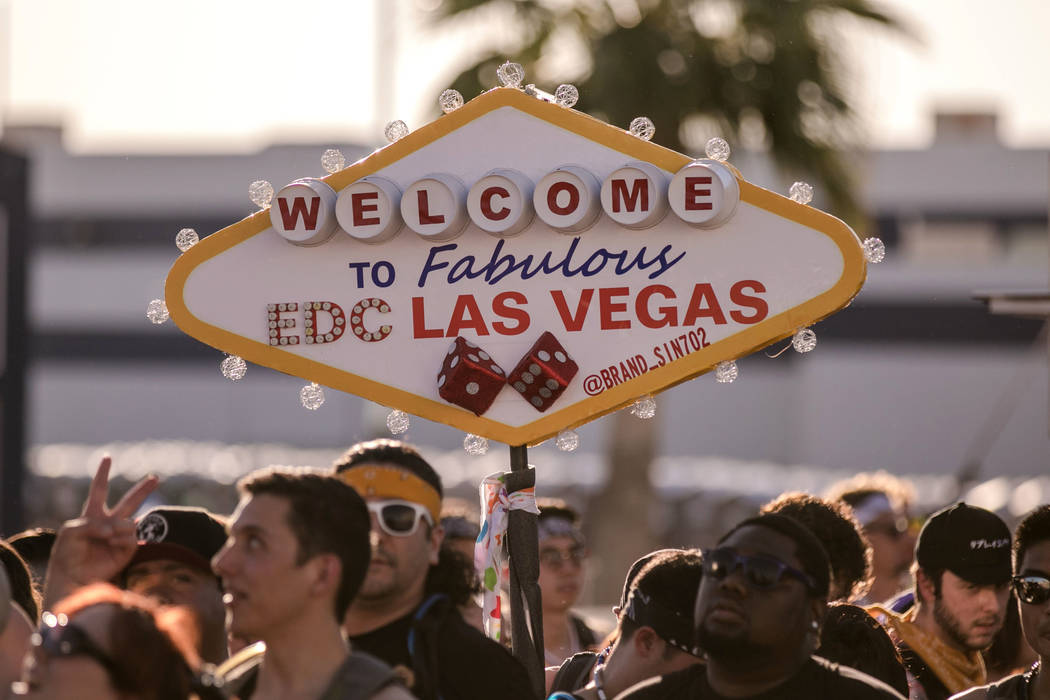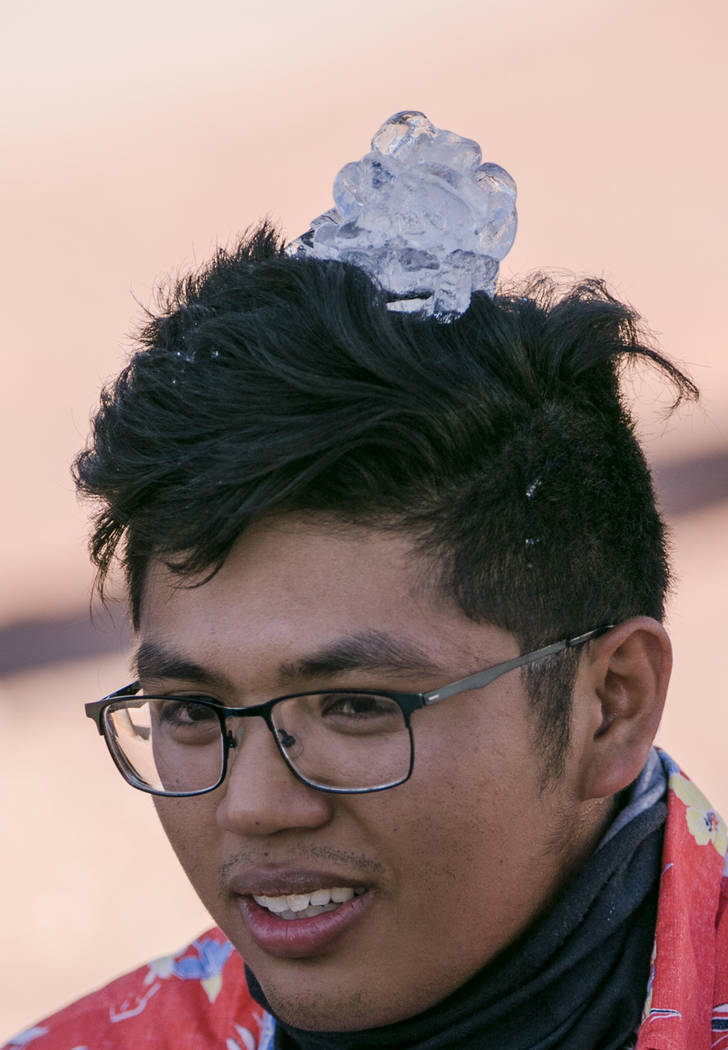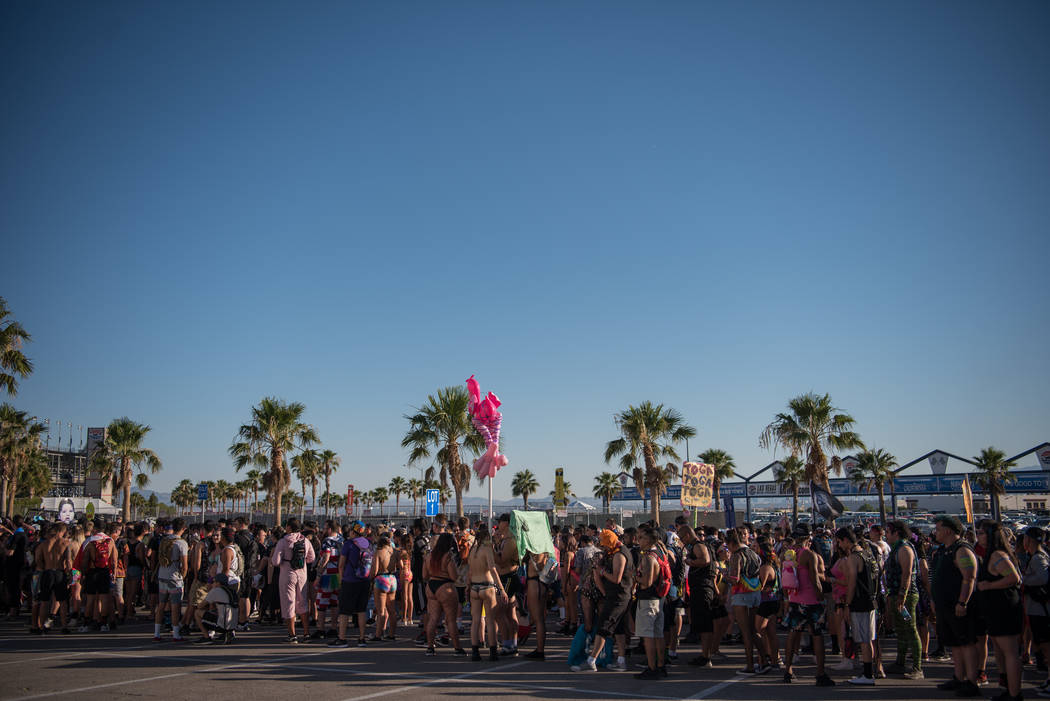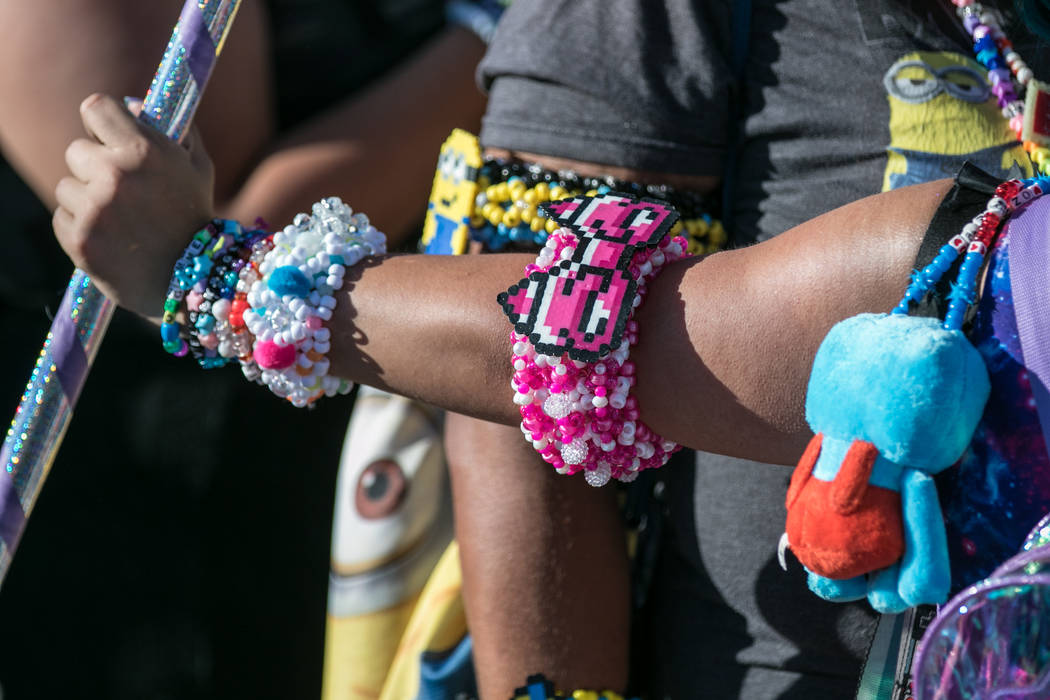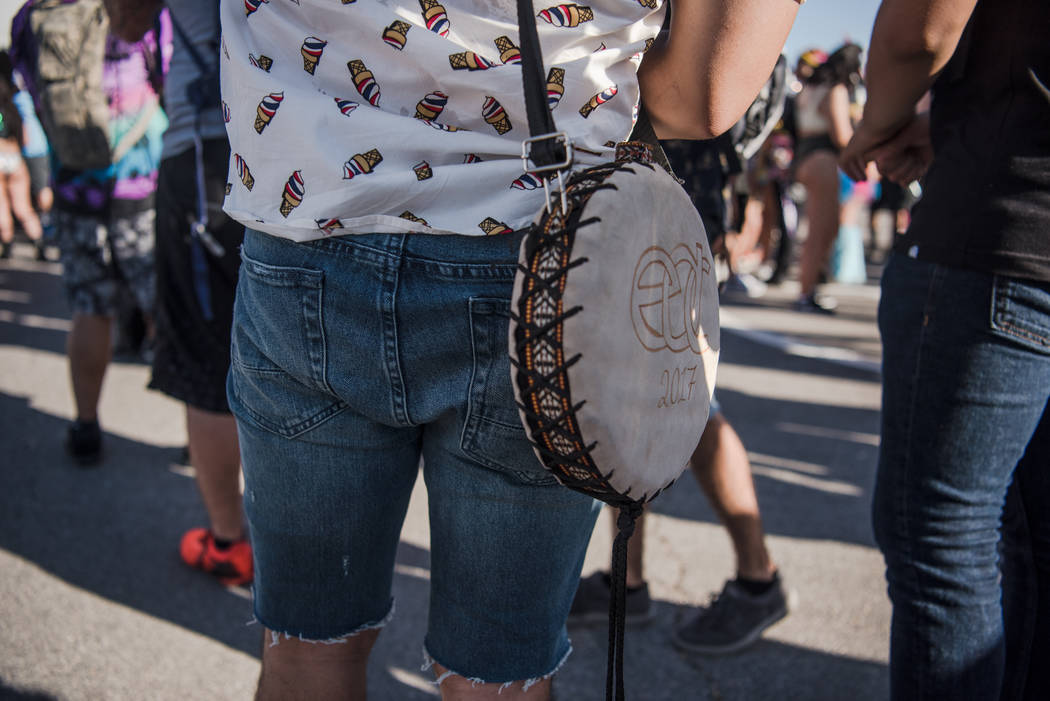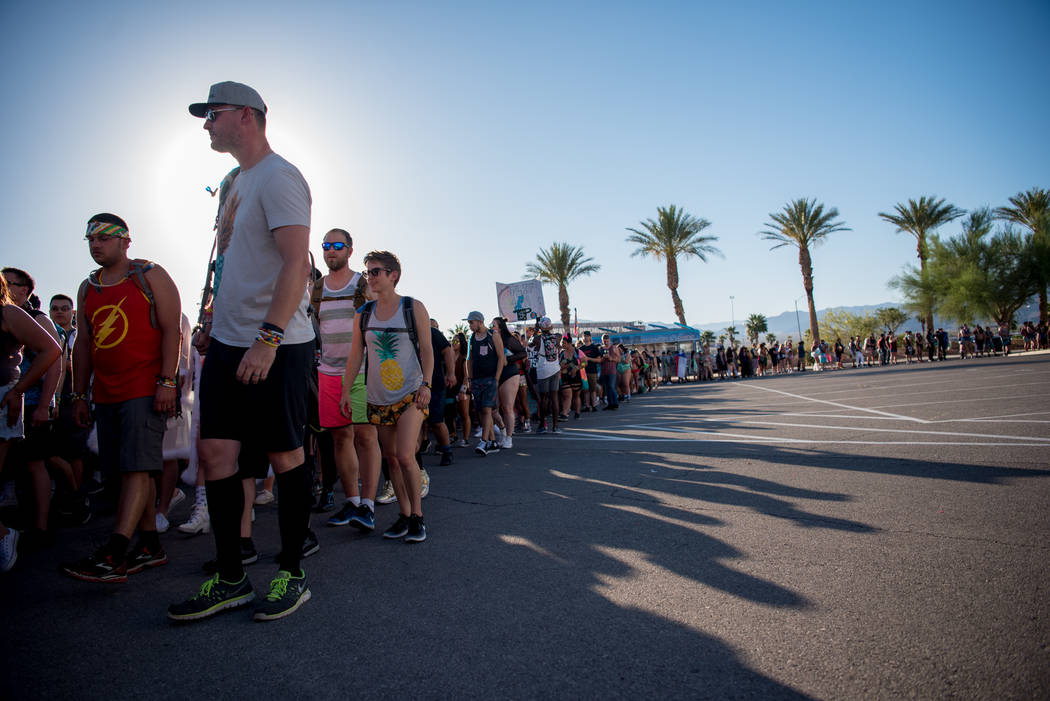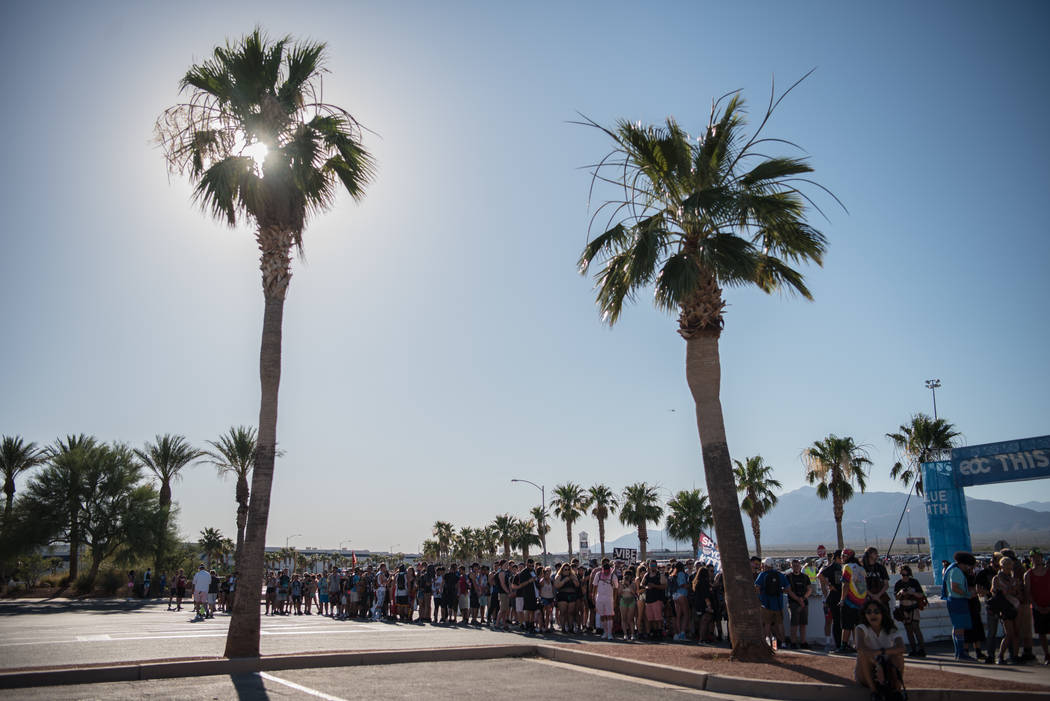 The sun was in full force Friday as excited Electric Daisy Carnival attendees stood in line at the Las Vegas Motor Speedway, anticipating the opening of the gates Friday evening for the first day of the three-day event.
Already they were feeling the effects of the triple-digit temperatures.
Close to the front of the line, a woman in a bathing suit top struggled to sit down. She put her head down, her blond, matted hair cascading over her face. Three girls fanned her as she sat. Next to her, a man with a rainbow skull tattoo on his chest poured water on her head and patted her neck with a tie-dye bandana.
As event staff were alerted, a member wearing a blue Insomniac Experience T-shirt radioed for a medic.
"We have a lightheaded female over here," she said. "We're at Gate 6."
Another staff member joined, offering support to another overheated woman, just feet away.
"They know they're coming for three people, right?" she asked.
Minutes later, the crowd made way for another girl, being led by her friends. They were seeking shade, or at least some way to keep cool in the 108-degree weather.
Ian Catacutan balanced a few cubes of ice on his head as he waited the anticipated hour before the gates opened at 7 p.m.
Seconds later, they slipped off and shattered into little pieces on the concrete.
"Darn it, my ice," he said.
But a bag of ice sat at his feet. And he wasn't the only one trying to keep cool.
"Can I ask for an ice cube?" A girl in black fishnet tights and a bra asked Ian. She came from Colorado with her husband. At 10:30 p.m., she said, she would watch her sister get married at the festival.
"Her dress is a little skimpier than mine," Amanda Hirsch joked. "It's pretty much black lingerie."
As the crowd snaked along the 1.5 miles of the speedway toward the promised land of the festival, the attendees put on a fashion show of sorts, with some of the estimated 100,000 patrons in tutus, string thongs, and furry black leg warmers. Another woman, adorned with glittery makeup and fake eyelashes, sported a fanny pack that warned concert goers to stay off drugs.
John Lewis from Sacramento wore countless beaded bracelets and curlers in the shape of Deadpool and angel wings on his arms. On his back, a pack of ice water with an attached mouthpiece twisting from the side.
"Stay hydrated," he said of his plans for the weekend.
Next to Lewis, a group of friends huddled under a towel, shielding themselves from the sun.
"We just came off a plane from Maui," Victor Franco said. "This is the second part of our vacation."
His girlfriend, Samantha Penny, smiled. "The weather was nothing like this."
A group garbed like members of the Justice League had a plan: They would wear Marvel costumes Saturday and dress like Earth Day on Sunday.
"Hold on. Let me put my cape on," said Ivonne Perez, aka Wonder Woman.
Her friend, Marco Ramirez, said Friday would be his first time at a rave. The music and the scene promotes love and respect, he said.
"And this weekend we want peace. Because of all the shootings going on, we want peace," Ramirez said. "This music really changed my life."
Even though Las Vegas police said they would be cracking down on the use of recreational marijuana during the festival, a group of newcomers passed around a blunt as they waited.
"We're from California," 19-year-old Brian Hernandez said. "They can't do nothing."
Meanwhile, many more attendees found themselves stuck in traffic moving at a 4 mph crawl on some parts of northbound Interstate 15.
Throngs of vehicles faced delays of about 90 minutes just after 9 p.m. Friday between the East Lake Mead North Boulevard highway entrance and the Speedway Boulevard exit, leading to the speedway.
Contact reporter Briana Erickson at berickson@reviewjournal.com or on Twitter @brianarerick.
How to stay safe at EDC
Officials advise:
— Come prepared for all types of weather, even 110 degrees. Wear lightweight, breathable clothes, and dress for comfort.
— Stay hydrated — there will be free hydration stations throughout the festival. Look for the water droplet symbol on a festival map to find the nearest station.
— If an emergency arises, find one of the free first aid locations or roaming medical teams throughout the venue, or contact the nearest stafff members, who are trained in emergency preparedness.
— Use the buddy system. Know where your friends are, set up meeting points and stick together.
7000 N Las Vegas Blvd, Las Vegas, NV 89115