Musical exploration turns into career for DJ VPO
August 12, 2011 - 1:00 am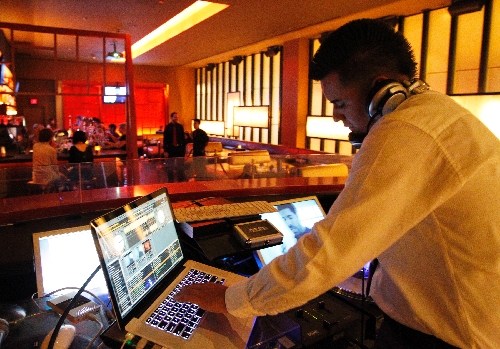 Like many of us, Gustavo Rios discovered early in life the joys of making music — music of a sort, anyway — by banging on pots and pans in his mother's kitchen.
Unlike most of us, however, Rios' youthful experimentation with beats and rhythms later turned into an actual career.
Today, as DJ VPO — the name is a riff on "vampiro," the Spanish word for "vampire" — Rios holds down DJ gigs all over town, including a regular Sunday night engagement at The Venetian's V Bar.
Rios grew up in Chicago and was about 7 when he began performing those kitchen floor concerts. When he was 8, Rios' mother bought him a small piano.
"I started messing around on the piano and doing a couple of songs with it," he says. "At that time, I didn't know what I was playing, so it all sounded good to me."
Eventually, Rios' musical explorations took another turn when he became a fan of local radio shows on which DJs would demonstrate their mixing prowess.
"Every Friday, Saturday and Sunday, I would always tune in and listen to those DJs," he says. "I was always the one, 'How do they do that?' I wanted to get into that."
He practiced and, at 14, got his first official gig, DJing at a small baptism party.
"Then the next thing came up and the next thing came up. So by the age of 16 or 17, I was already DJing at clubs (for patrons) 21 and up.
"If you love music," Rios adds, "it doesn't matter how old you are."
Rios moved to Las Vegas about five years ago. He began working in promotions at a radio station here, but also figured that "here in Vegas, there are a lot of clubs, so I thought maybe I could hit somewhere in Vegas."
Two years ago, Rios added video editing to his repertoire of DJ skills.
"I do a bunch of video edits, especially Latin videos," he says. "It's very hard to find Latin (videos) these days."
Rios' engagements include regular gigs at 10:30 p.m. Sundays at V Bar at The Venetian, 3355 Las Vegas Blvd. South. And he still loves experimenting with beats for the benefit of happy listeners.
"The fun of (DJing) is that the music brings the people into one place," Rios says.
"What makes me happy is, I make people have a great time and enjoy themselves."