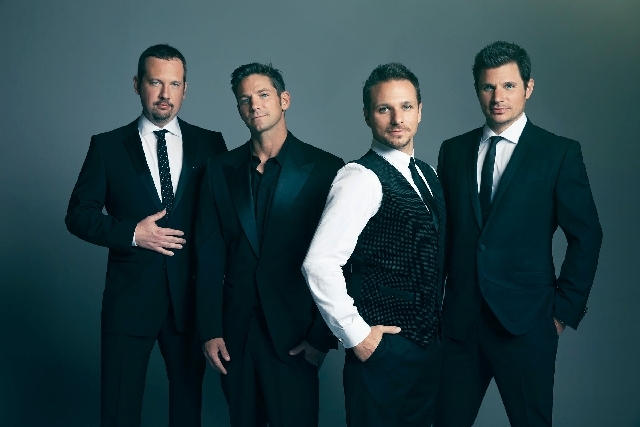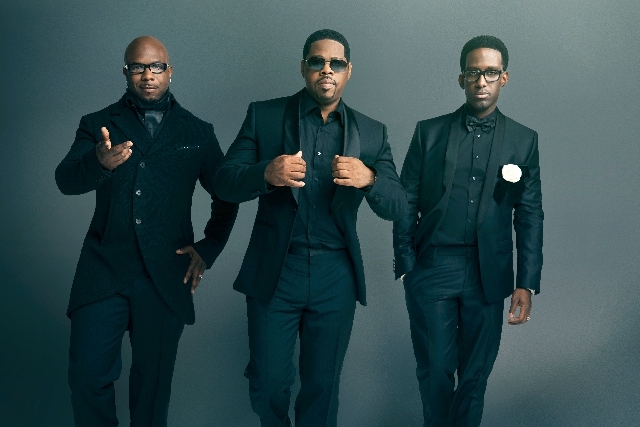 Younger voices, older voices. They all blend together in a scream.
"I would say the continuity within the show is, yeah, the screaming women. And it spans three generations," Jeff Timmons of 98 Degrees says of the teen idol reunion tour collectively called "The Package."
Maybe not "generations" in the literal sense. But the tour that brings New Kids on the Block, 98 Degrees and Boyz II Men to the Mandalay Bay Events Center on Saturday does cover at least a dozen years of middle-school memories.
New Kids hit their peak in 1989. Boyz followed with its glory days of the early 1990s. "Then our time was the mid-'90s to early 2000s," Timmons says.
Timmons moved to Las Vegas after hosting the Rio's Chippendales revue in 2011. "Basically this is the same sort of audience (as Chippendales)," he says. "It's all female and now these girls, most of them are old enough to drink. It's quite a fiasco out there."
Those screams also mark a welcome return to sports arenas for both Boyz and 98 Degrees.
New Kids reunited in 2008 and played Mandalay Bay that October (with Lady Gaga as an opening act). But the other two groups have not stood on an arena stage in more than 10 years, and this form of deja vu would have seemed almost impossible during those lean years.
"This time around, we're relishing every moment," Timmons says. "The best part of it is having my family with me. They can see it." His 14-year-old daughter was "just a baby when I was going through this stuff the first time around."
"I've been trying to convince her that I'm cool for the last 12 years," he adds with a laugh. "Now all of a sudden she's starting to believe it."
"As an adult now you're just enjoying the moment," agrees Nate Morris, one-third of Boyz II Men.
The trio open the tour with just a 30-minute set, but they consider the long bus rides a strategic promotion for the Las Vegas residency they launched at The Mirage in March.
"We always try to maximize our opportunities, so we decided to do a humongous bus wrap on our (tour) bus," Morris says, complete with The Mirage logo "to let people know that's really where we are."
Morris says it's great that the three groups landed a few years apart back in the day, because now they can cross-promote to overlapping fan bases.
"These fans of these other artists who love our music and haven't seen us in a while, now they show up on Facebook pages and Twitter pages, and now we're kind of building a bigger fan base to let people know what we're doing," he says. "So this is perfect for what we're trying to do."
Morris says he and stage partners Shawn Stockman and Wanya Morris haven't played arenas since their "Evolution" tour, which stopped at the MGM Grand Garden in 1998.
As a teen, seeing "trucks and buses and people moving around, doing all kinds of stuff" was just the world he was thrown into. "Now, as an adult you see the same people running around and you start asking questions: 'Who's got to pay these guys?' " the 42-year-old Morris says with a laugh.
"Things start coming into your mind a little different than when you were a kid."
Boyz II Men recorded for the Motown label, and Morris says they considered themselves an R&B group in the tradition of the Temptations and Four Tops, not a "boy band."
"Back then the term 'boy band' wasn't even invented," he says. "You would kind of compare our situation to the Jackson 5 when they first came out. They had tons of screaming girls in arenas, and they were strictly 100 percent an R&B group."
Still, he says, the New Kids were "what all other groups wanted to be in terms of fan communication, stuff like that. They were the first artist to really take hold of their merchandise and turn it into a business."
When 98 Degrees hit big with "Because of You" in 1998, the group was what Timmons called "a hybrid" of New Kids teen pop and Boyz's more mature harmonies.
This time, fans "actually do listen, because a lot of them are older and they have respect for what we do," Timmons says. "They'll sit quiet and let us sing."
This is a reunion tour for 98 Degrees, which has only performed on special occasions since 2001.
This tour's 40-minute set includes a couple of songs from "2.0," the reunion album Timmons recently recorded with brothers Nick and Drew Lachey and Justin Jeffre.
The album was recorded in just three weeks, digitally compiled from studios in different cities. It's just another reminder to Timmons, now 40, how things have changed.
Back in the day, "I think we all knew how special it was, but we were so worked at that particular time that we didn't really get a chance to enjoy it as much," says Timmons. "We knew it was special, we knew it was amazing, we knew it was our dream, but we didn't get a chance to really take it in.
"This time around we're all older, we've all got kids, we're lucky to be in this business two decades later," he says. "Every night is like, 'Let's have as much fun as we can, enjoy this and take it in.' "
Contact reporter Mike Weatherford at mweatherford@
reviewjournal.com or 702-383-0288.
Preview
New Kids On The Block, 98 Degrees, Boyz II Men
7:30 p.m. Saturday
Mandalay Bay Events Center, 3950 Las Vegas Blvd. South
$59.50-$125 (702-632-7580)