NFR brings country music stars to Las Vegas for first time since shooting
December 6, 2017 - 5:09 pm
Updated December 6, 2017 - 10:51 pm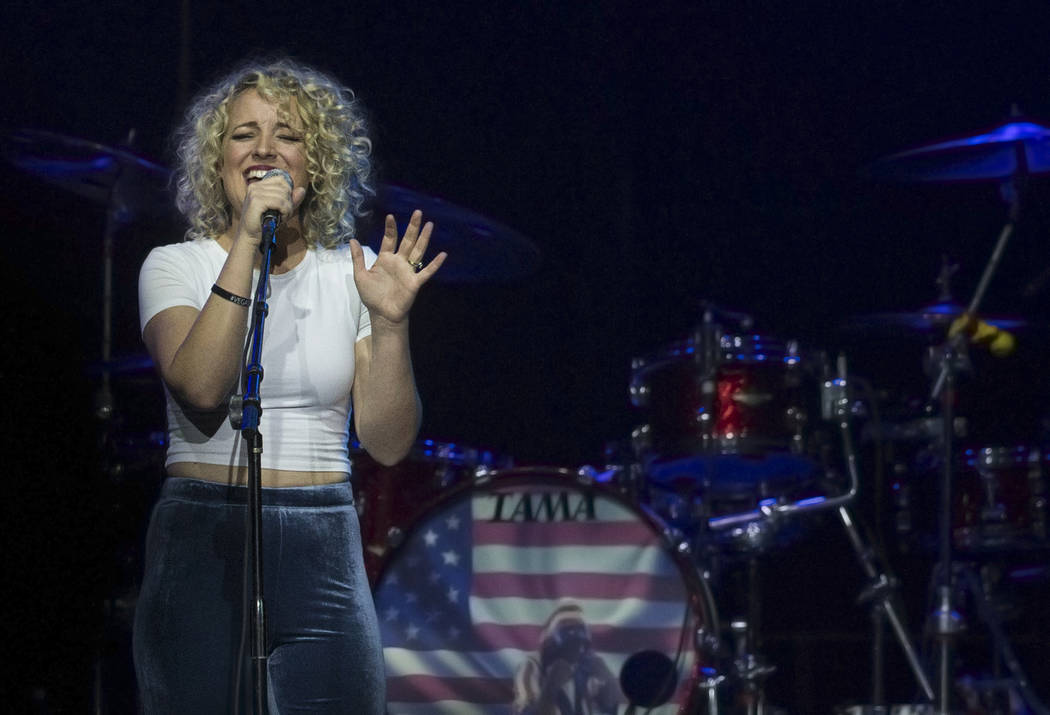 It was a fleeting moment of lasting consequence.
Dee Jay Silver is explaining how a simple act of kindness helped him process the most complex of emotions.
With the annual National Finals Rodeo opening Thursday at the Thomas &Mack Center, Silver is among dozens of country music performers hitting town, the first time the industry has returned to Las Vegas en masse since Oct. 1.
Country music's biggest DJ, who packs clubs from here to Trinidad, Silver also tours with Jason Aldean, who was performing when the Route 91 Harvest massacre began.
Silver was there that night.
He was able to make it out safely, eventually evacuating to the Thomas &Mack Center.
There, he had an encounter with a young woman that he won't soon forget.
"This girl walked by. You could tell she didn't have much," Silver recalls. "She had a bag of food — literally, like a half a loaf of bread and some protein bars — and she came up to me and said, 'It's all I got, but you can have it.' She was willing to give all that she had to help anyone, even a total stranger who had probably never looked her way five hours ago. That was a side of Vegas that I'd never really seen."
Silver is illustrating the heightened emotional connection he feels to Vegas in the wake of the Oct. 1 attack.
"We're not going let some (expletive) ruin this city for us," says Silver, who was playing shows here two weeks afterward. "Vegas has a special place in my heart, and I'll be damned if I let somebody like that take it away from me."
It's a sentiment shared by plenty of his peers.
"I think that's what you have to do," says Alabama bassist-singer Teddy Gentry, whose band plays three shows at Wynn Las Vegas beginning Wednesday. "I don't think you can run from it. You have to continue to take the music to the people."
Country singer Cam, who turned in a stirring performance at the "Vegas Strong" benefit concert at Orleans Arena on Oct. 19, recalls how swiftly the country music community reacted in the aftermath of the shooting.
"Any way that people were reaching out, you immediately got responses from other country artists because everyone felt the same way," she says. "Everybody wanted to be part of the solution, the moving forward, the healing. That's something that I've never seen in another genre, that sort of real, honest community feeling, 'Yeah, of course I need to step up. This is on me. This is on the rest of us to do something.' "
In the wake of Oct. 1, Cam came to Vegas to visit survivors and emergency room staff at Sunrise Hospital in addition to playing the benefit concert.
"I loved being there," she says. "To go do this benefit, which was for the community as a whole, I think we all need to have a moment to reflect and move forward and grieve and do all these intense psychological things together because nobody has experienced something like that, so to know how exactly to heal is different."
Best to just keep on playing then.
"I think music, at least my music, comes from a place of wanting to be healing," says Cam, who will open for George Strait at T-Mobile Arena on Friday and Saturday. "So it makes a lot of sense to be there and to sing and to just listen to people. It's a really special thing that we have as fans and artists to be in this together like that."
Contact Jason Bracelin at jbracelin@reviewjournal.com or 702-383-0476. Follow @JasonBracelin on Twitter.