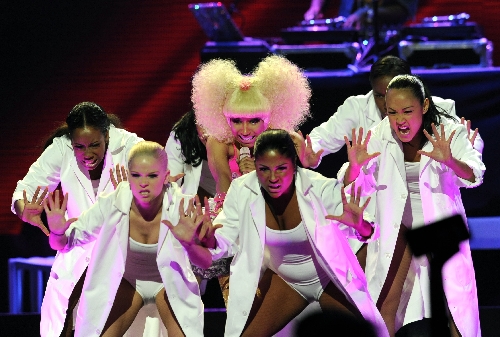 Her voice is a cartoon character – a series of them, actually – all as dimensionless as the goop inside a lava lamp.
Nicki Minaj doesn't just rap or sing, instead, she channels a seemingly never-ending parade of personas the way a Method actor inhabits various roles.
She adopts new cadences and accents at will, capable of going from a ditzy valley girl bray to a grizzly bear growl in the space of a few bars, a hip-hop changeling with multiple personalities battling for time on the mic.
Minaj says that she's been developing these various alter egos since she was a kid in order to help her deal with the struggles of growing up in a tumultuous household in New York City.
As such, Minaj has become one of the most colorful, consistently inventive and commercially successful female rappers ever.
She doesn't push the bounds of the art form so much as tether an anvil to its leg and shove it off the nearest overpass.
Her two albums, 2010's "Pink Friday" and April's "Pink Friday: Roman Reloaded," are a free-for-all of pop hooks, dance floor bombast and hip-hop freakery.
It can be a lot to take in, especially considering all the various characters populating Minaj's tunes.
With the 29-year-old MC coming back to Vegas this weekend, let's examine some of these indentities so that we can at least try to keep up with them.
Dear Old Nicki
This is a collection of femme fatales – Nicki the Ninja, Nicki the Boss, Nicki Lewinksi – that represent Minaj's more debauched past, when she was an underground MC on the rise with a scalpel-sharp tongue and a chip on her shoulder as outsized as her wardrobe budget has since become. As Minaj clawed her way into the mainstream, she moved away from this more rugged, combative presence.
"Maybe I blamed you for everything that was my mistake," Minaj raps on "Dear Old Nicki," referencing her personas of yore. "In hindsight, I loved your rawness and I loved your edge / 'Cause it was you who talked me down from jumping off the ledge."
With her feet back on the ground, Minaj's head has been high up in the clouds ever since.
Roman Zolanski
A gay man who mostly gives voice to Minaj's anger, this is her id with a bullhorn for a larynx. Perhaps his best known appearance is on "Roman's Revenge," a song that also features Eminem and his similarly confrontational Slim Shady persona, where Minaj lobs verbal hand grenades at fellow female rapper Lil' Kim.
"You Lil' brag a lot, I beat you with a pad-a-lock," Minaj rhymes. "I am a movie, camera block / You outta work, I know it's tough / But enough is enough."
This is the side of Minaj that breaks bones instead of hearts.
Martha Zolanski
Roman's mother and the light to his darkness, Martha is as much a visual motif in Minaj's delirious musical world as a presence in her songs, most notably making an appearance in the video for the aforementioned "Roman's Revenge," where she scolded the song's antagonists for their potty mouths while dressed as a fairy godmother.
Still, Martha does lend her voice to Minaj's tunes upon occasion, mostly attempting to serve as her son's conscience.
In Minaj's psyche, she's the super-ego, a voice of reason in a realm where reason is but a passing fancy among many.
The Harajuku Barbie
Equally indebted to Mattel, Gwen Stefani and Starburst-colored wigs, Harajuku Barbie is Minaj's alternately sweet and sexual side.
She can hang with the big boys, as evidenced by early, breakout guest spots on Young Money's "BedRock" and Kanye West's "Monster," where she holds her own with the likes of Jay-Z and Rick Ross, telling some of hip-hop's leading men that, "You could be the king, but watch the queen conquer."
But there's also a jejune, childlike aura to Barbie as well, a wide-eyed suspension of adolescence that adds playfulness and a sense of wonder to Minaj's repertoire.
So much of hip-hop revolves around grown-up concerns – escaping a hardscrabble background, navigating the perils of fame, fighting to maintain a foothold in an ever-evolving landscape – that it feels like a welcome departure to hear from someone who's not concerned with being a grown-up at all.
Contact reporter Jason Bracelin at jbracelin@ reviewjournal.com or 702-383-0476.
Preview
Nicki Minaj
8 p.m. Saturday
Planet Hollywood Theatre for the Performing Arts, 3667 Las Vegas Blvd. South
$59.35-$75.95 (800-745-3000)