Outrageous Lady Gaga inspires host of Vegas impersonators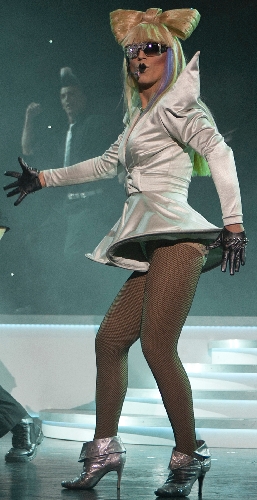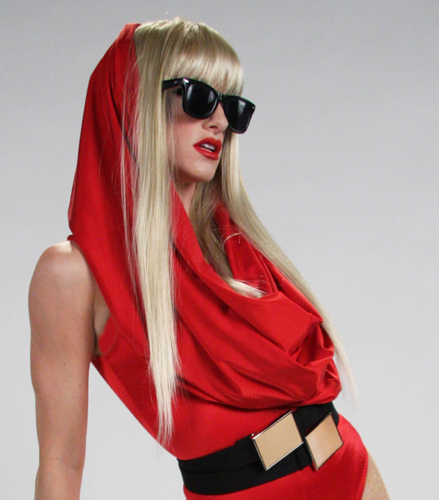 Anyone can be Lady Gaga, when it comes down to it. What's it take, really? A shock-and-awe wig, cool sunglasses, a few prime cuts from the butcher's case.
"Tonight the freaks are outside," as Gaga put it on a previous Vegas stop in 2009. A contagious freedom to be outrageous is part of the appeal, and a lot of people will exercise that right today (barring a sudden policy regarding raw meat from the MGM Grand Garden).
"Gaga's a walking piece of art, and she uses every part of her body to showcase her art," says Derrick Barry, who will perform his drag tribute to Gaga at the concert after-party at Krave nightclub. "She's out there in such a big way it's kind of hard to miss her."
But when the circus moves on to the next town after today's show, Barry is among the remaining few who will get paid to impersonate the campy diva.
Perhaps the best measure of Gaga's pop culture impact is that she is now mainstream enough for a sustained Las Vegas presence. The real evidence is not in the nightclubs that long ago fell under her domination, but the ticketed shows for the older, middle-American tourist.
The watershed point isn't Barry's studiously re-creating the new "Born This Way" video at Krave, but three backup singer-dancers surrounding variety impressionist Greg London at the Las Vegas Hilton. In a show where most impressions pull up shy of the late '80s, the spoofy "Stuck on a Bad Cruise Ship" by three Gaga girls is a sure sign of universality.
"Even if you're not a fan of hers, she still catches your eye," says Kate Steele. "She's good for that. That's what's making her so big right now. She's kind of the Madonna of today."
Steele is a "Legends in Concert" dancer, but her Gaga tribute will propel her into the foreground of a show so notoriously resistant to fads and trends, it sometimes misses the train altogether.
The week of June 20, Steele will be a late arrival to the party that began with Barry in "Divas," doing an extra turn as Gaga on top of the Britney Spears impression that took him to national TV on "America's Got Talent."
Next month, "Divas Las Vegas" will expand its Gaga segment from one to three songs and a big new "monster ball" prop.
Last year, Las Vegas Academy graduate Autumn Belanger brought Gaga to "American Superstars." "Nobody yet had done it being a female," Belanger says. "I didn't know if (fans) would accept me."
But "Superstars" saw an uptick in younger and gay ticket buyers, Belanger says. (Alas, not enough of them to keep the revue from closing Wednesday at the Stratosphere and facing an uncertain future.)
Gaga is also a hot commodity in the city's corporate and trade show industry. Companies "want to reach out to their younger clients," Steele says of her private-party work.
"That's the big thing with Gaga right now. People are really wanting to market this character because it can reach out to more of the younger pop culture. Just her name alone draws attention."
The great pop-art irony of a Gaga impersonation is that it begins to resemble a Warhol soup can.
"She does the same thing as I do," Barry says of the woman who wakes up as Stefani Germanotta. "She doesn't do drag obviously, but every day she turns herself into this larger-than-life theatrical character."
Barry met the real Gaga backstage after a December 2009 concert at the Palms and remembers the star asking detailed questions about his Britney transformation. "It really made me feel like she understood the art of female impersonation."
The cosmic joke here is that Gaga's deep disguise and warp-speed reinventions make it almost too easy to impersonate her. A good celebrity impression has a wow factor. How much do you really have to look like Gaga? And who would know if you do?
"I think because she has so many looks, people aren't sure what she looks like," Barry says.
"It's like being a little girl playing dress-up with her," Steele says. To make the upcoming "Legends" performance more honest, Steele says she is brushing up on her piano chops.
Belanger worked on her teeth-baring, growling and "tricks to make my facial expressions bigger than they are." But she also does a sparse, gorgeous version of "Poker Face" to reinforce that she's not lip-syncing: "A little part where I kind of get to be myself," but one also to suggest Gaga is "just a regular girl" under all the makeup.
For the drag "Divas," Barry sticks to the sunglasses and saves his big "reveal" of a shocking amount of skin for his Britney moment. But those at Krave tonight will see him in bra and panties, just like the new "Born This Way" video — which may be Gaga's own wry comment on the drag tributes.
Barry admits that no matter how hard he tries to copy Gaga's makeup, "I still get told it looks like Britney dressed up as Gaga.
"If I had to be honest," he adds, "I would rather look like Britney."
For professional reasons, mind you. We all go Gaga, but "I've traveled everywhere, and there's never been another Britney look-alike that really looks like her."
Contact reporter Mike Weatherford at mweatherford@ reviewjournal.com or 702-383-0288.
Preview
Lady Gaga
8 p.m. today
MGM Grand Garden, 3799 Las Vegas Blvd. South
$59-$190.75
(891-7777)