Peas, Jay-Z bring lots of 'boom' to iHeart festival
September 24, 2011 - 3:44 pm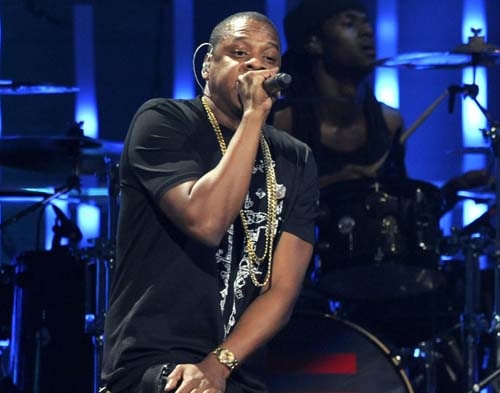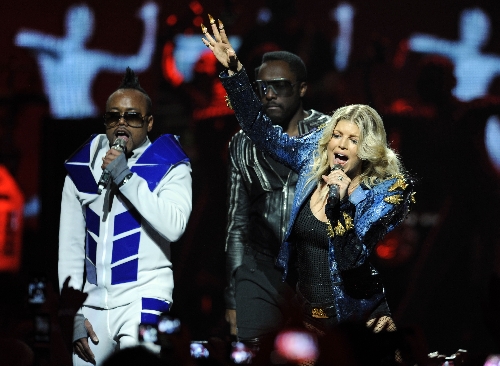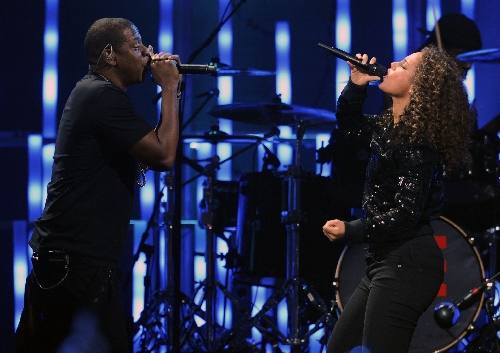 The show began where others often end, in a riot of confetti suggestive of a ticker tape parade for returning war heroes — or, in this case, a multi-culti pop troupe with atom bomb beats and a singer whose backside burst out of her hot pants like an overinflated zeppelin.
Said group, the Black Eyed Peas, coronated the iHeartRadio Music Festival on Friday at the MGM Grand Garden with a series of heart palpitations by way of hello.
First song: "Boom Boom Pow," a tune that is everything its title suggests, a simple, concussive, electro body blow that the quartet delivered in the same manner that a boxer works a heavy bag: all force, no finesse.
It was a fitting opening salvo in a night posited on immediacy, where the hits came in whiplash-inducing fashion and where several performers (Kelly Clarkson, Carrie Underwood) practically apologized after playing pace-slowing ballads.
If Red Bull was a concert, this was it.
The whole affair, which continued on Saturday night at the same venue, was timed to promote the launch of the new iHeartRadio app, which allows listeners to tune in to 800 radio and digital-only stations from cities across the country.
As such, the concert was an apt encapsulation of modern day radio, where songs are meant to be digested instantaneously, like the way cotton candy immediately melts on your tongue.
Hip-hop hall of famer Jay-Z, the evening's headliner, thrived in this kind of setting.
He fired off the hits — sometimes in medley form — with the occasionally perilous velocity of a major league hurler whipping fastballs at a batter standing too close to the plate.
He sauntered across the stage deliberately, like he was getting paid for every step and he wanted to be sure each one was counted.
"It's all about progression," he announced on "On To The Next One," a song whose always-looking-forward ethos manifested in the way that Jay-Z blazed through his catalog.
A snarling, teeth baring "99 Problems" bruised with sub-metal guitar.
On to the next one.
A few bars of the falsetto funk of "I Just Wanna Love U."
On to the next one.
Jay-Z was joined on stage at one point by Alicia Keys, who sang her hook on their shared hit "Empire State of Mind," one of the most widely pined for moments of the night, considering that the two performed back to back.
Keys' set was a quick and combustible survey of self-assured soul, all you-go-girl bravura and arms in the air aplomb.
Midway through, she played a new song, galvanized piano ballad "A Place of My Own," with eyes burning and her voice following suit, all gospel-like fervor, a preacher with a piano for a pulpit.
Also debuting some fresh material was bombastic Brit rockers Coldplay, whose six-song set was half given to their forthcoming new album, "Mylo Xyloto," due out on Oct. 25.
Coldplay's songs are cresting tidal waves of melodrama and bluster, which, live, translates to a similarly outsized physical bearing.
Frontman Chris Martin, smiling like a toddler passing gas, swung his arms about wildly the way a drunk does in a fistfight, falling to the stage on his back and crouching down in the pose of a runner in the starting position.
Similarly breathless were the songs his band played: "Paradise," with its ringing, clarion call guitars; an overcaffeinated "Viva La Vida;" a stirring "Fix You."
While most of the concert was predicated upon such immediate pop thrills, there was an exception: "Irresistible Force," a new song from alt-rockers Jane's Addiction that was as dense and ominous as a thick fog obscuring a late-night drive.
Frontman Perry Farrell sang from the back of his heels, his oversexed, helium howl spiriting high above Dave Navarro's spacey, extraterrestrial guitar lines.
The song was the centerpiece of a five-song set of fireballs — an absolutely thundering "Mountain Song," a hip-swishing "Been Caught Stealing."
And then there was the sharp-elbowed jangle of "Stop," a herky jerky number with a memorable enjoinder at song's end: "Turn off that smokestack and that goddamn radio."
The band, perhaps wary of biting the hand that they hope will feed them, let the crowd sing that last part.
Contact reporter Jason Bracelin at jbracelin@reviewjournal.com or 702-383-0476.
WHAT: iHeartRadio Music Festival
WHEN: Friday
WHERE: MGM Grand Garden
ATTENDANCE: 12,500 (sold out)
GRADE: B+