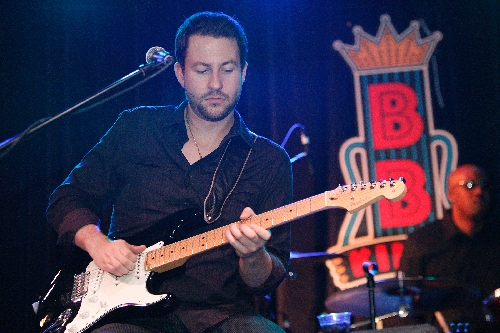 Certainly, leaving Memphis and driving across the country to play blues in Las Vegas seems sort of backward. But trading the home of the blues for B.B. King's Blues Club at The Mirage has worked out pretty well for Grant Garland.
"I played on Beale Street in Memphis for probably over three years," says Garland, who began playing music full time in northeastern Arkansas and Memphis after graduating from college in 2004.
But, he says, "I've basically been singing and into music for as long as I can remember."
Garland began taking piano lessons at age 7 — his parents' idea, and, he says, "apparently it was a good one" — and gravitated toward jazz and blues around 11.
"It was just more fun, to me at least," he says. "My parents had good musical tastes. I heard a lot of cool music from them."
Still, music "was sort of a hobby for a while," Garland says. Then, at 12, he joined his school band. He played trumpet, but "I started playing guitar when I was 14. That's really when I started getting, I guess, obsessive about it."
The capper: the Christmas he got his first electric guitar and a copy of Stevie Ray Vaughan's greatest hits.
"I pretty much wore that record out and bought every (other) one I could," Garland says. "There was just so much soul in that recording. I kind of decided right there that I wanted to be able to play like that."
Garland studied music in college — he was a trumpet major — and "was kind of looking into the cruise ship thing, playing trumpet, or even piano stuff," he says. "I was really into Harry Connick Jr., and I thought it'd be great to be able to do that kind of music."
But, Garland continues, "I just, by chance, met a piano player who played gigs constantly all over northeastern Arkansas, and we just kind of started playing music around together. He kind of started my music career for me. I was able to pretty much make a living out of college playing gigs with him.
"That's the reason I kind of gravitated back to blues and the type of music I do now."
In July, Garland moved to Las Vegas and, along with several other Memphis expats, became part of the house band at B.B. King's. In addition to playing with the Memphis All Stars, Garland heads the Grant Garland Trio and the five-piece Grant Garland Band.
"I love being able to play with a bigger group," Garland says, although a trio does offer "kind of more liberty to stretch out a bit."
And, notwithstanding the obvious differences that exist between the Strip and Beale Street, it turns out that Las Vegas and Garland are meshing well.
"I actually love the weather here," he says. "It isn't as humid as it is in the South. I got to experience moving a U-Haul trailer with all my stuff into my apartment here, and I barely broke a sweat."
The Grant Garland Trio plays B.B. King's Blues Club inside The Mirage, 3400 Las Vegas Blvd. South, at 6:30 p.m. Fridays and at 7 p.m. Wednesdays.
— By JOHN PRZYBYS