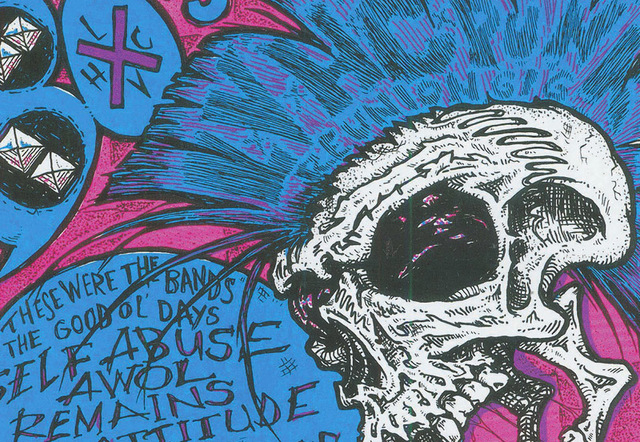 A t 9 a.m. on a Friday morning in January 1978, Las Vegas' first punk rock show took place in a garage during an assembly at nearby Western High School.
Thirty or 40 kids ditched to see Bad Habits, a bunch of teenagers themselves, play at guitarist Eric Olsen's house, returning his hospitality by guzzling the lone bottle of brandy in the cupboards and trashing the place.
"We did like eight or 10 songs and then we did them again an hour later," recalls Bad Habits singer Eric Hill, sipping on a Starbucks coffee in place of distilled wine at Santa Fe Station on a Friday afternoon. "Everybody got ripped. We all passed out."
One dude crashed in the bathtub, tearing down the shower curtain for a blanket.
Then Mom came home.
"She came in; she went nuts," smiles Hill, long a parent himself. "We all went out the windows."
And with that, a scene was born, rising steadily from the ashes of one burned bridge to the next.
Three decades later, Bad Habits and 11 other bands who planted the seeds for the Vegas punk ranks, nourishing them with blood, sweat and beer, are getting together for a show featuring some groups that haven't played together in 30 years, back when they were still railing against Ronald Reagan and trying to score fake IDs.
"It's our high school reunion, for all the punks who don't go to high school reunions," Hill says of the gig, which takes place at Backstage Bar & Billiards on Friday.The bands are performing in a setting foreign to most of them: a welcoming, professionally run music venue.
In their day, those places wanted nothing to do with punk, a then-new sound whose relentless pace, aggressive, anti-authority stance and slam dancing was anathema to parents and club owners alike.
"There was no place to play for our kind of bands back then," notes Lance Gilman, sitting next to Hill, who also played in Bad Habits as well as Samsons Army, AWOL, Remains and others.
And so bands first started throwing shows at friends' houses, which resulted in scenarios akin to Bad Habits' first gig.
Next, they started renting out small storage spaces in the warehouse district, which was in the Desert Inn/Valley View area, turning rehearsal rooms into tiny impromptu concert clubs like the Roach Motel, Room 13, which Gilman opened, and Pinollas.
"Then, it was the outskirts of town," Hill says of the area. "You could go out and play there at night and nobody was there. The cops didn't care, because you were far away."
Eventually, though, most places went the way of the Roach Motel, which was shuttered after a show where certain crowd members decided that they needed more space so they kicked down the wall that separated the room from the adjacent storage space.
There went another bridge, up in flames.
Time to turn to Vegas' greatest natural resource: the desert.
This distinguished the local punk scene nationally and gave it its own sort of mythology, with shows thrown out in the middle of nowhere with no rules of any kind.
These gigs began in 1984, out on Ann Road, with the scent of the nearby RC pig farm thick in the air.
"We did it just off the side of the road in the dirt" says Danny Breeden, a member of long-running Vegas punks F.S.P., who threw the first desert shows and are also helping to organize the reunion concert. "The night before, me and a couple of guys brought some pallets out there and a big roll of carpet — that was the stage and the dance floor. I had the generator — I worked construction — and I used my PA."
Later, the shows would take place in a retention basin off Losee Road, where three concrete walls and five 100-yard-long flood control tubes formed a kind of natural amphitheater.
Plenty of now-storied punk and hard-core bands such as Corrosion of Conformity, Suicidal Tendencies, Government Issue and NOFX played desert gigs and then talked them up in fanzines like "Flipside" and "Maximum Rock 'n' Roll," lending the Vegas scene a certain mystique and spreading the word to other touring acts of the day.
In a way, this was one of punk rock's last American frontiers, a true DIY scene built by the hands of teenagers.
Eventually the desert shows came to an end thanks to too much skinhead violence, according to Breeden.
But by this point, a burgeoning punk community had been established and bands were able to migrate to the clubs more consistently, which they had previously only been able to play sporadically, often by lying about the type of music they performed.
This was the steppingstone to the punk scene of today.
On a recent Wednesday afternoon, Breeden sips a Corona at the Double Down Saloon, a venue that regularly hosts contemporary Vegas punk bands who are directly descended from the groups playing on Friday.
"It's still a tight-knit community," he says of the punk circles he grew up in, clad in a T-shirt from ska-punk icons Operation Ivy, who he once brought in for a desert gig near Stateline.
The reunion show began to take shape when Breeden heard that hard-core Vegas punks 5150 were planning to get together for their first gig in more than 20 years.
"I don't want to be 50 years old and talk about what we should have done," says 5150 singer Gene Bagley, who now lives in Flagstaff, Ariz. "Let's do it one last time."
Breeden offered to bring F.S.P. onboard, and things snowballed from there, with band after band joining the lineup over the past five months.
With Self Abuse, Remains, Lethal Injection and Substance-D also part of the show, just about every one of the most infamous punk and hard-core groups from the Vegas scene from '79 to '89 is a part of the bill save for Subterfuge, whose frontman lives in London and can't make the trip.
Other bands such as Abeyance, AWOL, Schizoid, T.P.U. and Bad Attitude have members coming in from Seattle, New York, Portland, San Diego and Los Angeles to do the gig, which doubles as a food drive for the We Care Women's Center and which will be prefaced by an old school punk flier art show at the MCQ Fine Art gallery on Thursday night.
Some notable figures from the first wave of Vegas punk bands have passed away in recent years, such as Mike Conley, best known as the singer for M.IA., and his predecessor in that band, Todd Sampson, who also played in Self Abuse and Samsons Army.
At around midnight at the reunion show, Breeden plans on reading the names of various members of the Vegas punk scene of his day who have since died and lead a toast in their honor.
They're survived by a bunch of punk rock lifers now in their 40s and 50s.
Their music will come and go, and so will they, but not what they've built.
"If you want to give us any kind of credit, it's that we hung in there when times sucked," Hill says. "We kept it going to where these bands now have places to play. I think we started that," he says matter-of-factly. "We toughed out the hard times."
Contact reporter Jason Bracelin at jbracelin@reviewjournal.com or 702-383-0476. Follow on Twitter @JasonBracelin.
When and where
The '80s L.V.H.C. Punk Rock Reunion Gig, with Self Abuse, Bad Habits, Bad Attitude, Lethal Injection and others.
6 p.m. Friday
Backstage Bar & Billiards, 601 Fremont St.
$10 (382-2227)