Punk Rock Bowling serves fierce finale in downtown Las Vegas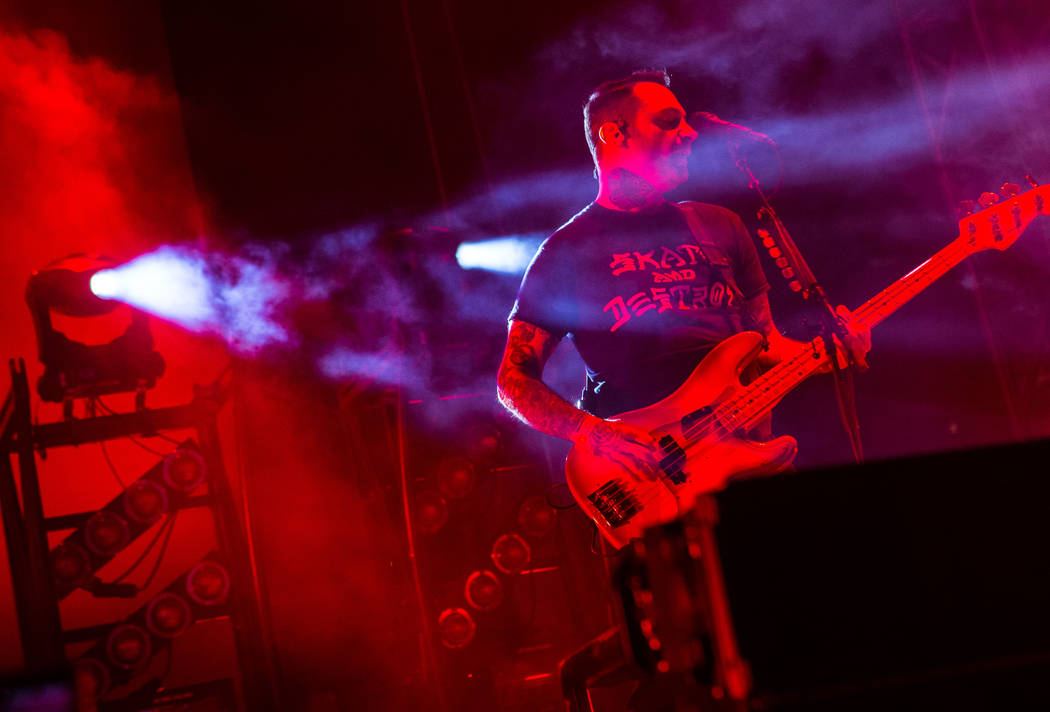 When the glasses came off, it was on.
Omar Rodriguez took the stage with spectacles in place, removing them upon picking up his guitar.
Good idea.
With bandmate Cedric Bixler white-knuckling a pair of maracas, At The Drive-In was about to close Punk Rock Bowling on Monday at the Downtown Las Vegas Events Center.
Though the crowd had thinned after three days and the 26 bands who played the festival stage prior to ATDI's explosive finale, those who stuck around were treated to the rock-and-roll equivalent of mating fire with propane. And more fire.
As soon as the opening strains of "Arc Arsenal" signaled the beginning of the band's performance, frontman Bixler was hurling his mic stand in the air and catching it upside down, shoving/head-butting/mounting various amplifier stacks and cannonballing off the bass drum.
He looked like ATDI sounded: a furious, kinetic blur.
"You hear that freight train?" Bixler bawled by way of introducing "Quarantined," pointing to Rodriguez, alluding to his locomotive playing.
ATDI is a number of things, all at once: a spastic post-punk tantrum, a revisitation of early-Pink Floyd-esque head trips, a burst of No Wave dissonance, a consistent source of excellent drumming (Somebody get Tony Hajjar a beer. And perhaps an oxygen mask.)
They're also one of the greatest bands in the history of twisted tongues to attempt to sing along with.
Everybody, all together now: "Banked on memory /Mummified circuitry / Skin graft machinery/ Sputnik sickles found in the seats."
Those lines, taken from a show-closing "One-Armed Scissor," heralded the climax of a climatic performance on a day given to them.
Speaking of feverish, how about some vociferously played vibraphone, a Punk Rock Bowling first?
Another PRB first: the debut of L.A.'s pioneering X, whose drummer DJ Bonebrake, manned the aforementioned instrument during a pair of tunes ("Come Back to Me," "I Must Not Think Bad Thoughts").
X seemed particularly energized in this setting, coming across as determined not to be outdone by bands decades their junior. With singer-bassist John Doe leaning hard into his instrument, singer Exene Cervenka singing with her head back and guitarist Billy Zoom occasionally blaring on the saxophone, X charted both punk's distant origins (the rockabilly swing of Jerry Lee Lewis' "Breathless," which they made live up to its title) and the new places they took the music in the '80s, when they intermingled it with funk, Americana and beat poetry.
There were originators from overseas as well, namely British anarcho-punk forebears Crass (their songs performed with red-faced vigor by original singer Steve Ignorant backed by Irish punks Paranoid Visions) and their similarly anti-fascist countrymen Angelic Upstarts, who ended their set of vintage oi! with a sufficiently rousing take on Sham 69's "If the Kids Are United."
The Crass fans weren't just in the crowd, but on stage as well: During her band's performance, Against Me! frontwoman Laura Jane Grace recalled how her first tattoo was of the band's logo.
"This is surreal," she said of sharing the bill with the group Monday. "And rad."
Playing the festival for the third time, Against Me! came hard with earnest protest punk ("From Her Lips to God's Mouth (The Energizer)," "New Wave") while also acknowledging its limitations to effect change ("White People for Peace," "I Was a Teenage Anarchist").
In recent years, Jane's lyrical focus has shifted more to her feelings as a transgender artist, something she addressed in candid terms on songs such as "True Trans Soul Rebel" and "Delicate, Petite &Other Things I'll Never Be."
"I wanna be more real than all the others," she sang during the latter number, having already lived up to those words.
Contact Jason Bracelin at jbracelin@reviewjournal.com or 702-383-0476. Follow @JasonBracelin on Twitter.