Punk Rock Bowling set to take over downtown Las Vegas
Updated May 24, 2019 - 12:48 pm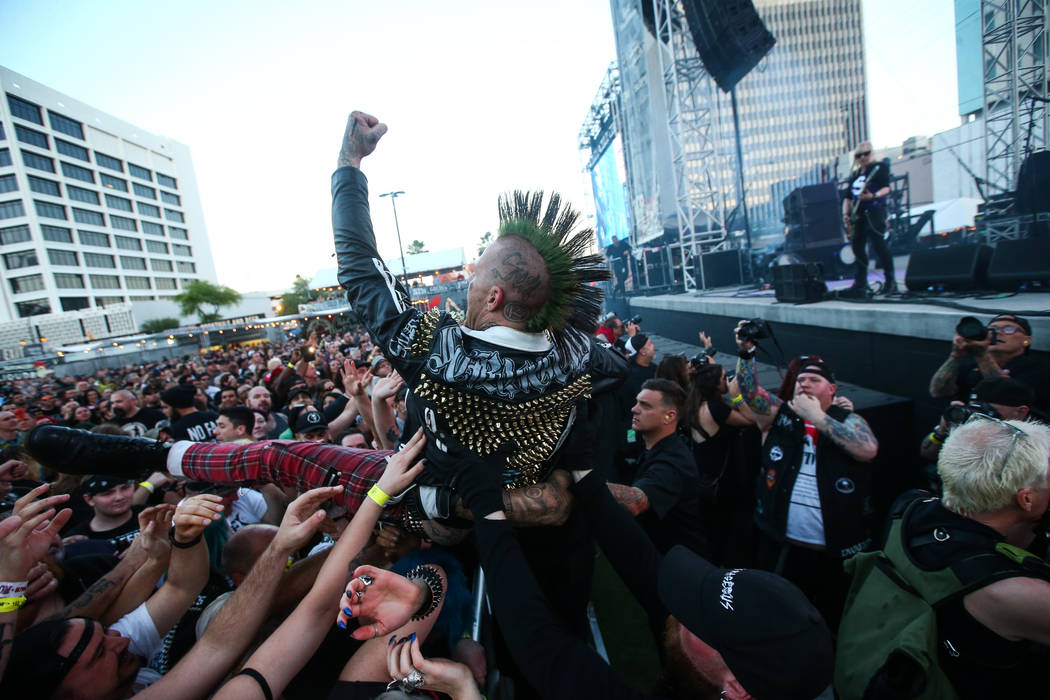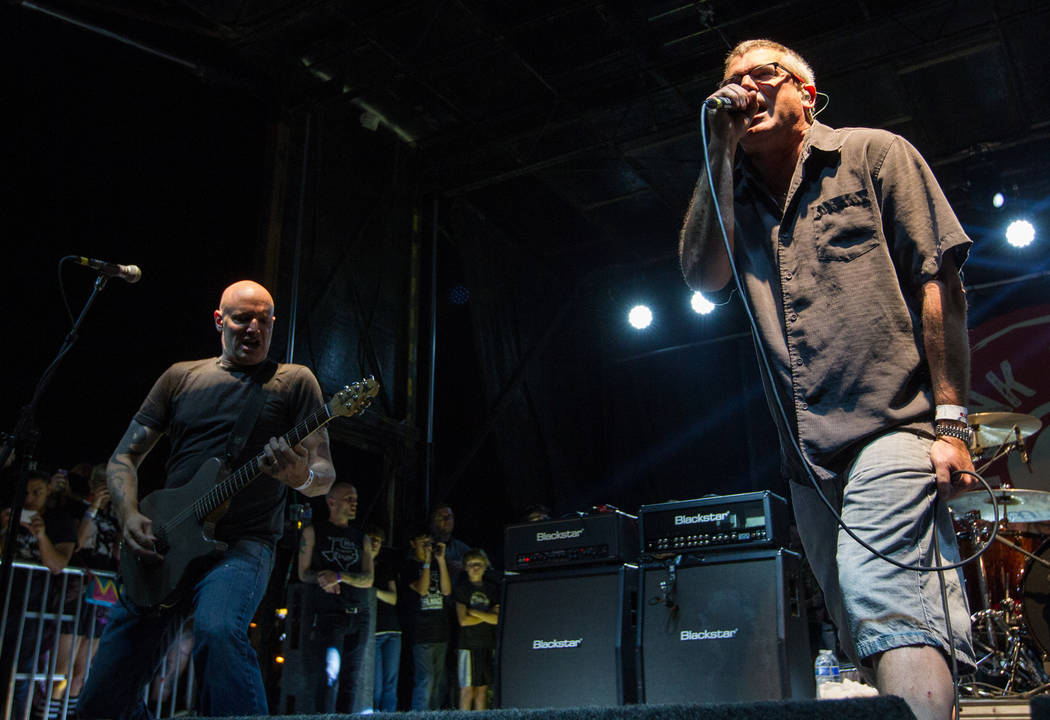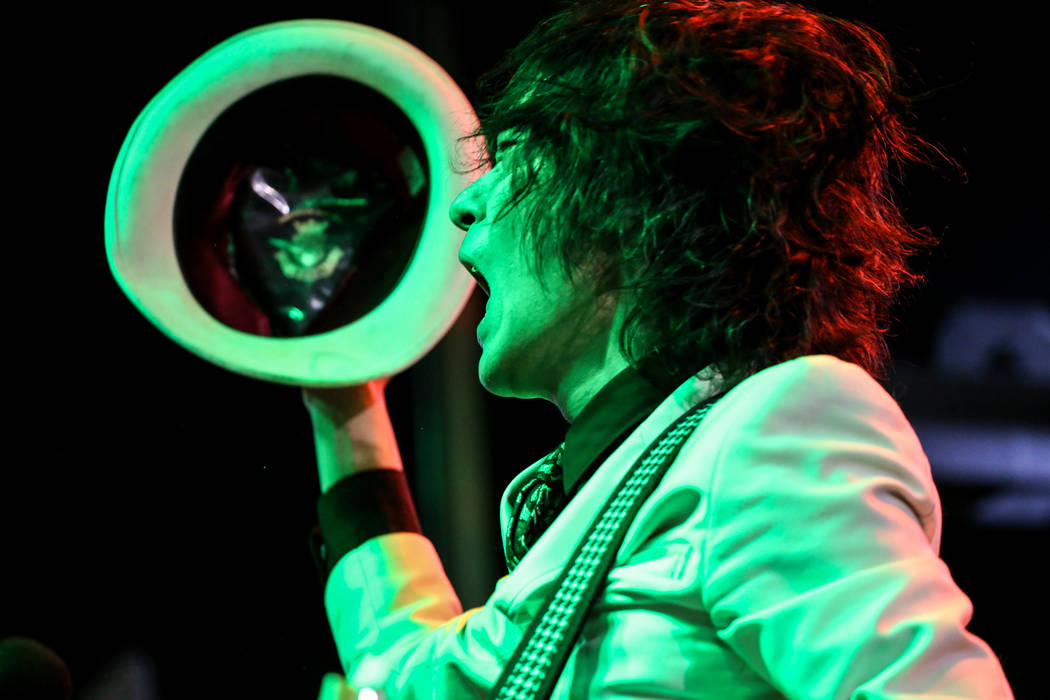 Blame it on the chili-laden burgers.
Decendents frontman Milo Aukerman recalls the first time he played Punk Rock Bowling, back in 2011 when the three-day festival was set up behind the Fremont Country Club downtown and the moshing was done on asphalt for a bumper crop of skinned knees.
In the crowd, the show was a riot of smiles, sweat-dampened denim and flying limbs: It was the first time the highly caffeinated, melodic punk forebears had played Vegas in 14 years, all that pent-up demand expelled in an adrenalized rush as heart rates accelerated like dragsters given the green light.
"Join us if you've got the energy," Aukerman sang during a set-opening "Descendents," and close to 10,000 strong did just that, all those pistoning bodies making it feel as if you were standing upon a trampoline.
Painful memories
Onstage, it was a night not soon to be forgotten, either — albeit partially for reasons of serious gastrointestinal tumult.
Recall those aforementioned spicy eats?
Aukerman and drummer Bill Stevenson do, having made a regrettable dinner decision that evening.
"That made it a very memorable experience onstage," Aukerman chuckles at the memory. "We were in a tremendous amount of G.I. pain during that show. I remember that one very, very well."
On Sunday, the Descendents return for their fourth time headlining the three-day punk rock party of the year's 21st go-round — and 10th as an outdoor festival — tying them with NOFX for most closing slots of any band in PRB history.
Full-time punk
There will be one notable difference this time, though, at least for Aukerman: The longtime biochemist, who balanced a life in music with a career working as a plant researcher for industrial giant DuPont, is now focusing on his band full time, a switch the 56-year-old made in 2016.
"It's meant a couple things that are really exciting to me," Aukerman explains. "One is that I have a lot more time just to write songs. My brain was kind of split before. But also, when music was my hobby, I took it about as seriously as you take a hobby, 'Ah well, I should probably learn how to sing better. Nah, I won't bother.'
"Now that it's my 'career,' I definitely feel more of a challenge to try to improve myself," he continues. "That to me has been really exciting to try to apply some more rigor and discipline into what I do. I'm definitely enjoying this phase a lot."
Pop punk trailblazers
As well he should: Aukerman has earned a victory lap at this point in his career.
While the Descendents never sold as many records as their descendants, namely bands such as Green Day and Blink-182, their blend of high-speed hooks, self-deprecating wit and suburban apprehension was a crucial bedrock in the formation of what would later come to be known as pop punk.
And then there was Aukerman himself, a disarming, bespectacled, unabashedly nerdy presence who preferred coffee to beer, was easy to like and even easier to identify with.
His unspoken message: You didn't have to look punk to be punk.
"When I got into punk rock in '79, '80 and I found myself going to shows, a lot of the bands I really liked, they just got up there and played and didn't really worry about dressing the part or anything like that," Aukerman says. "I kind of took that to heart. This was a scene that welcomed me, even though I wasn't going to wear a mohawk and I wasn't going to look punk or even make overtly punk music. We were just going to do whatever we wanted to do.
"Now, when I go out and play, I see people out there just looking normal," he adds. "You can just go to a show and have a blast. … We just want everyone to have a good time and not worry so much about whether you're punk or not."
Contact Jason Bracelin at jbracelin@reviewjournal.com or 702-383-0476. Follow @JasonBracelin on Twitter.
More must-see acts
While the Descendents and Saturday night's final festival act, Rancid, have topped Punk Rock Bowling bills on multiple occasions, Monday's headliner, seminal ska revivalists The Specials, will be making their first appearance.
Those British scene heavyweights — who in February dropped their first new studio album in 21 years, "Encore" — will be among the most anticipated PRB newbies this year.
Here are 10 more, culled from the festival lineup, which inaugurates a second stage, and the many club shows taking place after the festival grounds close:
■ Killing Joke and Flipper, Friday, The Bunkhouse Saloon: Jaws and pants shall drop unison when industrial-tinged post-punk prime movers Killing Joke share the bill with inimitable punk antagonists Flipper, who will be fronted by Jesus Lizard frontman David Yow, a man known to drop trou onstage every now and then. Mostly now.
■ Fear, Saturday, festival main stage: At long last, these punk lifers may finally get the notoriously straitlaced, teetoling PRB hordes to enjoy an alcoholic beverage — maybe even two! — when it's time to "Have a Beer with Fear."
■ Maid of Ace, Saturday, festival side stage: Bonded by blood and a love for curled-lip punk rock alike, the Elliott sisters (Alison, Amy, Abby and Anna) are traveling all the way from their native Hastings, England, to flip you the bird — in song.
■ Iron Reagan, Saturday, The Bunkhouse Saloon: Break out that sweet sleeveless denim jacket checkered with Crumbsuckers, Excel and D.R.I. patches when these crossover thrash throwbacks pound beers, fists and earholes at once.
■ The Coathangers, Sunday, festival side stage: This Georgia power trio promises to sweep through PRB like a cool breeze on a hot day with alternately chiming and concussive garage rock spiked with riot grrl-style feminine assertiveness.
■ Sloppy Seconds, Sunday, festival side stage: These puerile pop punks have been providing the singalong soundtrack to suspended adolescence for 35 years now. Yes, Patricia, it is possible to grow older without growing up.
■ Shame, Sunday, The Bunkhouse Saloon; Monday, festival main stage: This young post-punk troupe rightfully earned praise for "Songs of Praise," its excellent, assaultive 2018 debut. Miss this act at PRB, and the shame will be all on you.
■ The Heiz, Sunday, festival side stage: These Double Down Saloon favorites from the Far East, who are signed to Vegas' own Squidhat Records, will undoubtedly come correct with the weekend's tastiest ode to gut-expanding eats ("Whole Lotta Pizza.")
■ The Stranglers, Monday, festival main stage: "(Get A) Grip (On Yourself)" when these artistically restless British proto-punks hit PRB just in time to celebrate their 45th (!) anniversary.
■ The Hives, Monday, festival main stage: Adrenal glands shall earn overtime pay when these nattily attired Swedes kick out jams — literally — with wild-eyed frontman Howlin' Pelle Almqvist the closest thing this scene has to a young Mick Jagger.