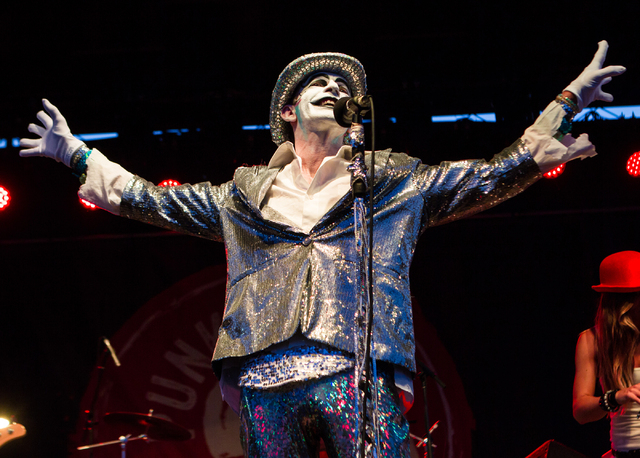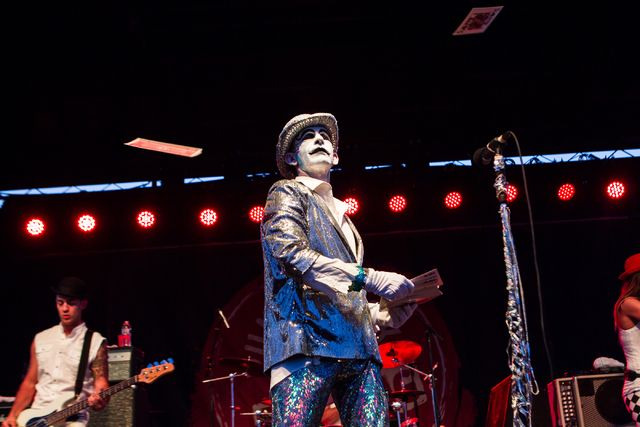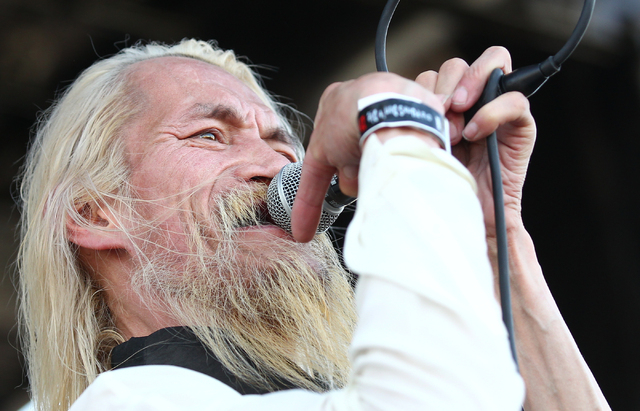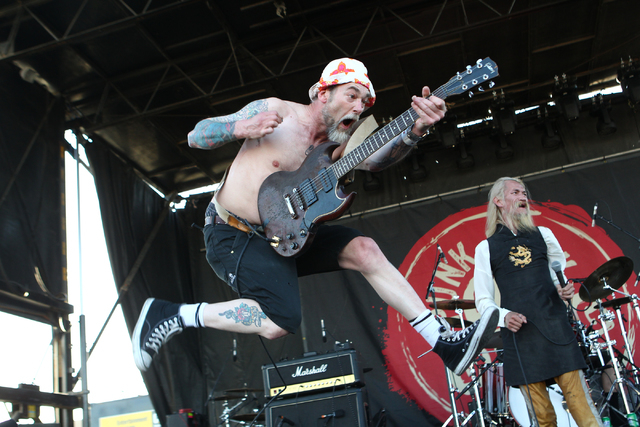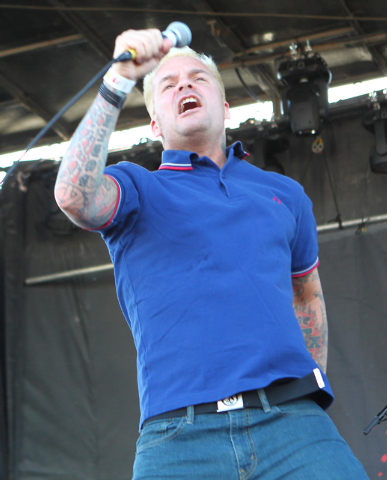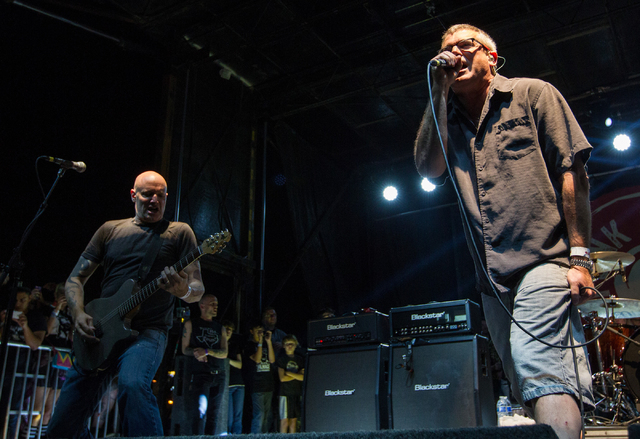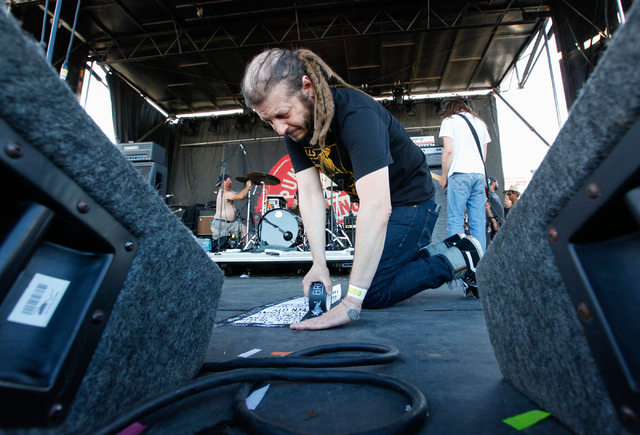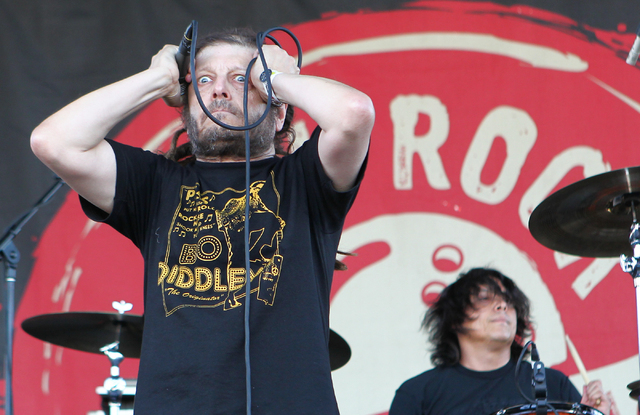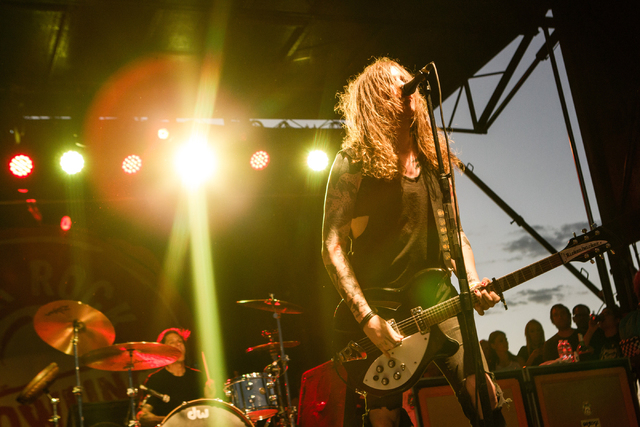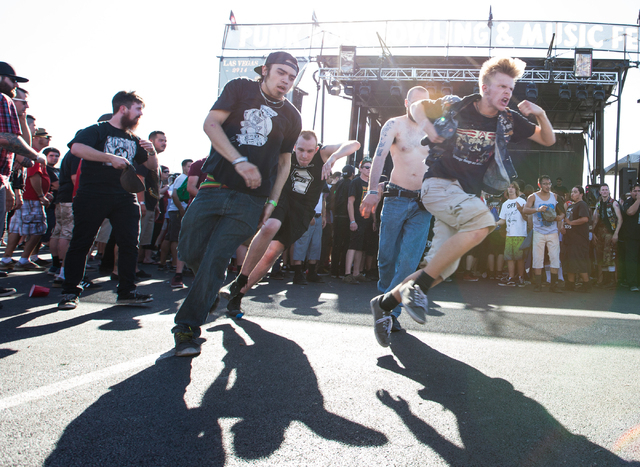 His words were a blur, like the scenery outside a fast-moving vehicle.
Every utterance conjured images of furrowed brows and dozens of exclamation points.
This was emoting in all caps.
The description applies to the vocal delivery of two men, Honor Titus, 24, and Keith Morris, 58, who formed the generational bookends of the final day of the Punk Rock Bowling and Music Festival.
They may have been born decades apart, but only an hour or so separated their time on stage Monday when they fronted the bands Cerebral Ballzy and Off!, respectively.
And there was even less separation between the thematic and sonic dimensions of their songs.
"Everywhere I go, someone tries to influence me," Titus growled during the intro of minute-long tirade "Don't Tell Me What To Do" before directing an expletive at anyone who would be so foolhardy to even attempt to do so.
Likewise, dissidence propelled Off!, whose 60-second songs surged with the forward momentum of an avalanche.
"I wanna club you / Like a baby seal / Staple your scalp / To my steering wheel!" Morris spat during "King Kong Brigade," his face contorted into a mask of exaggerated agony, his every facial tick conveying intense annoyance, whipping his arms out as if he was attempting to free them from their sockets.
Watching the two bands perform breathlessly Monday, defying both the sound barrier and the withering heat of the asphalt-covered festival grounds downtown, encapsulated both Punk Rock Bowling and the music that it's predicated upon: time has passed, things have changed, but plenty has remained constant.
As always, the very term "punk" continues to connote many different things.
At Punk Rock Bowling, it was a provocation (Leftover Crack's police-baiting performance Monday); it was a party (NOFX's chemically enhanced festival-closing set); it was a punch line (Peter and The Test Tube Babies' tongue-in-cheek "British toilet humor" Saturday).
Youth was served at times, usually earlier in the day (Cerebral Ballzy's heated aforementioned performance and Masked Intruder's deceptively sweet pop punk Sunday being the highlights), but for the most part, the festival showcased punk's old guard.
Just, you know, don't call them that.
"What's it like to be old?" asked Colin McFaull, lead singer of British street-punk pioneers Cock Sparrer, in the song of same name during the band's stirring headlining performance Saturday, which doubled as one big punk rock bear hug.
"Don't ask me," McFaull said afterward, even though he's in his 60s. "I have no idea."
The following night's headliner, pop punk underdogs-turned-alpha-dogs the Descendents, questioned the very notion of growing up to begin with.
"Thou shalt not commit adulthood," they recited, along with help from some youngsters at the side of the stage, during "All-O-Gistics," a song originally released in 1987, before later pondering adulthood's inevitability
"What will it be like when I get old?" singer Milo Ackerman, 51, wondered during "When I Get Old." "Will I still hop on my bike / And ride around town / Will I still want to be someone? / And not just sit around?"
For many of its participants, and detractors alike, punk was never even supposed to get to this point.
"Everybody said, 'Five years, it should burn itself out,' McFaull recalled of the early reception to the music in question, having started his band in 1972.
Like Cock Sparrer, plenty of the bands who played punk Rock Bowling this year came from an era when punk was just emerging, as a music and a lifestyle, both of which were often dismissed.
And so their songs were often about defending this then-new way of life, like "Teenage Warning" from British Oi! lifers Angelic Upstarts ( "The times are changing / They're changing me / Open the cage / Let free the animals"), which they turned into a impassioned sing-along Saturday, and "We Will Survive" from their leather-clad countrymen in the Anti-Nowhere League, who also performed Saturday with metallic aplomb.
The bands in question confronted adulthood the same way they do everything else: by defining it on their own terms.
This, more than anything, is what punk rock boils down to.
And so some refuse to act their age, like Dwarves frontman Blag Dhalia whose hair may be graying in places but who hasn't lost his love of much younger women, which he professed in songs like "Demonica" and "Everybody's Girl" during the band's fabulously hedonistic showing Sunday.
While others seem happy just to still be alive, like SNFU singer Chi Pig, who chugged beer, flipped the bird and threw himself about the stage while leading a tutorial in sardonic Canadian skate punk Sunday.
Leave it to Against Me! frontwoman Laura Jane Grace, then, to pose the question of the weekend.
"Do you remember when you were young and you wanted to set the world on fire?" she asked on "Teenage Anarchist" during the band's stirring set Monday, which was driven by slashing guitars and an inflamed sense of purpose, with Grace addressing her life as a transsexual in a number of songs.
The fire that Grace spoke of was still there, though, as Punk Rock Bowling demonstrated. Its flames just burn more discriminately these days, that's all.
Contact reporter Jason Bracelin at jbracelin@reviewjournal.com or 702-383-0476. Follow on Twitter @JasonBracelin.
REVIEW
WHAT: Punk Rock Bowling and Music Festival
WHERE: Downtown Las Vegas
WHEN: Saturday-Monday
CROWD: 7,000 daily (est.) (sold out)
GRADE: A