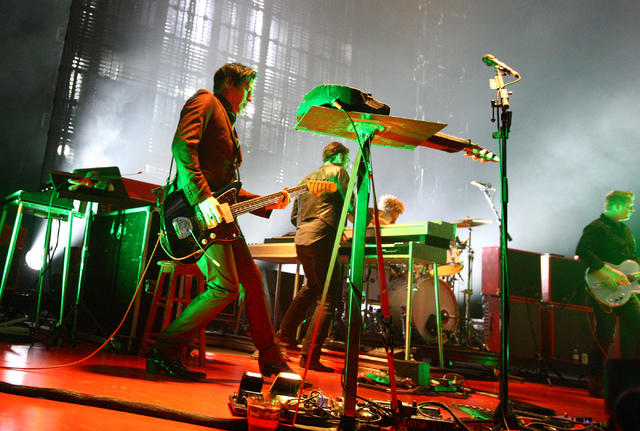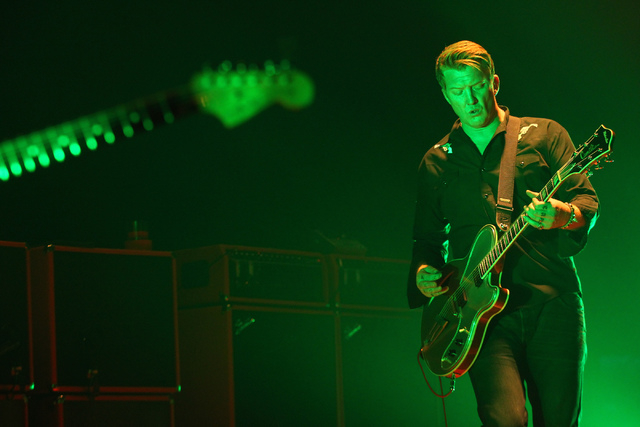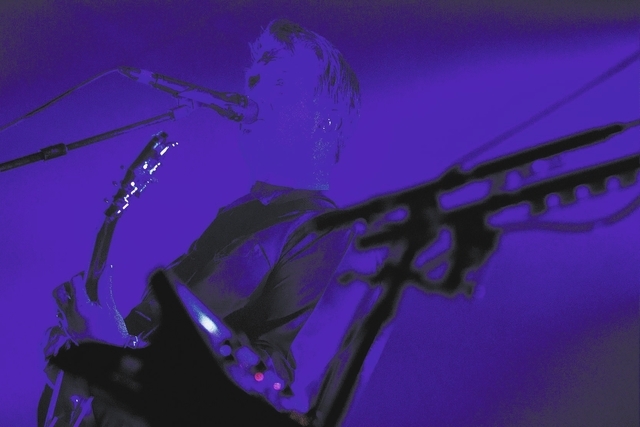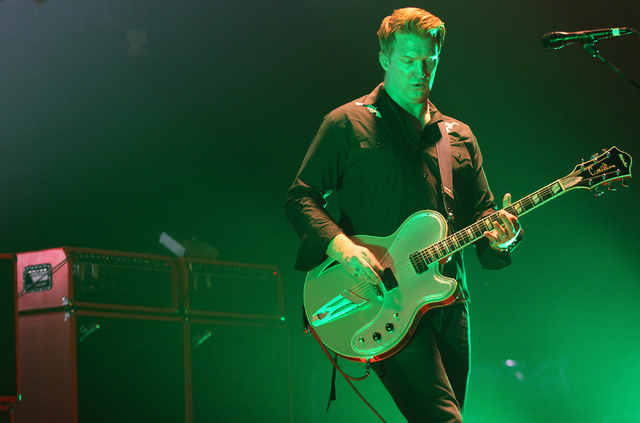 Arms stretched wide, as if he was preparing to bear hug a redwood or perhaps dead lift a steer, Josh Homme engaged in a bit of psychological projection with the crowd before him.
"You want it all," he told the near-capacity house at The Joint on Thursday, though the towering Queens of the Stone Age frontman might as well have been speaking about himself.
Homme's declaration came in the middle of "Feel Good Hit of the Summer," a sing-along smorgasbord of uppers and downers — "nicotine, Valium, Vicodin, marijuana, Ecstasy and alcohol" and of course a little "c-c-c-c-ocaine."
The song's not an endorsement of said substances as much as it is a testament to unbounded appetites, with Homme's, in particular, being what drives this band.
Homme is a musician propelled by impulse and a fruitful, productive arrogance that gives him an unflagging belief in his many artistic whims, which, more than anything else, are what really distinguish Queens of the Stone Age, a hard rock band that does a lot more than rock hard.
"I'm risking it always," he sang during the sharp-elbowed, bruise-covered funk of "Smooth Sailing," a song equally suggestive of the Bee Gees and Black Sabbath. "No second chance."
The thing is, though, Homme is living proof of second chances — literally — having briefly died in 2011 while on the operating table during a routine knee surgery whose complications left him bedridden for fourth months.
Homme's travails cast a long, dark shadow over QOTSA's latest record, "… Like Clockwork," where he questions his mortality and comes back with no easy answers.
"I survived. I speak, I breathe, I'm incomplete," he sang while seated at a piano during spare, spectral ballad "Vampyre of Time and Memory." "I'm alive," he then deadpanned joylessly. "Hooray!"
During the title cut to "… Like Clockwork," the stage lights were turned down, matching Homme's mood, the only illumination coming from the glowing tip of Homme's lit cigarette.
"Not everything that goes around, comes back around, you know?" he noted as haunting guitar lines gradually worked themselves into a roaring crescendo, battering the song like waves crashing on a beachhead before the tide recedes and calm is temporarily restored.
These two songs, among a few others on "… Like Clockwork," added a sentiment that's never been a part of the QOTSA repertoire up until now: vulnerability.
Homme, himself, has always been an uber-masculine model of self-assurance and a cool, what-me-worry? nonchalance.
For him to acknowledge, confront and ultimately accept the uncertainty that clouds his fate — and everyone else's — adds a depth of feeling to "… Like Clockwork" that matches the depths of artistic expression that have defined Queens of the Stone Age from the warped opening notes of their self-titled 1999 debut.
Speaking of which, they played a tune from that record Thursday night, the boulder-heavy "Avon," where the guitar riffs sounded like a hot rod's engine being revved.
Queens can bring the lumber when they so desire: The evening's centerpiece jam, the slow-simmering "Better Living Through Chemistry" gradually emerged from a rhythmic haze as Homme sang in languid tones — he coerces and sweet-talks, tempts and teases but never exhorts. Five minutes in, Homme was swinging his guitar like a scythe as he and his bandmates brought the song to a surging conclusion, holding their instruments near their amps at one point to conjure squalls of feedback.
QOTSA is just as adept at seduction as they are firing off hard rock lightning bolts, though.
Take "I Wanna Make it With Chu," a soul striptease whose falsetto come-ons aimed to fog windows.
As Queens played the song, the massive video screen that served as the band's backdrop flashed with images of heavenly bodies contrasted with those of the female form, seemingly suggesting that they were one in the same.
Sex and death, love and loss, hope and resignation — it all formed a grand snarl of emotion that Queens didn't even attempt to untangle on this night.
Instead, they concluded with "A Song for the Dead," a tune about dying in style delivered by a band bent on doing the opposite.
Contact reporter Jason Bracelin at jbracelin@reviewjournal.com or 702-383-0476. Follow on Twitter @JasonBracelin.
REVIEW
Who: Queens of the Stone Age
When: Thursday, Feb. 13, 2014
Where: The Joint at the Hard Rock
Crowd: 3,800 (est.)
Grade: A